Here is a quick way to find out what is hot and happening in Twitter world based on the category of topics that you would like.
Go to Tweetmeme.
It can be easily accessed using the Twitter API (i.e the same Twitter user name can be used to login to Tweetmeme so no need to create a seperate account).
Select any appropriate category ranging from Science, Sports, Technology, Business and Finance etc and click on the sub sections.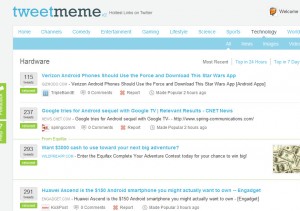 This shows all the posts that have been retweeted and gained lots of interest among Twitter users.
Basically, Tweetmeme is a content aggregator for Twitter which is very useful in gauging the overall response of Twitter users pertaining to specific topics.
Happy tweetmeme-ing!