Home
Posts Tagged "windows 10 settings"
Jan 24th, 2018 ·
Comments Off

on How To Switch Between Command Prompt And Windows PowerShell In Windows 10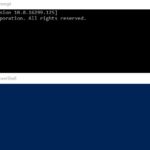 The Power User menu (Windows key + X shortcut or right clicking Start button) in Windows 10 can switch between using command prompt or Windows PowerShell if needed. Doing this is simple: First access Settings (Right click Taskbar > Taskbar Settings). Then scroll down to Taskbar section and enable/disable the Replace Command Prompt with Windows PowerShell option. As per selection, now whenever...
Aug 28th, 2017 ·
Comments Off

on How To Customize Quick Actions Icons And Turn Off Specific Notifications In Windows 10
Windows 10 Action Center is useful as it can display various notifications of different programs as well as quick actions/notification icons. However, it can get very cluttered when many unimportant notifications start popping up. Also, not all quick actions are needed for regular use. So these can be rearranged/added or removed. Here is how : Right click on date/time from system tray and choose Customize...