Home
Posts Tagged "prevent taskbar from displaying items"
Jun 28th, 2011 ·
Comments Off

on How To Prevent Taskbar From Displaying Recently Opened Items In Windows 7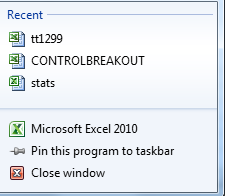 By default, in Windows 7, recently opened programs, files and other items are listed in taskbar when specific applications or folder are right clicked. Example : Right clicking on an Excel sheet in taskbar lists all the recently opened spreadsheets as shown. To prevent this from happening : 1. Right click on taskbar and select Properties. 2. Go to Start Menu tab and uncheck the option "Store...