Home
Posts Tagged "perform precise searches in google drive"
Nov 16th, 2018 ·
Comments Off

on Useful Google Drive Search Functions That You Should Know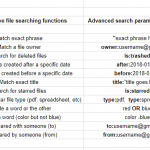 Just like useful keyboard shortcuts, Google Drive also includes powerful search parameters which can make finding files a lot easier. This is by using advanced keyword operators to perform precise searches. They are as follows : Exact match : Type the exact keyword in quotes to search for documents having that keyword. Owner : To search for documents created by a specific user/email, use the owner:...