Home
Posts Tagged "PDF Unshare Pro free giveaway"
Jun 28th, 2021 ·
Comments Off

on Free Giveaway: PDF Unshare Pro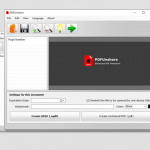 It's time for a giveaway. 🙂 A free giveaway of PDF Unshare Pro is up for grabs. Originally priced at $24.98 for a 6-month license and $49.95 for a year's license, a free 6-month license is available during this giveaway. About PDF Unshare Pro: It prevents unauthorized copying and sharing of PDF files. In a nutshell, how it works is it first creates a protected PDF file (a uPDF file)...