Home
Posts Tagged "iptux"
Sep 7th, 2020 ·
Comments Off

on How To Use Iptux In Linux Mint For Sending Messages And Files Over LAN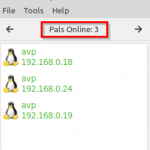 Iptux is a LAN messenger and file sharing client for Linux that can be used to send messages and files over the local network. To install it in Linux Mint , open the Terminal and type in: sudo apt install iptux After it is installed, it will show up in the Internet menu. Using it is simple. Launch it and on doing that, it will initially show your LAN IP address and your username with which you are...