Home
Posts Tagged "display Gmail messages based on search operators using multiple inboxes"
Oct 19th, 2020 ·
Comments Off

on Streamline How Gmail Messages Are Displayed By Using Multiple Inboxes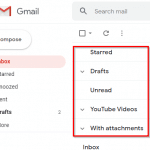 The desktop version of Gmail has the option of adding Multiple Inboxes. By using this feature, you can add different inboxes based on various Gmail search operators. So, you can have an inbox with the Starred messages, the other with emails marked as Important, and so on. All of these inboxes are directly displayed in the main Inbox view which makes accessing them easier too. Here is how to configure...