Home
Posts Tagged "delete windows 10 search history"
Oct 11th, 2019 ·
Comments Off

on How To Configure And Use Search In Windows 10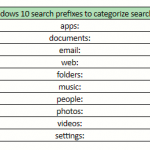 The search feature in Windows 10 ( keyboard shortcut: Windows key + S ) by default will automatically look for files and folders in your Outlook account as well as OneDrive. It also returns search results from the web with a moderate content filter by default. Categorizing searches: You can also directly categorize these searches based on what you are looking for by using various prefixes. For example:...