Home
Posts Tagged "change message composer mode in protonmail"
Mar 5th, 2021 ·
Comments Off

on How To Change The Message Composer Mode And Inbox Layout In ProtonMail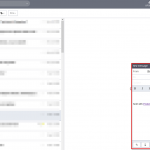 In ProtonMail, the message composing window and the inbox view can be changed as needed. By default, the message composing window opens as a popup at the bottom-right corner. The inbox view is column-based by default with the messages opening in the column next to the inbox. Here is how to change them: Login to ProtonMail and click on SETTINGS. Next, click on the Appearance section. There will...