In recent years, Android phones have seen a significant increase in popularity among consumers. With a wide range of features, customization options, and competitive pricing, it's no wonder that they have become the preferred choice for many smartphone users. One of the key factors contributing to the popularity of Android phones is the vast selection of devices available in the market. From budget-friendly options to high-end flagship models, Android offers a phone for every budget and preference. This variety allows consumers to find a device that suits their needs and style, providing them with a personalized and enjoyable user experience.
Additionally, Android phones are known for their seamless integration with Google services. With Android being developed by Google, users can easily connect their phone with various Google applications. Along with that comes the security of Google Lock or FRP.
What is FRP:
Factory Reset Protection (FRP) / Google Lock is a security feature implemented by Google on Android devices running Android OS 5.1 (Lollipop) and higher to protect user data in case of theft or loss. When enabled, FRP requires the original Google account credentials to be entered after a device has been reset to factory settings. 
In the event of an abnormal device reset or remote data wipe, you will be prompted to provide the Google account and password associated with the device, or the PIN/Pattern that you have set up for identity authentication. This security feature is essential when it comes to protecting your phone in case of theft.
The need to unlock FRP:
Rest assured that this defense mechanism is compatible with all Samsung phones and tablets running Android 5 to 13. Regardless of whether you've forgotten your Google account password or purchased a pre-owned Samsung phone, iToolab UnlockGo Android-Easy Samsung FRP tool  is the solution to all of these to get your device working again.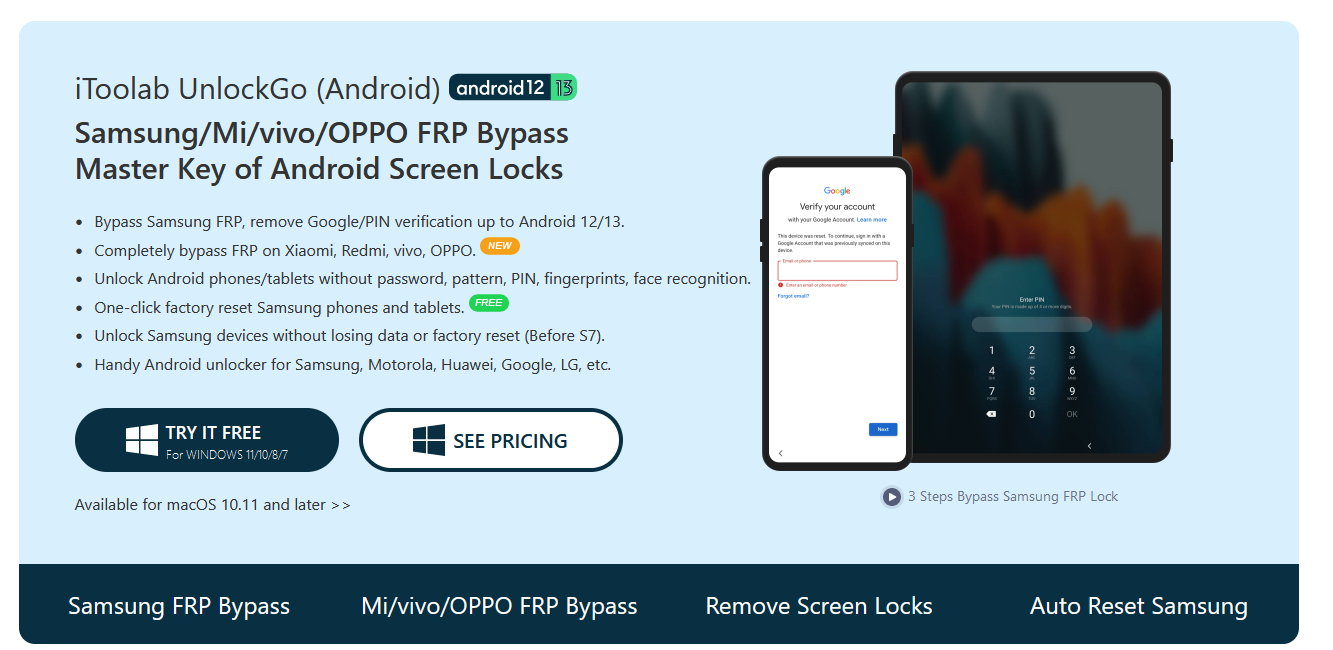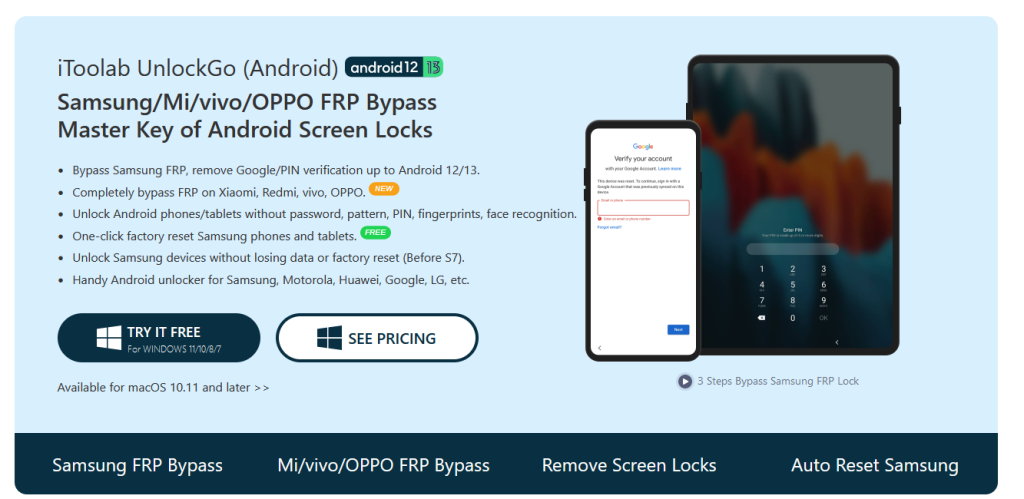 Key features of iToolab UnlockGo Android:
Compatible with the latest versions of Android 11/12 
One-click factory reset  
Supports all major Android brands like Samsung, Motorola, Huawei, Xiaomi and Google
No technical know-how needed to use 
Bypass FRP in just 3 steps with a few clicks with a 99.3% success rate
Using iToolab UnlockGo Android:
Download and install it from here. 
Using UnlockGo Android consists of just 3 simple steps:
Install UnlockGo Android and connect the Android device to the PC using a USB cable
Select the Android OS version of your device
Follow the instructions to bypass FRP
So, to begin the FRP Bypass process, connect the Android device to your PC and launch iToolab UnlockGo Android.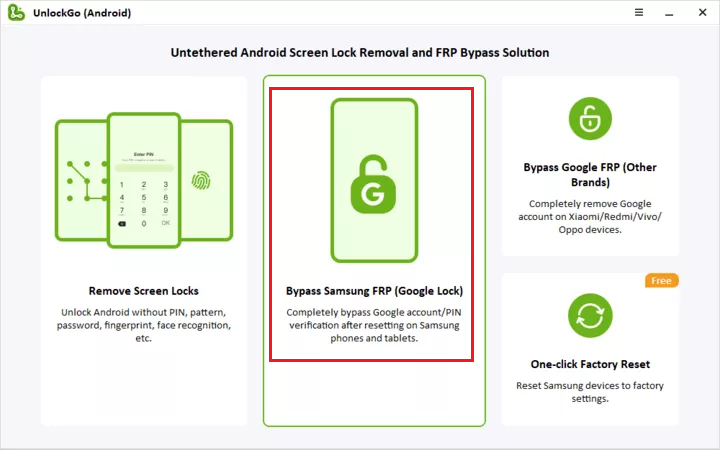 Then, click on Bypass Samsung FRP (Google Lock). Click on the Start button to continue.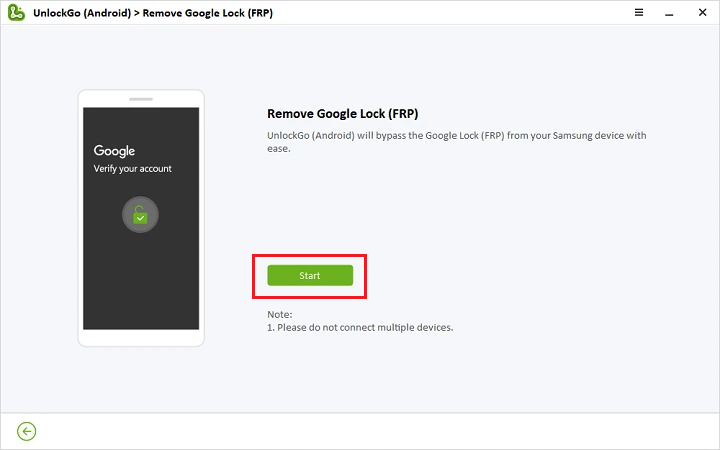 iToolab UnlockGo Android supports older versions of Android along with the latest ones. So, even if the device you want to bypass FRP for is old, it would still be supported.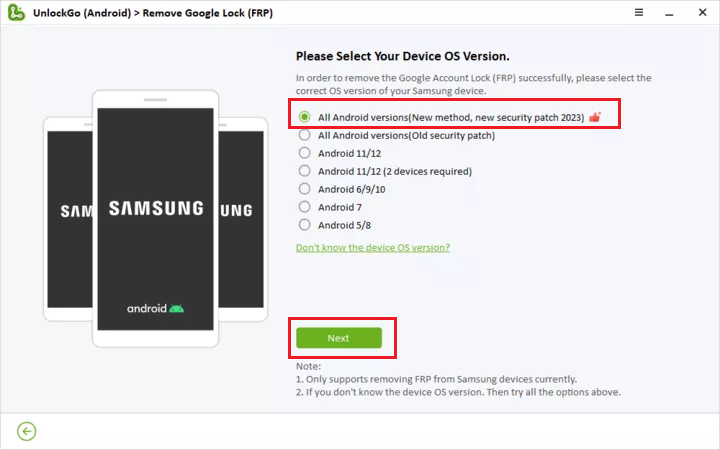 Choose from the list depending on your Android version and click on Next.
If you didn't connect your device earlier to the PC through a USB cable, now would be the time to do so as you will get a prompt for that if you hadn't done it before.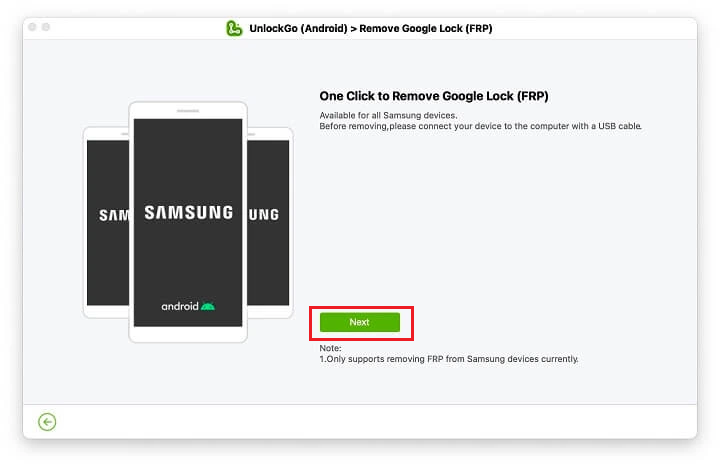 Connect and click Next. Follow the on-screen instructions and on your phone access the Diagnostics menu. Click Next.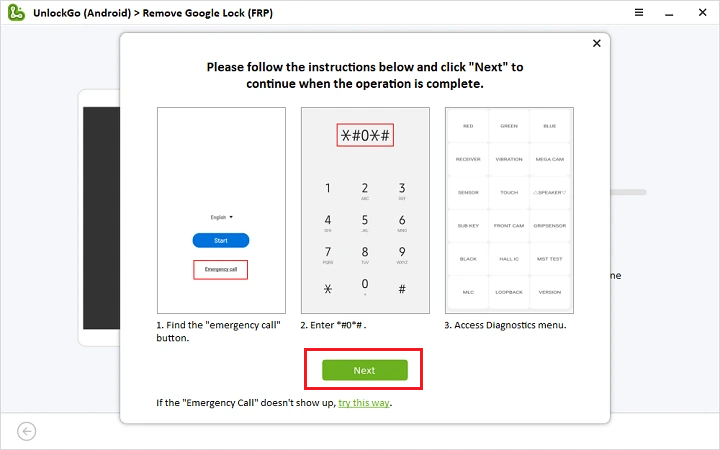 For the FRP Bypass to work, you would need to enable USB debugging on your phone. Click on the Authorized button for  iToolab UnlockGo Android to enable it.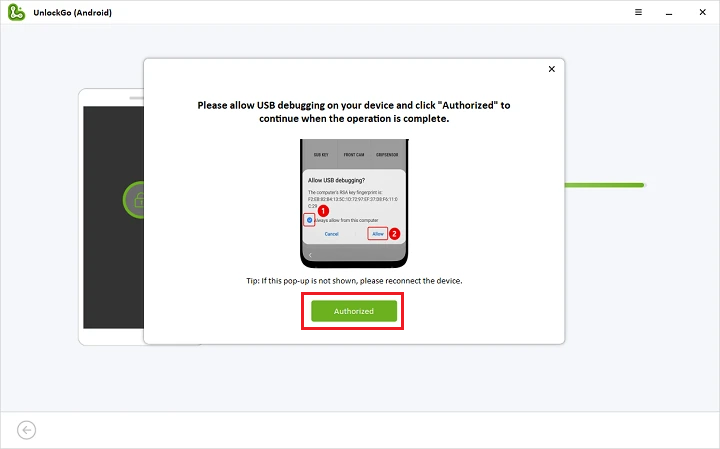 When all goes well, the FRP will be removed and you will see the process complete successfully.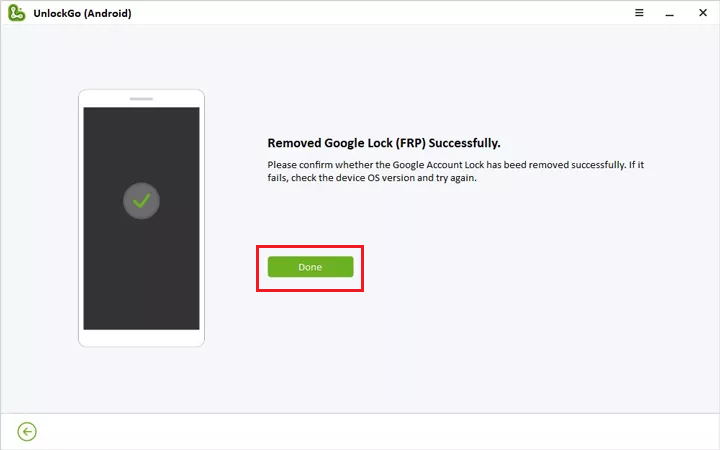 Click on Done to exit.
Other methods:
There are other ways too by which you can bypass FRP on Samsung devices but they are much more complex. Some either require debugging beforehand, while others don't work on newer versions of Android at all. As compared to them, iToolab UnlockGo Android is much more versatile and easy to use with no technical knowledge needed.
Conclusion:
 iToolab UnlockGo Android is a simple and efficient tool to bypass FRP if you have lost your Google account or need to use a pre-owned phone that still has FRP enabled. Simply, connect it, open UnlockGo Android and follow the steps on-screen to bypass it. Besides that, you can also factory reset your Samsung phone with just a click using this tool. Do try it out.
All done.