Discord is a popular communication platform designed for creating communities online. With its user-friendly interface and robust features, it has become the go-to app for gamers, streamers, and various online communities.


Whether you want to chat with friends, coordinate team strategies, or connect with like-minded individuals, Discord provides a seamless platform to do so. It is essential though that you manage your privacy when it comes to sending and receiving direct messages (DM).
So, Discord offers DM filters that you can use to customize and tweak your privacy settings. These filters help you in keeping out objectionable images and spam from your DMs.
Here is how to use them:
Login to Discord and click on the gear icon to access settings.

Click on the Privacy & Safety section from the left. It will show various privacy settings. All DM related settings come under DIRECT MESSAGE FILTERS. So, for tweaking your DM settings for images, from the Explicit image filter section, enable the option Filter all direct messages

The default only filters images from non-friends. When this filter is enabled, Discord will automatically check for possibly objectionable images in all messages that you get and block them.
To prevent spam from filling up in your DMs, scroll down to the DM spam filter. Then, enable the option Filter all direct messages.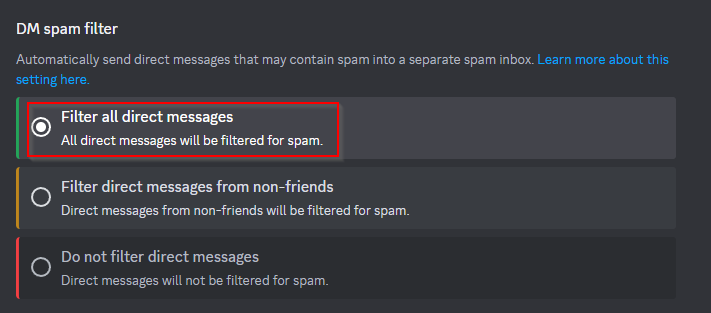 The default option only filters messages from non-friends just as it was with the explicit images filter. From now on, your messages will be filtered for both – objectionable images and spam before showing up.
Also, there are other privacy settings that you can tweak from here. These include changing who is allowed to message you and enabling message requests.
These settings can be changed from the SERVER PRIVACY DEFAULTS section.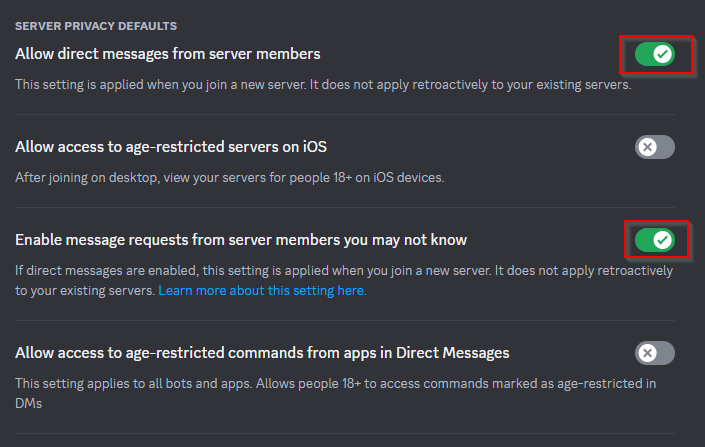 By the way, you can also download a copy of your Discord data if you wish.
All done.