As someone who constantly works with images, you probably know that there are moments when you need to make the some changes to a larger group of pictures. Perhaps you need to resize, rotate and watermark them, add the date and time or convert them to a commonly-used format. The scenarios can vary. The key though is that you can't perform these tasks manually.
If you're dealing with dozens or hundreds of photographs, the rational solution is to use a photo editor that can automate these operations.
If you're looking for such a software, you've come to the right place. Below you can find a list of tools designed to help you improve your photo editing workflow:
1. BatchPhoto
BatchPhoto is a batch photo editing software for Windows and Mac particularly created for boosting productivity. This represents an optimal solution not only because it can efficiently process multiple images at once, but also due to its ease of use. In order to edit your pictures all you have to do is follow a simple three-step process: add your files in the first step, apply your changes in the second and choose your configuration (destination and output format) in the last.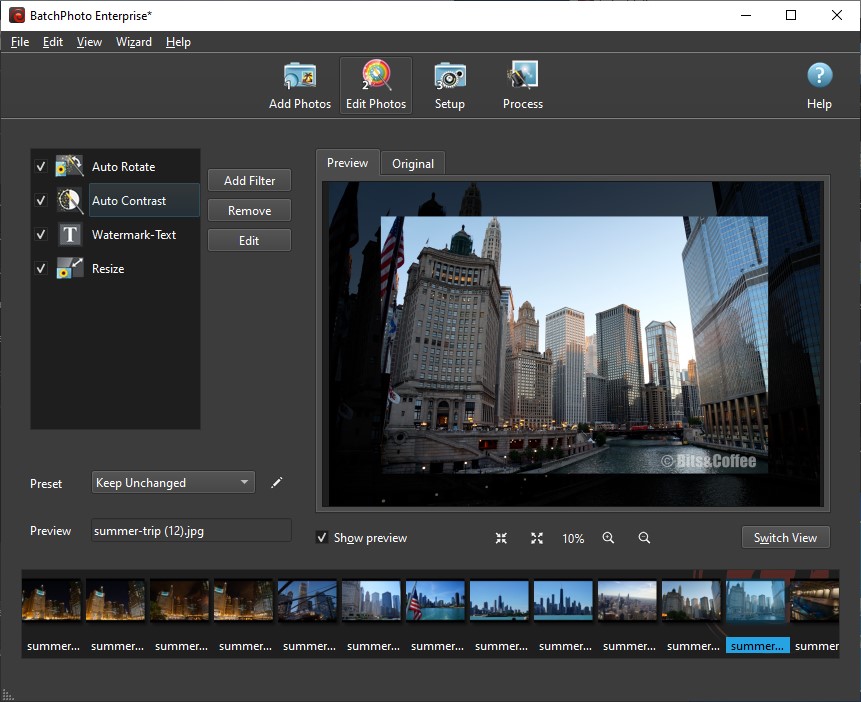 When it comes to editing, BatchPhoto offers a large variety of options. Depending on your needs, you can resize, crop, rotate and flip images, convert them (ample support for RAW files), add a comment, watermark or date stamp, adjust the brightness/contrast, boost the saturation or reduce noise. In the same session you'll have the opportunity to apply artistic effects to your images, such as black & white, sepia or oil paint, as well as decorate your photos with frames and borders to get a polaroid look for instance.
To increase efficiency even more, the tool enables you to save your editing settings as profiles and just reuse them in future sessions. BatchPhoto also offers an advanced feature, that monitors selected folders on your PC, network or websites and automatically applies preset edits when it detects new photos in those folders. By the way, if you are looking to generate images quickly using AI, then Bing can be of great help.
2. Fotor
Fotor is a photo editing suite available on multiple platforms and devices. You can use it as an online option directly in your browser, as a mobile app for both iPhone and Android and naturally you can install it on your Mac or Windows desktop. The tool offers numerous options to edit your pictures, including a series of AI-based features, to create a wide range of graphic designs and make photo collages.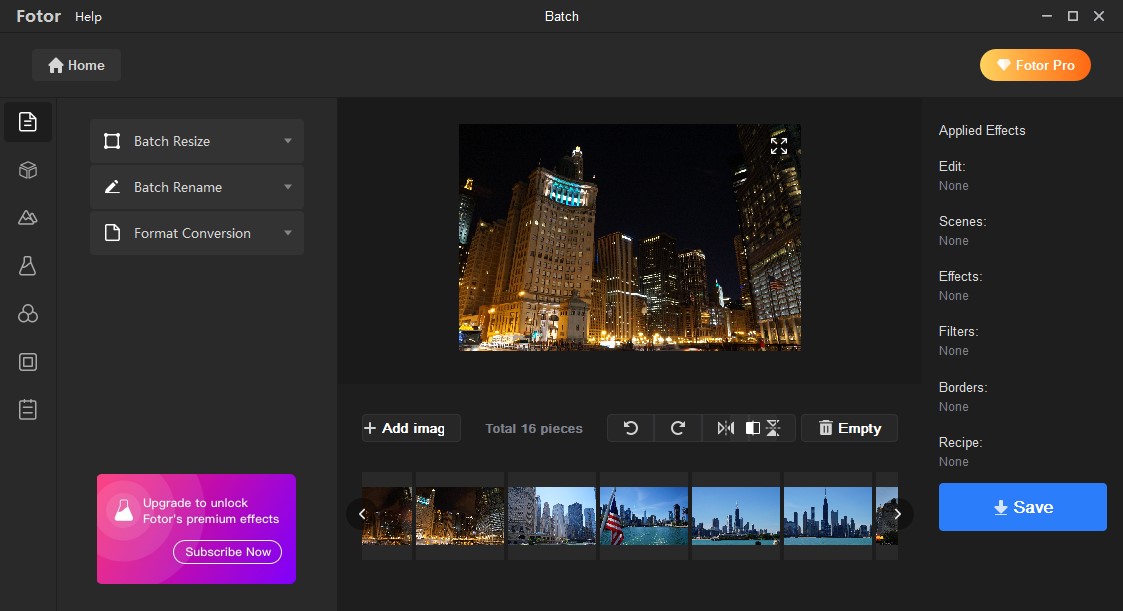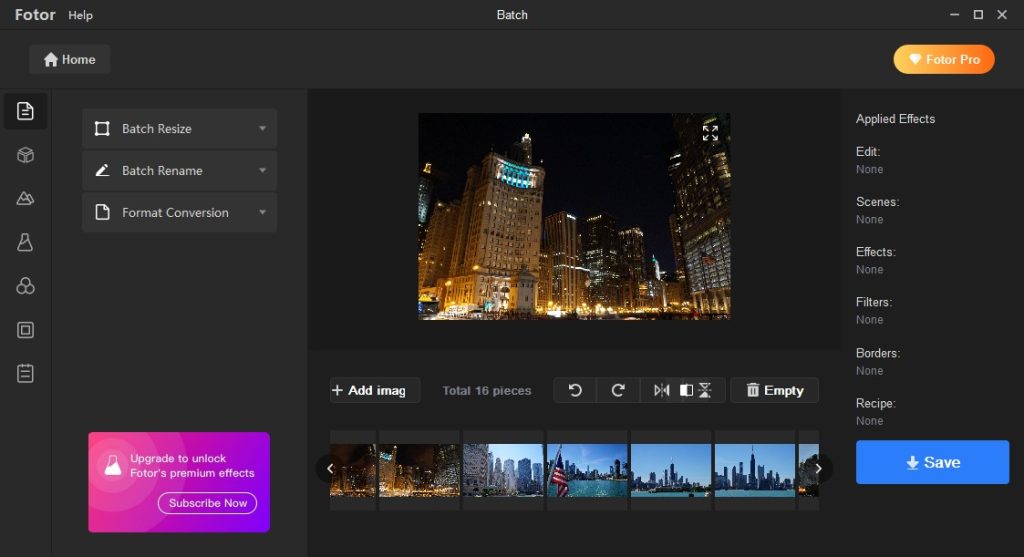 The desktop version of Fotor comes with a useful feature that enables you to edit multiple photos at once. The tool gives you the possibility to rename, resize, crop and watermark images in bulk, apply built-in scenes to them, as well as a multitude of special effects. You can also import RAW files and batch convert them to a popular format like JPG or PNG.
3. PaintShop Pro
PaintShop Pro is a photo editor for Windows that offers the best of both worlds. It can be used by professionals, since it comes with lots of advanced photo editing capabilities, but it can also be used by beginner or intermediate users. Why? Well, because it provides ways to automatically improve your pictures with just one click. The artificial intelligence and machine learning will do all the hard work.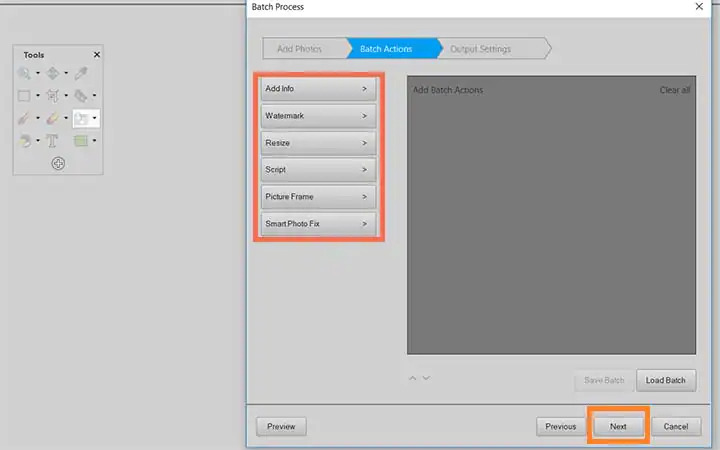 Of course, PaintShop Pro is designed with the necessary tools to help users streamline their workflow. The program allows you to record as many edits as you wish as scripts and afterwards apply them to your selected photos. In the batch processing mode, you can add your files and then select the actions you'd like to apply. You can carry out diverse operations: add info, resize, watermark, insert a picture frame or use the Smart Photo Fix option to automatically enhance multiple images.
4. PhotoMill
PhotoMill is an app available for Mac users only. This program is designed to serve multiple purposes, which means you can use it as an image converter, metadata and photo editor and photo browser. The interface is intuitive, with a large preview in the central part, the loaded images in the bottom section and the editing options on the right side of the screen.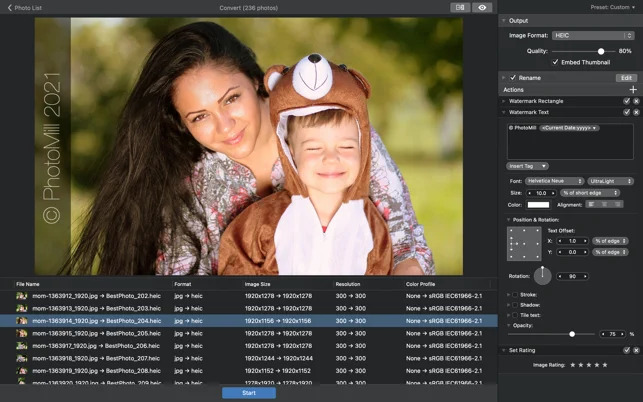 PhotoMill places at your disposal several options to batch optimize and retouch your pictures. According to your necessities, you can convert, scale, trim or watermark multiple photos at the same time. You can improve the overall quality of your images by automatically adjusting the contrast and white balance or manually setting the exposure, sharpness or HSL and HSV channels. With this app you'll also be able to add or remove metadata tags.
5. FastStone Photo Resizer
FastStone Photo Resizer is another PC program developed for editing images in bulk. This software gives you the possibility to make diverse adjustments to your images. In that sense you'll find options to rename, convert, resize, crop, rotate, change the color depth and the DPI, add watermarks and borders to your pictures. You can also make some basic corrections and improve the brightness, contrast, saturation or sharpness.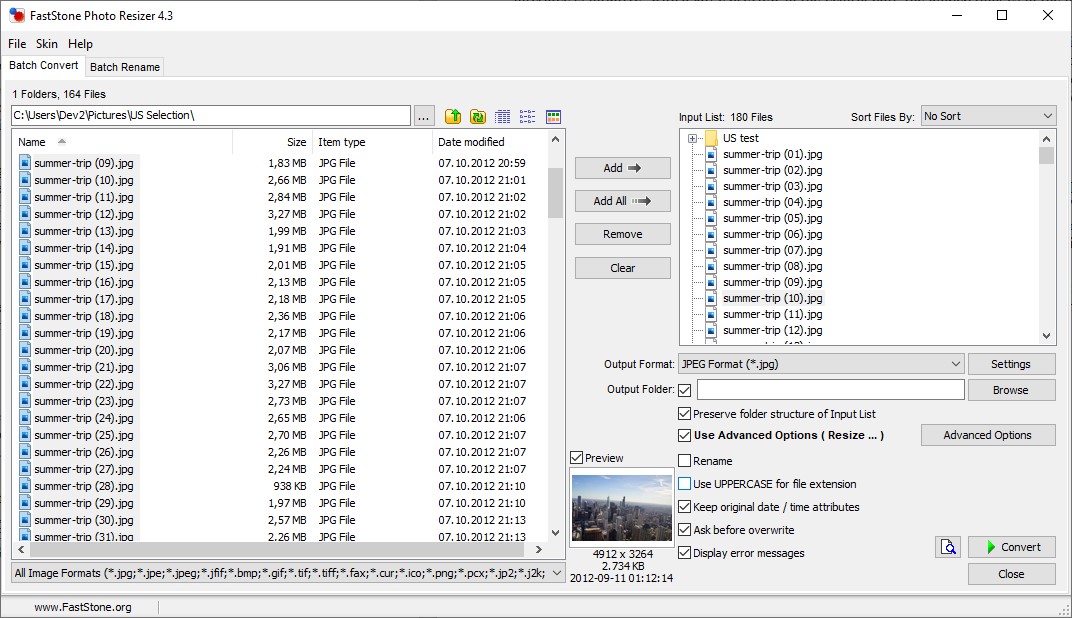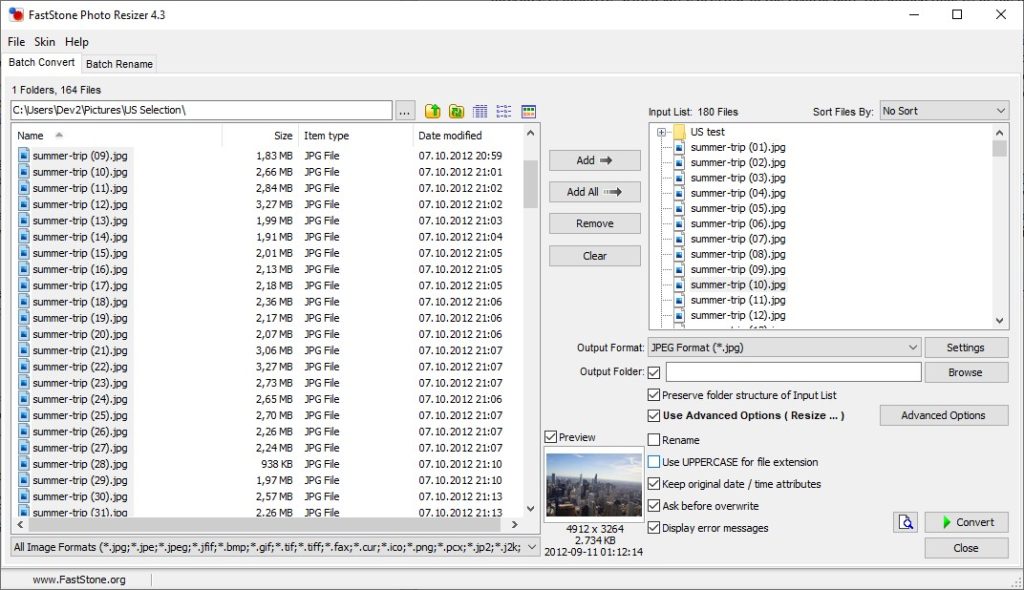 Besides batch processing, FastStone Photo Resizer enables you to save your configuration and load it in other projects. The letdown is without a doubt the design of this image editor. The interface is not only outdated, but also quite cluttered, which makes it difficult to find your way around it.
Overall, these tools can be quite useful when you want to resize a lot of photos easily and quickly.