AVIF is a media file developed by Alliance for Open Media. It is an image file format that is used to store image sequences that are compressed with AV1 in the HEIF container format. AVIF is similar to JPG because it uses compression to get to smaller file sizes.
Tests by companies like Netflix show that the AVIF format has better compression efficacy than JPG. Also, AVIF files support multiple color spaces, lossless compression, and lossy compression.
Though just because the AVIF file format isn't a bad format, people may not have the tools necessary to open such formats, or there are other reasons you may want to convert AVIF to JPG or other formats. This is because JPG is widely used by many different places around the web.
Why we need to convert AVIF to JPG
Because AVIF isn't a popular image format like JPG, most people may not have the tools readily available to open the AVIF file format. This is because the default image viewer on Windows or Mac doesn't support the AVIF file, leading people to have to convert AVIF to JPG format.
Though there could be other reasons why we might need to convert AVIF to JPG. A lot of sites, especially social media sites, do not support the AVIF file format. This will lead people to the need to convert the AVIF file format to JPG because sites like Facebook or Instagram won't support the file format. and this is yet another good reason many people will choose to convert that file format to JPG simply because they can't use it on most sites.
Because of the need to convert files, many people often wonder how they can do it and what is the best tool for converting files. The answer may depend on your operating system.
Overview of AVIF2JPG
AVIF2JPG is an image converting site that allows you to convert images from the AVIF format to the JPG format pretty easily and hassle-free. It is a free image converting tool that will allow you to convert many different images at once from the AVIF format to JPG or PNG. It is cross-platform that you can use it on your Windows, Mac and browsers.
1. How to use AVIF2JPG
This one is pretty easy and straightforward to use. You can either have a folder open of at least one file with the AVIF format and click and drag it where it tells you to click and drag it. Though you can do multiple AVIF images at once if you need to, all you have to do is select all the images with the AVIF format and drag them where it says to drag them, or you can click on the image and open up the file viewer. Then you'll want to select the appropriate format in the boxes below, size, and quality.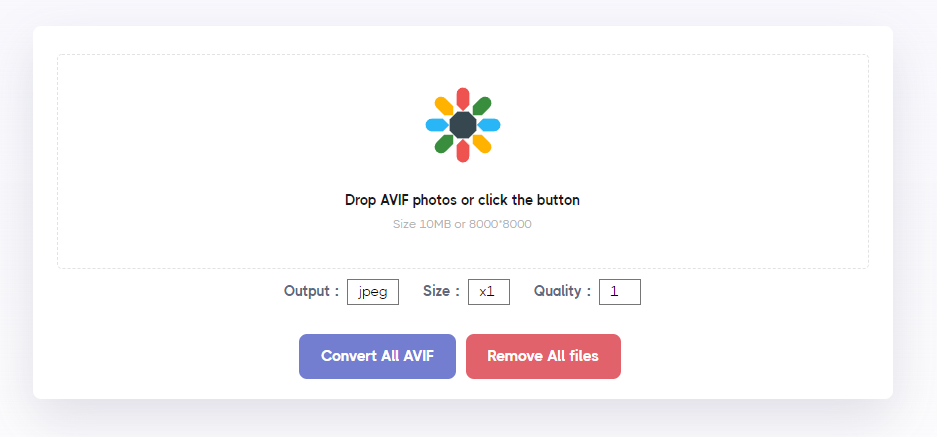 2. Benefits
The benefits are pretty clear with this online converter tool. For starters, it is very much free to use and doesn't cost money at all. Secondly, you can choose multiple images to convert all at once without the hassle of doing one image at a time, which can waste your time, too. Lastly, you can select two different formats, either JPG or PNG.
Especially, it applies the pure JS technology that you can use to convert the AVIF files without uploading anything to the cloud. That is why it works faster and safer.
Convert AVIF to JPG on Mac
This is an AVIF converter but it is for the Mac OS. Because it is for Mac, you'll have to download this one onto your desktop, but it works the same way for converting AVIF files to JPG. It is like the other one basically, but more upgraded and robust for Mac users. It also allows you to convert files directly to the AVIF format as well if need be.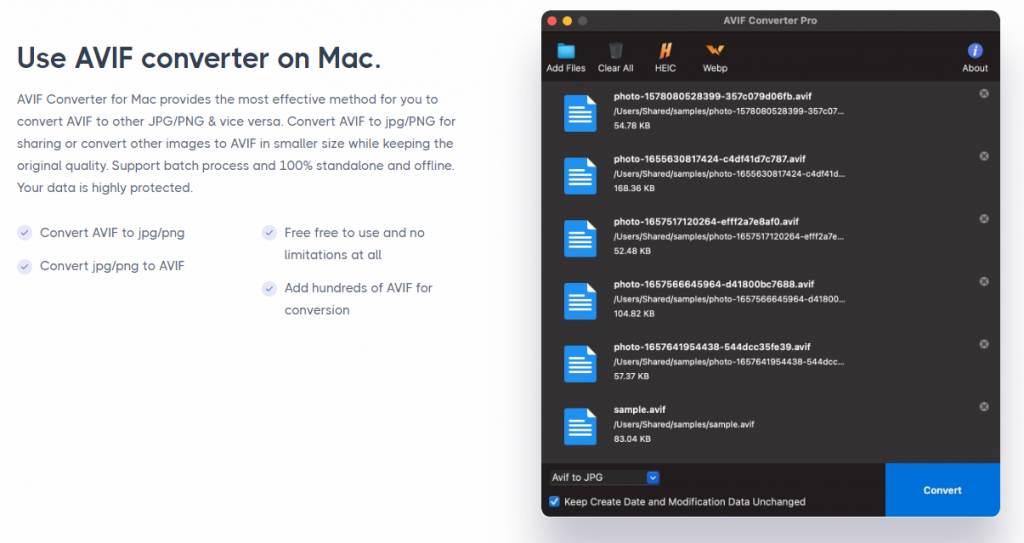 Conclusion
We learned what the AVIF format is, and it is very much like a JPG format. We also went over some of the reasons you would need to convert AVIF to JPG, being that default file viewers won't open the AVIF file format and many social media sites don't support the format either when trying to upload a picture. Then we talked about the file converter for AVIF2JPG, for both Windows and Mac, while also discussing the benefits. We hope this helped you better understand the AVIF file format and cleared up any confusion.