Brave browser is a privacy-focused browser, and so one of the features it comes with is the blocking of embedded posts from popular social media networks like Facebook, Twitter, and LinkedIn.
What it does is stop you from seeing posts from any of these social networks that might be there on web pages.
Here is how to toggle this feature:
Open Brave browser and click on the menu icon from the top-right to choose Settings.


From the Settings section, click on the Social media blocking option.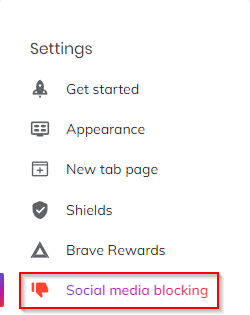 Alternatively, type in the address bar:
 brave://settings/socialBlocking


This will open the social media post settings. Brave browser can block displaying embedded posts and tweets.

To turn off Facebook embedded posts and login, toggle the Allow Facebook logins and embedded posts. Similarly, you can also block embedded tweets from Twitter and LinkedIn posts.
So, the web pages which contain these posts will still load but the embedded posts will not be displayed.
Besides being a good privacy feature,  it is also useful to disable embedded social media posts in Brave browser if you find yourself clicking too much on social media content while browsing. 🙂
Happy browsing.