Brave browser has a reader mode called Speedreader mode. It can simplify web pages and make them easier to read. It does this by removing unnecessary elements before rendering the web pages that makes loading a lot faster.
By default, this mode is off.
Whenever web pages supporting this Speedreader mode are detected, then an icon for this next to the Brave address bar is displayed.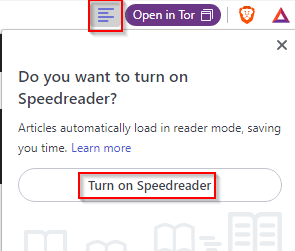 To enable Speedreader mode, click on the Turn on Speedreader button. The icon will now change indicating that the mode is now on.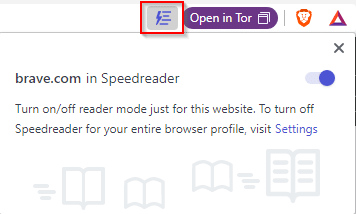 With this mode, reading articles becomes much more simplified. Also, the browsing speed becomes faster as unnecessary web elements are not loaded.
Per browser profile, this prompt to enable will appear thrice if not enabled by default.
Enabling Speedreader from settings:
To permanently enable it for the current profile, access the Appearance settings from the address bar by typing in:
brave:
//
settings
/
appearance

Scroll down to the Speedreader section and enable it from there.

It is a useful feature similar to the reading mode or print-friendly view in other browsers like Firefox, Microsoft Edge, and Google Chrome.
Do try it out.