Hard disk drive or HDD is a tried-and-tested option for storing large amounts of data. It is considered as one of the reliable and cost-effective components when it comes to dealing with a huge workload.
Hence, it is easy to find the best internal hard drive in the market as the demand and supply keeps rising. HDDs are comparatively cheaper than SSD storage options that makes it a desirable choice for many. Though HDD may have a disadvantage in terms of speed, it can win over its opponents due to the large capacity.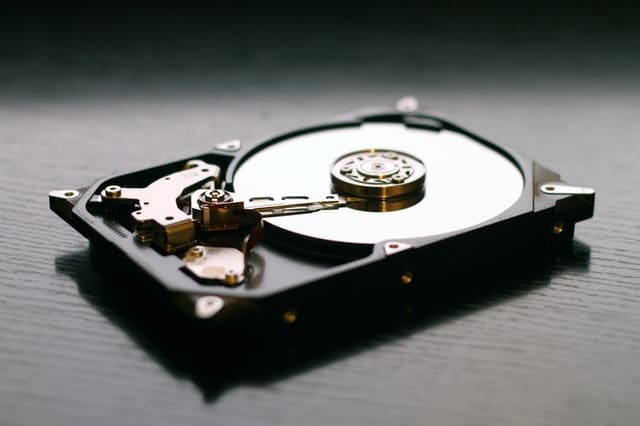 [ Image courtesy: Pexels]
You can find many HDD options with capacity as high as 8TB. This is especially useful for storing commercial data in the form of files, images, videos, applications, and programs. While finding out the best internal HDD for your system, you can consider different parameters such as performance capability, capacity, reliability, data security, and cost.
Functioning of internal hard drive
An internal hard drive or HDD contains a spinning disk and an arm. It makes use of mechanical movement between the arm and disk for accessing data. The data is stored in the disk that moves on a continuous basis. When the CPU receives a request for running a particular app, it approaches the storage drive for collecting the data instructions.
Depending on where the data is stored, the arm moves over the spinning disk or platter and retrieves it. Due to this mechanical movement, there can be chances of errors. A mechanical issue or failure between the arm and disk can lead to delays in processing. It may slow down on a frequent basis and increase the load time while accessing an app. If you observe frequent lagging, you can switch to a new HDD or upgrade to a multi-drive system with one small SDD and many large HDDs.
Best Internal hard drives for 2021:
1. Best overall performance: Seagate FireCuda
This can be considered as a perfect blend between an SSD and HDD. It delivers impressive transfer speed as seen in an SSD along with a large storage capacity of an HDD. Here, you will find an 8GB NAND form of storage like an SSD and a traditional hard drive up to 2TB. You can expect read speeds of up to 140MB/s. Though it may not match the faster speed as seen in a SATA SSD, it can still deliver excellent results for a traditional hard drive.
2. Best Value HDD: Seagate BarraCuda
This is one of the most cost-effective options offering a maximum storage capacity of up to 8TB. It has a large space for storing all kinds of files, applications, and programs. It has a rotational speed of up to 7200rpm. You can take advantage of a number of storage options. It is also a relatively quiet drive without any significant noise issue. One probable downside may include the unreliability with respect to data storage. The mechanical parts may give way to frequent errors.
3. Best Performance HDD: Western Digital VelociRaptor
As a best-in-class HDD with impressive performance capability, the WD VelociRaptor is an excellent choice for those seeking HDD storage options. With rotational speed of up to 10,000rpm, it is considered as a good candidate for HDD storage. You can also expect reliable performance when it comes to storing important information, applications, and programs. Though SSDs have an incredibly fast speed, the WD HDDs provide advantage of larger capacity at lower cost.
4.  Best Storage option: Seagate BarraCuda Pro
Starting at 2TB, the Seagate BarraCuda Pro can climb up to 14TB. This makes it one of the best storage choices for storing large files. It is ideal for storing larger files such as games and videos that consume a large space on a drive. The rotational speed is up to 7200rpm and it supports SATA 6Gp/s for fast transfer. It does not match the FireCuda option with respect to speed, but allows a greater storage option as compared to other HDDs.
5. Best reliable and cost-effective: Western Digital Blue
When you are looking for a reliable HDD for your data storage, you can go with the Western Digital Blue. It is an economical option with a large capacity. The only drawback being shorter warranty of two years as compared to the Western Digital Black.
6. Best Enterprise HDD: Seagate Exos X
With a maximum storage option of up to 16TB, the Seagate Exos X is ideal for servers and commercial facilities. It can handle up to 550TB workload per year and has a warranty period of up to five years. It delivers a power-efficient performance that is necessary for commercial enterprises. The Seagate option may be relatively expensive when compared against other HDD options.
7.  Best HDD for network-attached storage: Seagate IronWolf
This network-attached storage maintains a high level of performance capability and is designed to run on a continuous basis. There are multiple storage options ranging from 1TB to up to 16TB. The drives below capacity of 4TB run at 5,900rpm while the higher values run at 7,200rpm. It has excellent reliability for handling multiple streams of data.
8. Best HDD as a runner-up performer: Western Digital Black
Priced at a great value as compared to the other counterparts, the WD Black is a preferred choice among desktop users. It delivers a decent performance capability and is reliable for handling data. You would not encounter any issues with respect to mechanical performance. The lowest capacity starts at 500GB and goes up to 6TB. You can take advantage of a five-year warranty period. It may not be able to handle the noise well, leading to disturbance issues.
Besides the options listed above, there are many choices with respect to a particular function. If you require HDD for professional desktops, home media, and also for gaming applications, you can go with the Toshiba X300.
Though SSDs are preferred options for storage due to the advantages such as faster speed and data security, HDDs provide the advantage of a large capacity. Seagate and Western Digital are clear winners with multiple options. If you are eager to replace your HDD and opt for any of the best hard drives in 2021, you can find it easy to look around for options. You can contact us at BuySellRam for selling your used and new HDD. We offer excellent cash value for all types of storage. This can make it easy to invest towards newer upgrades for your changing requirements.