Microsoft Edge browser now comes with the Vertical Tabs feature. This makes managing open tabs a lot easier.
To use this feature, first, check the browser version by accessing the Edge settings.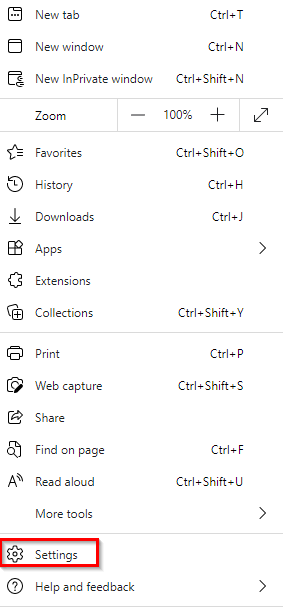 Scroll down and click on About Microsoft Edge.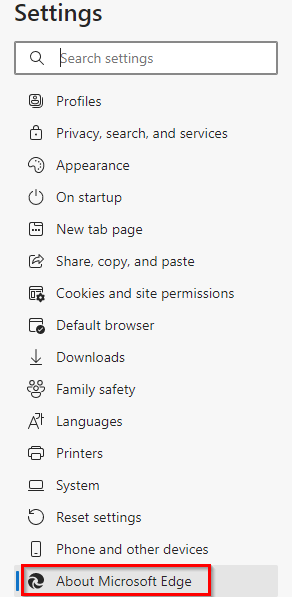 Alternatively, type the following in the Edge address bar:

The vertical tabs feature is available from version 89 and above. If you have a previous version, update it.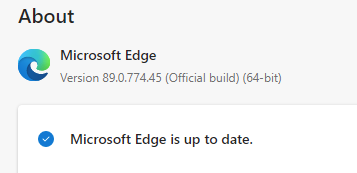 Once the updated Edge version is installed, there would be a small icon at the very left of the tabs. This is the vertical tab icon.

Using vertical tabs:
On the first run, there would be a brief introduction of how this feature works. Click on Try vertical tabs to start using it, or click on the vertical tabs icon from the left of the Edge tabs.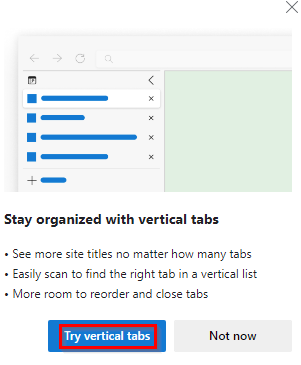 All the existing open tabs that are horizontally placed by default will now transform into a column on the left.

The tab in focus will be the one available for viewing in the Edge window.
To open a new tab, click on the + button or New tab. The new tab will open but as a vertical tab in the column. You can also collapse the vertical tab column by clicking on the arrow icon to get more screen space. Click on this collapse icon in the vertical tab column.

The tabs will change to the site favicons if any.

On hovering on the vertical tabs, the column will expand automatically. You can also pin it with the pin icon.

These tabs can be reordered too if needed. Drag and drop them within the vertical tab column to do so to shuffle their order.
Vertical tabs settings:
To change the vertical tab settings, access Edge settings, and select Appearance.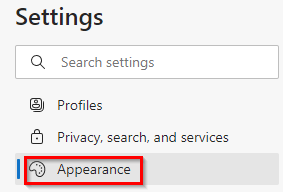 Alternatively, type the following in the Edge address bar:
edge:
//
settings
/
appearance

You can then turn off the vertical tab icon from being displayed if needed and also disable this feature.

These settings can also be accessed by right-clicking the vertical tabs icon and choosing Customize toolbar.

The vertical tabs feature along with Sleeping Tabs in Microsoft Edge can be useful for tab management, especially if you have a lot of open tabs by maximizing the screen space and suspending inactive tabs.
Happy browsing.