Advanced Notepad is a lightweight Chrome add-on for taking notes. It works offline too and can be used to save notes whenever needed.
Download and install it from the Chrome Web Store here.


After Advanced Notepad is installed, click on the Extension icon and pin the add-on next to the Chrome address bar.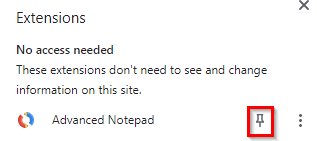 Using Advanced Notepad:
To use it, click on the Advanced Notepad icon. This will pop-up a note-taking window. The interface is minimal with the notes pane on the left side and the editing area on the right.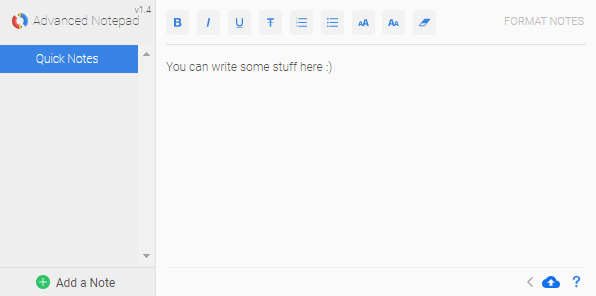 There will already be a sample note by default which can be edited if needed.
Create and edit notes:
To create a new note, click on the Add a Note option from the bottom of the left pane.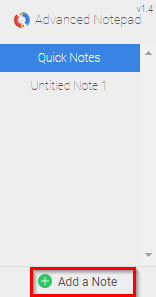 Advanced Notepad automatically renames the new notes with the first ten characters from the note. Various text editing functions like changing fonts, changing the text size, underline, strikethrough, bullet and numbered lists and more are available for editing notes.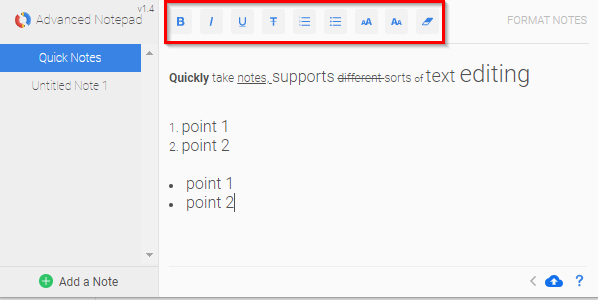 New notes created can be deleted using the DELETE option from the bottom of the text editing pane.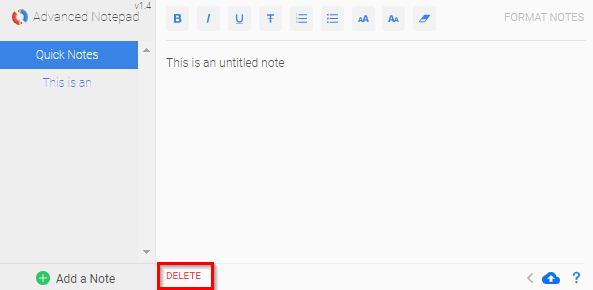 The default note however can't be deleted.
Save notes:
Also, Advanced Notepad automatically saves all the notes. You can also manually backup the notes. Advanced Notes uses JSONbin.io online storage service for doing that. Click on the cloud icon from the bottom right of the editing pane to do so.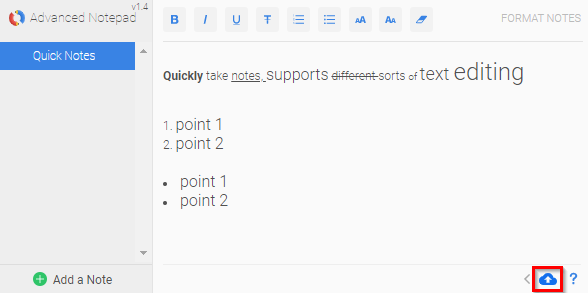 Then click the BACKUP ALL DATA button. Depending on the size of the notes, it can take a while. Once done, a Backup ID will be generated.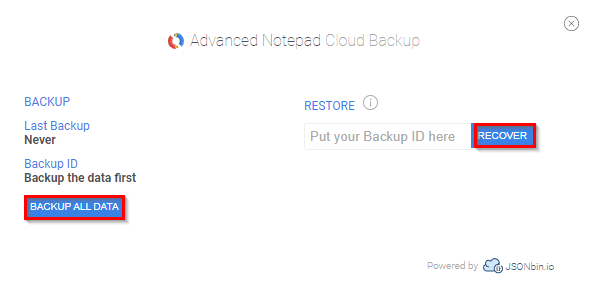 You can then use it to restore manually anytime if needed.  The auto-save feature though is sufficient for most purposes to view and edit notes as this add-on works offline too.
Other settings:
There are no additional settings for configuring Advanced Notepad. You can enable it in incognito mode if needed. To do that, right-click on the add-on and choose Manage extensions.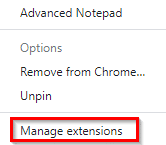 Then select the option of Allow in incognito.

Overall, Advanced Notepad is an easy-to-use note-taking add-on for Chrome.
All done.