It can be distracting to spend too much time on social media sites and other such similar sites without keeping a track of time. Intention – Stop Mindless Browsing is a useful Firefox add-on that helps in tracking the time spent on such sites and also blocks them thereby improving productivity.
What this add-on does is keep a track of time spent on the websites that you add as distracting or restricted sites by assigning a daily limit. You can then unlock them for a specific time interval after which they will automatically be locked unless unlocked again manually. This brings in awareness of your usage pattern whenever browsing them.
Download it from the Firefox add-ons page here. It is also available for Chrome too.

Once installed, allow it to run in Private Windows too if needed.

There will be a quick launch page that briefly describes what it does. Click on Continue.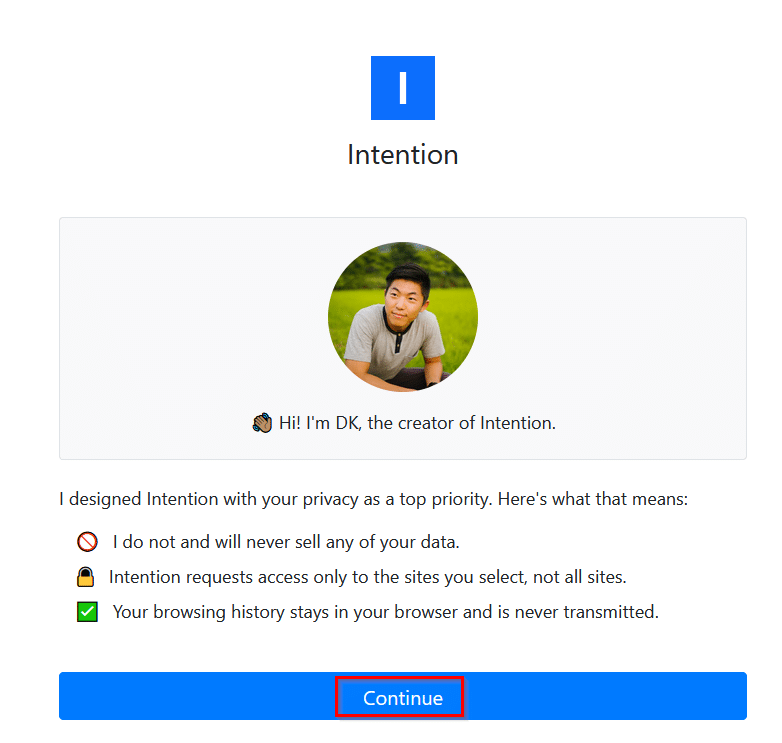 The add-on will be available as an icon next to the Firefox address bar too.

As this add-on needs access to tabs to check for restricted sites, click on Allow for the option about accessing browser tabs.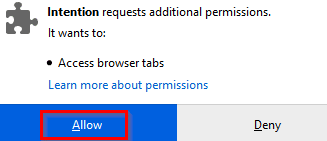 Using Intention:
After the permissions are enabled, add the sites that you feel waste a lot of time when browsing.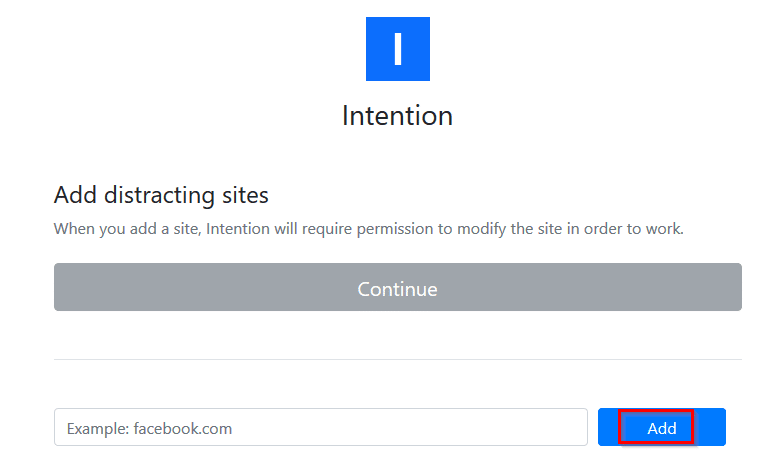 Intention already has a list of suggested sites. Click on Add to add them for tracking usage.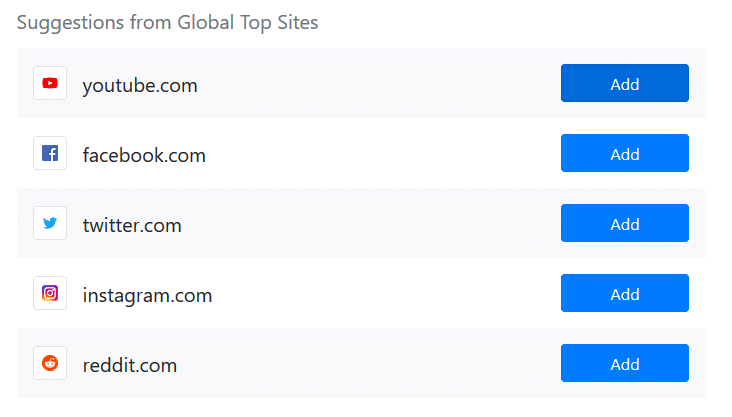 Based on your browsing history and time spent on different sites, Intention can also give personalized suggestions for sites that can be added to the list.

Once added, whenever a site from the list is accessed, Intention will display a banner rather than loading the website.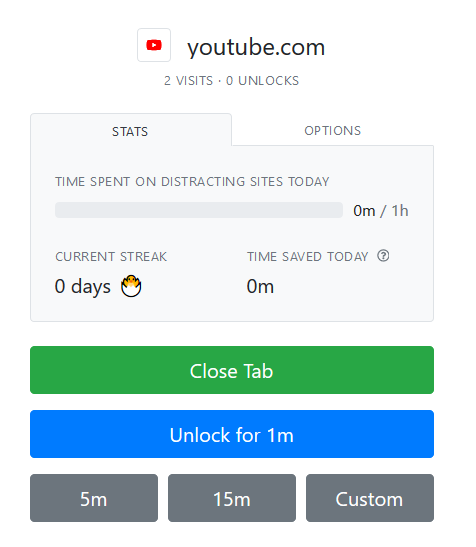 This banner has two sections: STATS and OPTIONS.
STATS: This shows how many times you have visited the site, the number of times it has been unlocked, the current streak, and the time spent on it. CURRENT STREAK is shown in days and if you regularly stay within the daily time limits for restricted websites, this will accumulate as days.
You can still access the site but you'd need to unlock it first (the default unlock interval being 1 minute) or by selecting from the available time intervals. This is useful as it brings accountability and awareness when browsing without wasting too much time on the site. There are also set intervals like 5 minutes and 15 minutes.
Custom interval:
You can select a custom interval in minutes too if needed by clicking on Custom.

Once the site is unlocked, the Intention add-on icon will display the countdown timer based on the unlock interval.

This timer will only be active as long as you are on that site, if you switch to a different tab that has some other site, the timer will pause. It will resume once you go back to the site which was unlocked.
OPTIONS: By clicking on the OPTIONS tab, you can bypass the daily time limit. This is by enabling the option of Productive session.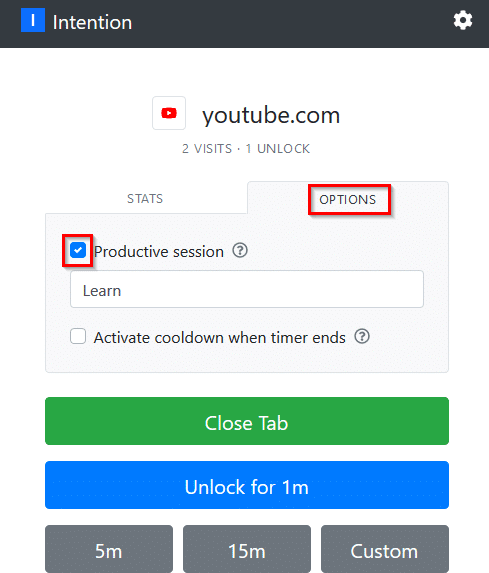 Enter a description for the session if needed. When this is enabled, the time spent on the website won't be counted in the daily limit quota. Using this feature is useful if you are researching or want to use the site for information purposes but not for mindless browsing.
You can end the timer anytime if needed without waiting for it to complete by clicking on the add-on icon and selecting End Timer.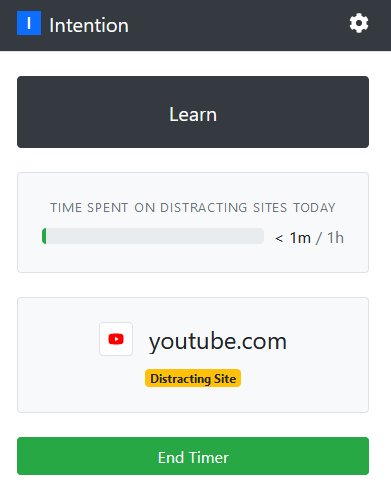 There is another option below it which is cooldown. Enabling this will automatically lock all the websites for five minutes when the timer ends.
Configuring Intention:
To configure options for Intention, either right-click on the add-on icon and select Manage Extensions or click on the gear icon in the banner.

There are four different options for configuring Intention: Sites, Schedule, Stats, and Privacy.
Sites: Add and remove sites from the restricted list from here.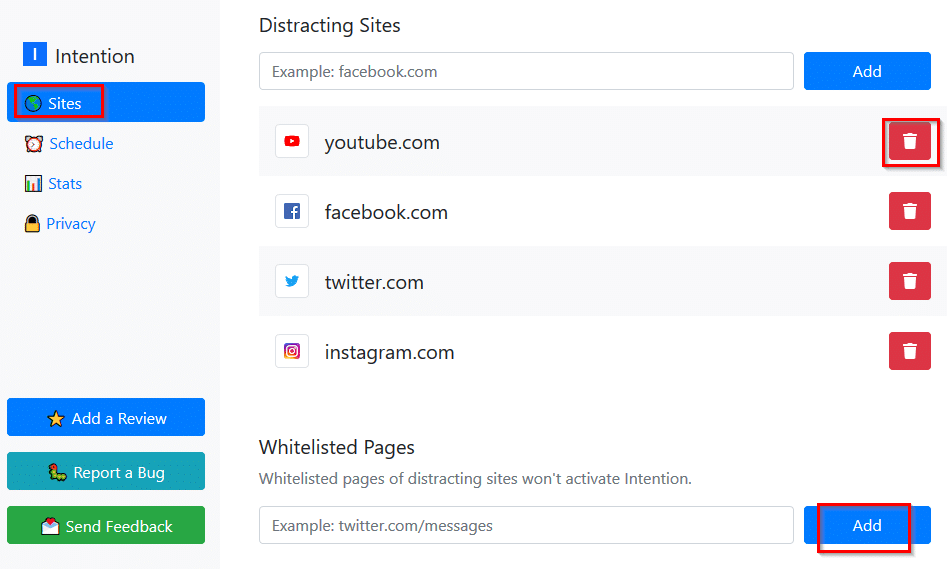 You can also permanently allow specific pages of the distracting sites by adding them to whitelisted pages. This is useful when you'd need to check messages from social media sites but not the content feed or the timeline.
Schedule: To automatically lock sites based on a schedule, enable the option of Set scheduled hours.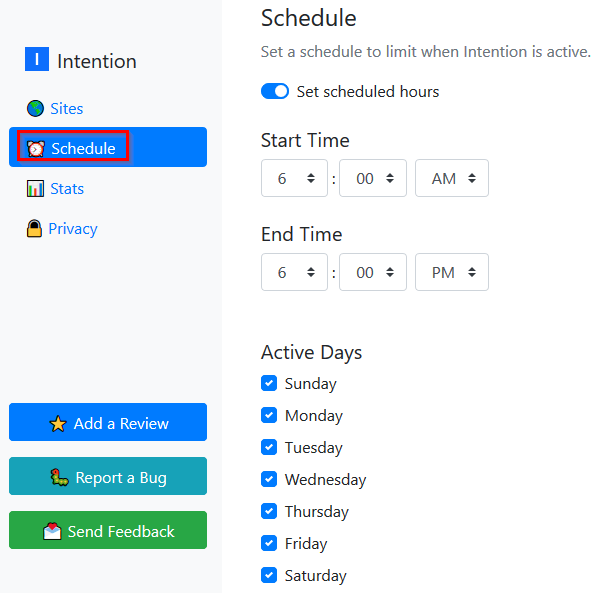 Then, select the Start Time and End Time. Also, you can select the days on which Intention will be active. Using this option seems a bit restrictive though.
Stats: Keep a track of the restricted sites visited and for how long from here. Also, there is a default daily limit of one hour.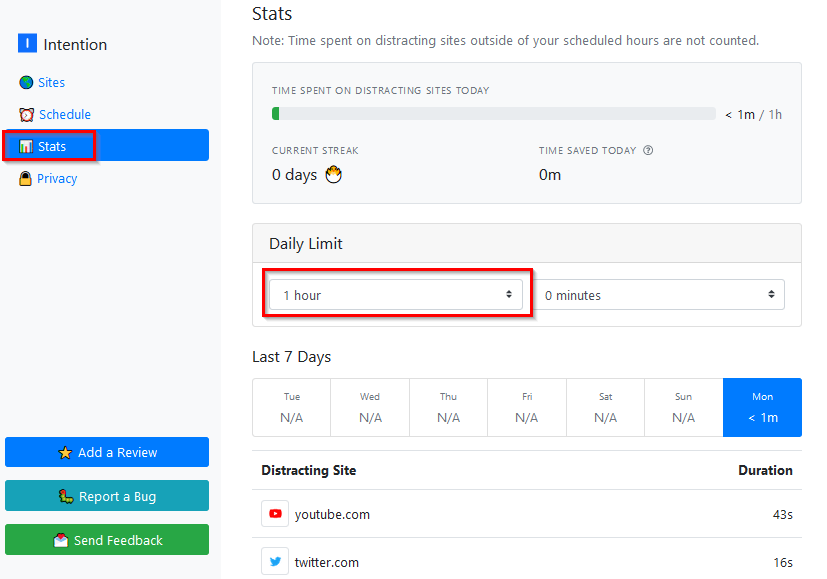 You can change it as needed from the Daily Limit drop-down menu.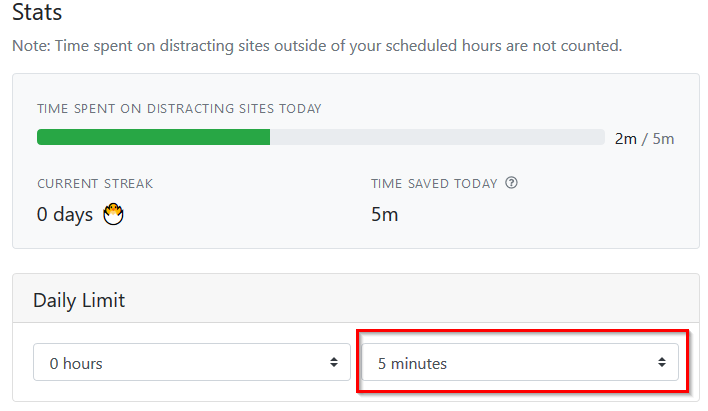 This section also shows a daily breakdown of visited websites and their duration.
If you try to unlock when your daily limit is about to exceed, Intention will display a warning about it.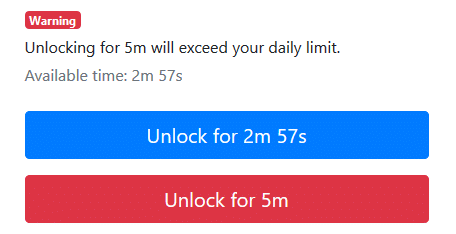 You can then continue to unlock for the time interval selected or for the time left in the daily limit.
Privacy: Enable or disable the option of sending error reports from here.

This is a simple but useful Firefox add-on that helps you in staying focused by cutting down time spent on mindless browsing. If you are looking to completely block sites in Firefox, then Impulse Blocker and Block Site add-ons can be useful too.
Happy browsing.