Robot Vacuum Is A Smart And Convenient Way To Keep Your Space Sparkly Clean
Nobody wants to spend their entire day vacuuming, right? It's not only time-consuming and tedious, but it's pretty boring. Thanks to the advancement in technology, along came robot vacuums. The popularity of these smart cleaning gadgets has increased over the years because of the convenience they present.
One of the leading robovac brands today is iRobot. The company's latest offering, the Roomba s9+ is said to be the Rolls Royce of robotic vacuum cleaners. The self-emptying smart robot takes the dirty work out of vacuuming and will suck up filth and dust that gets in its way.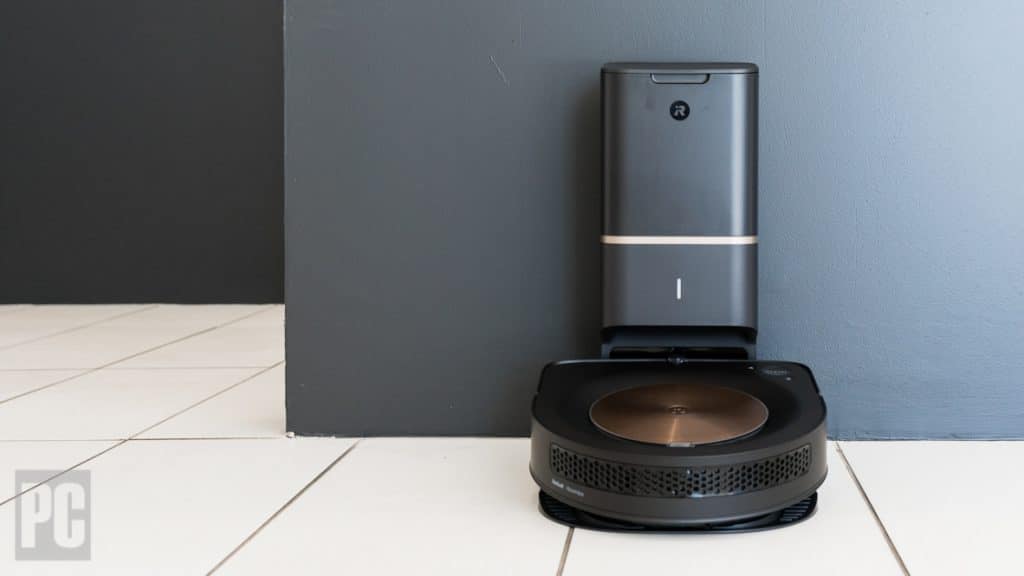 But will it live up to your expectations? Let's dig a little deeper to find out.
What's The Fuss All About?
This premium mapping robovac that will do whatever you want in a whim does not come cheap. And there is plenty of its kind out there that cost less. However, there's no denying that the iRobot Roomba s9+ is powerful and intelligent with a handsome look to match.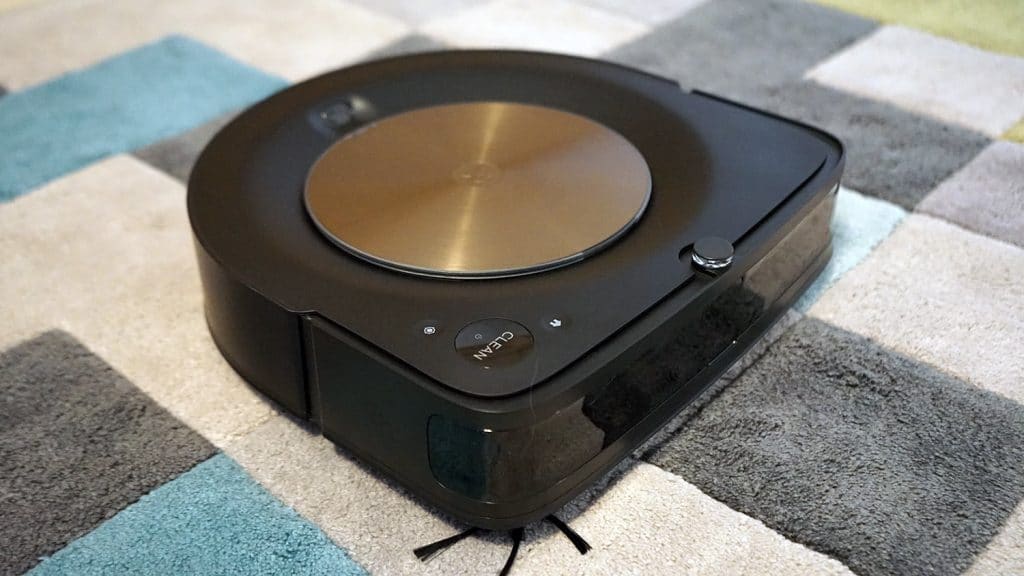 Regardless of its price tag, it's one of the most reliable robovacs on the market today. In fact, the iRobot Roomba S9+ is a mainstay on a lot of the best robot vacuum cleaners roundups, including this one at https://cleanup.expert/robot-vacuums/.
What makes the Roomba s9 Plus an attractive cleaning tool to have in your home is that it aims to take the task of vacuuming to a whole new level. Unlike others, it will focus more on areas that need more vacuuming and not waste time on those that do not. Plus, you can connect it to your Wi-Fi so that you can easily set it to clean even when you're away using an app on your smartphone.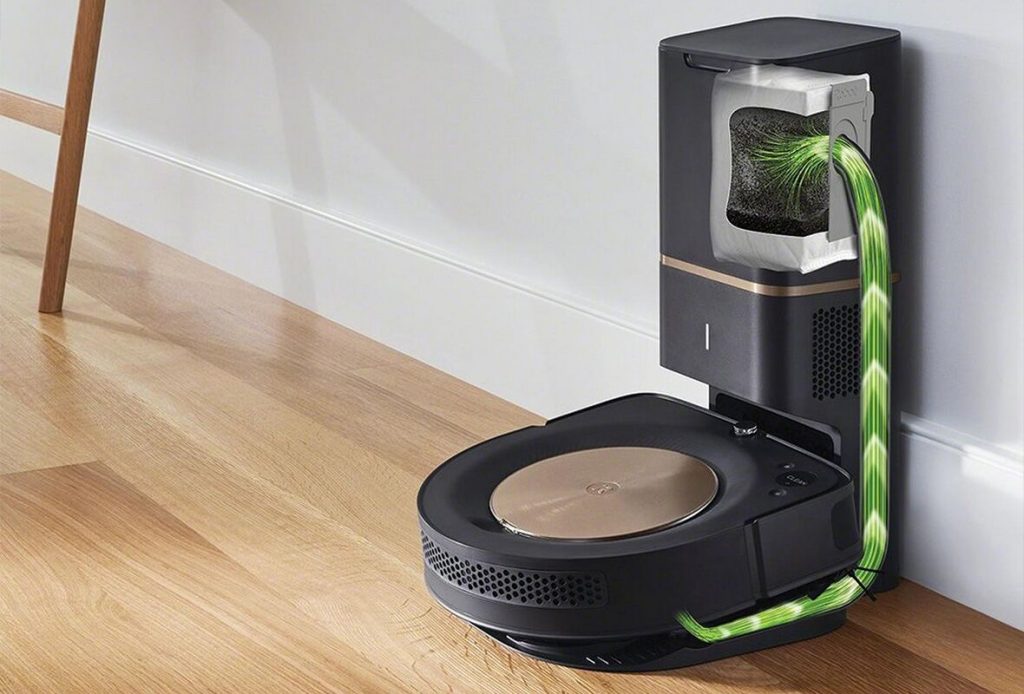 This mapping robot also comes with a self-emptying base, restricting your exposure to dust. Once you've set up your Roomba S9+, the only thing you have to do is replace its bag once it's full of filth. And the best thing about it? It works just as advertised.
Dress To Impress
The Roomba s9 is quite impressive. iRobot gave the chassis of this robot a new design with a curvy matte black plastic construction. This is further emphasized by the beautiful brushed-metal lid. You can flip this lid with ease to reveal an internal dust bin. It has a total capacity of 550 ml, making it the largest on all Roomba line so far. But when utilizing the CleanBase and changing its filter, you'll only find the dust bin.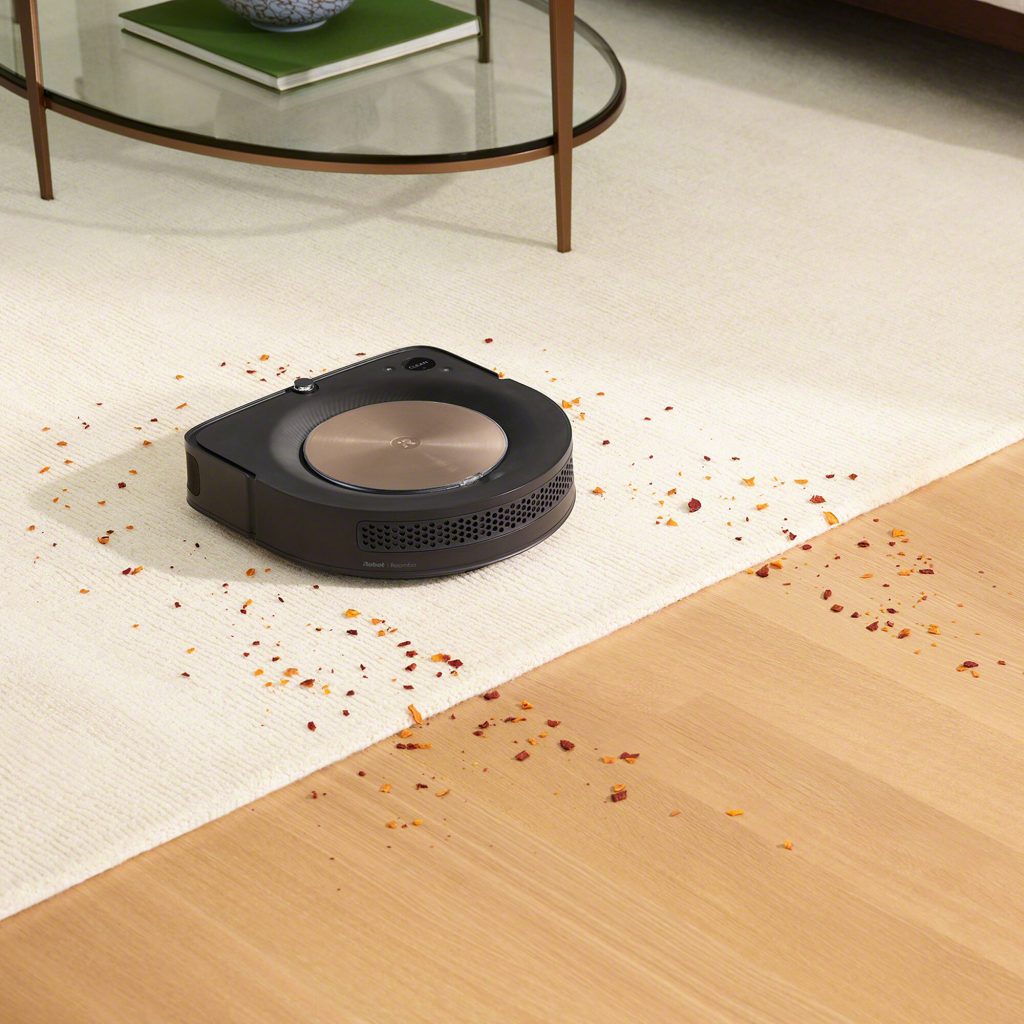 As you'd expect from a device worth $1400, the Roomba s9+ has a thorough design. The company really paid a lot of attention to details on building this robot vacuum. When you power it on, you'll see a subtle ring illuminating its center lid that notifies you of the unit's status.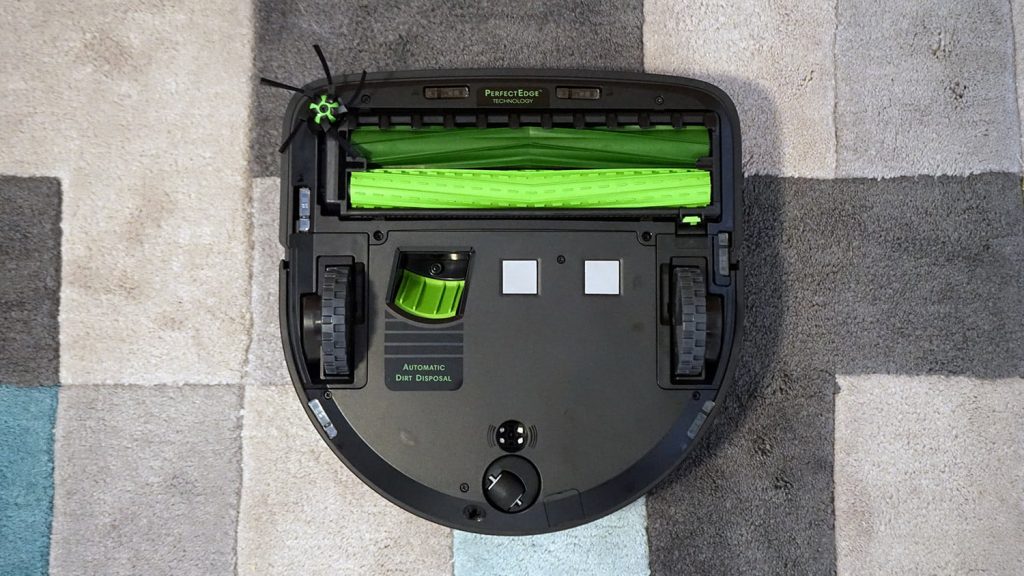 There are also rubber seals at both sides of its dust bin to ensure dirt, dust, and pollen do not escape while it's doing its job. And although the exterior of the device may likely take on a few grazes and bumps here and there, it feels durable enough to withstand them.
Not to be outdone, the bottom part of the s9 Plus comes with a couple of brushes that sport alternative ridges. These are great for getting dirt, dust, and pet hair. We all love our four-legged friends, but their mess? Not so much! Hence, this robot cleaner is a great choice if you have pets in your humble abode.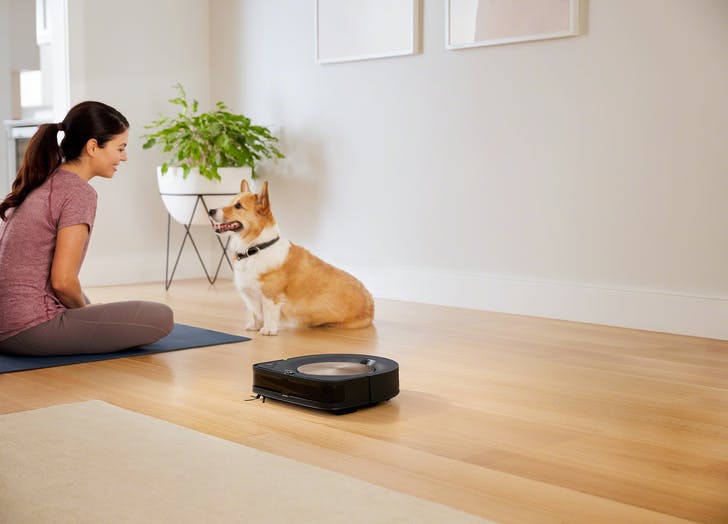 What makes these brushes stand out is that they're significantly wider in comparison to the ones on the previous Roomba version. Additionally, it only has one corner brush located on its right side. It can also comb through your stocky floor trims and thick rugs without problems, thanks to its rubberized, spring-loaded wheels.
A Totally Hands-Free Cleaning Experience
Once you unpack your new Roomba s9 Plus, you're just minutes away from vacuuming your space. Setting up this iRobot on your smartphone app is effortless and fast. It's as easy as creating an account, selecting the specific model of your robot, choosing your home Wi-Fi network, and entering your desired password. Afterward, simply press its Spot and Home buttons on the unit until you hear a beeping sound.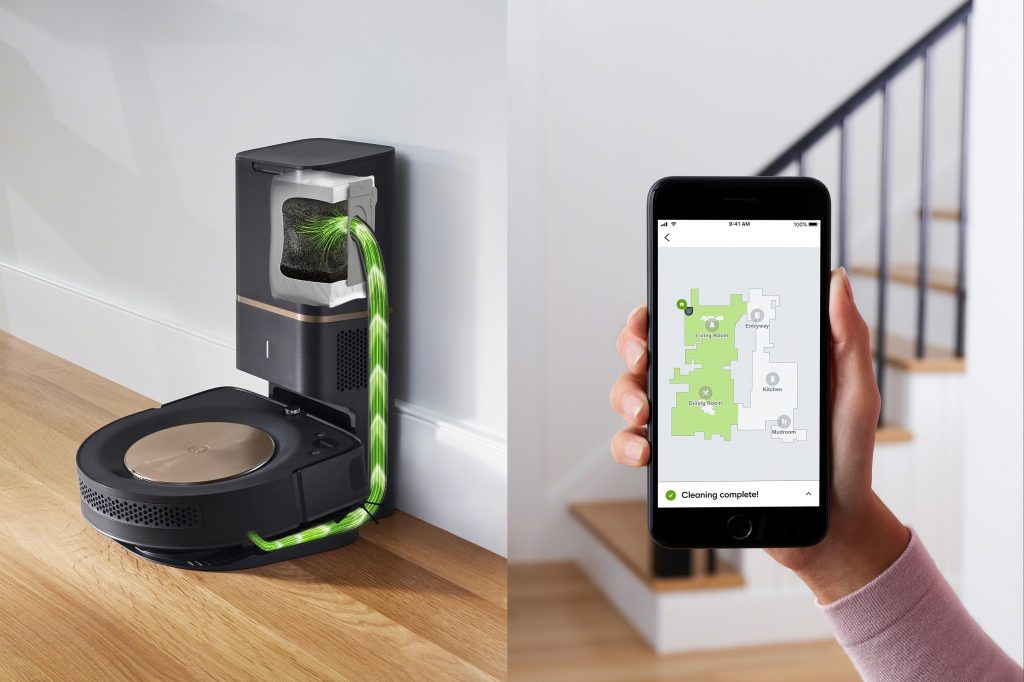 Once you're connected, you'll see a large Clean button for starting and stopping your vacuum on the app's main screen. There's also a battery icon at the top, indicating the power level of your robot vacuum. Meanwhile, the left side of the home screen contains the following tabs:
• Schedule. If you want your s9+ to vacuum on a given time and day.
• History. Tap this tab if you want to see the logs of your previous cleaning sessions.
• Smart Maps. Accessing this will show your home's layout. Your robot only needs a few rounds of vacuuming to learn and save it. Afterward, you'll be able to label particular rooms you want it to clean if you don't want your Roomba to tackle the entire house.
• Settings. This tab is what you want to navigate if you want to change the details of your connection, locate your robot, and perform a factory reset.
• Help. The Help tab has all the information you need about the smart gadget. These include an owner's guide, FAQs, manuals for maintenance and care, and warranty details.
Another handy feature of the s9 Plus you'll love is that it is compatible with both Google Assistant and Alexa. Once you connect it to the respective apps, you can use your smart gadget to assign voice commands for a hands-free cleaning experience. This means you can tell your robot to start cleaning, pause, stop, and even go back to its docking station.
It's The Performance That Matters The Most
The navigation skills of the Roomba S9+ is nothing short but sweet. Unlike others, it rarely needs manual intervention on your part. And this is a vital part of any hands-free cleaning experience. What's more, the robot's low-profile built enables it to easily maneuver under most furniture with low clearance.
In terms of suction power, this is one of the strongest you'll encounter. It can suck up all sorts of dirt and debris without problems. It will even automatically modify the strength of its suction depending on the type of surface it will vacuum. In an open space, this robovac usually uses the back-and-forth cleaning pattern. On the other hand, its D shape pattern is great for taking care of hard-to-reach spots.
Its corner cleaning ability is decent and similar to other leading vacuums out there. Nevertheless, it may not be able to reach sufficiently into corners to get every bit of dirt in there. That means that it will not free you entirely from using your good old traditional vacuum from time to time. Still, it comes really close. Also, the technology of robot vacuums is still on its prime. So no matter what brand or model you get yourself, you will still need to get your upright vac from the storage at times.
However, the s9 Plus is most impressive on edge cleaning. In comparison to most robot vacuums, it can clean much closer to the walls, sucking up all filth. It's so good at this that competitors and even other iRobot Roomba models before it are sure to bow down.