It's giveaway time once again. 🙂
In collaboration with IObit, there is a giveaway for Advanced SystemCare PRO 13 (ASC PRO 13).
Key features of ASC PRO 13:
1-click clean and optimization tool for PC.
Easy to use interface.
Delete junk files, browsing data, tune-up PC and auto-update programs.
Schedule scans for optimizing and clean-up.
Giveaway details:
Ten licenses of ASC PRO 13 each worth 19.99$ are up for grabs . These licenses are valid for a year. All the features of the retail version are available in this, the only limitation though is that there is no tech support or updates provided for them.
This giveaway is open starting today 17th August 2020 to 31st August 2020.
How to get the giveaway license:
Participation is required for this giveaway. Simply leave a comment below expressing your interest in getting the license. Please enter a valid email address as the license key will be directly emailed there once the giveaway ends.
Ten winners will be picked randomly using the Pick A Giveaway Winner plugin.
How to use ASC PRO 13:
Download and install ASC 13 from here. Once installed, launch it. The license key on activation will unlock all the PRO features.
Also, a desktop widget for it will now be available and you can click on it to get a summary of system usage.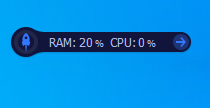 The main interface which can be accessed either from the desktop icon or from the system tray consists of six different sections: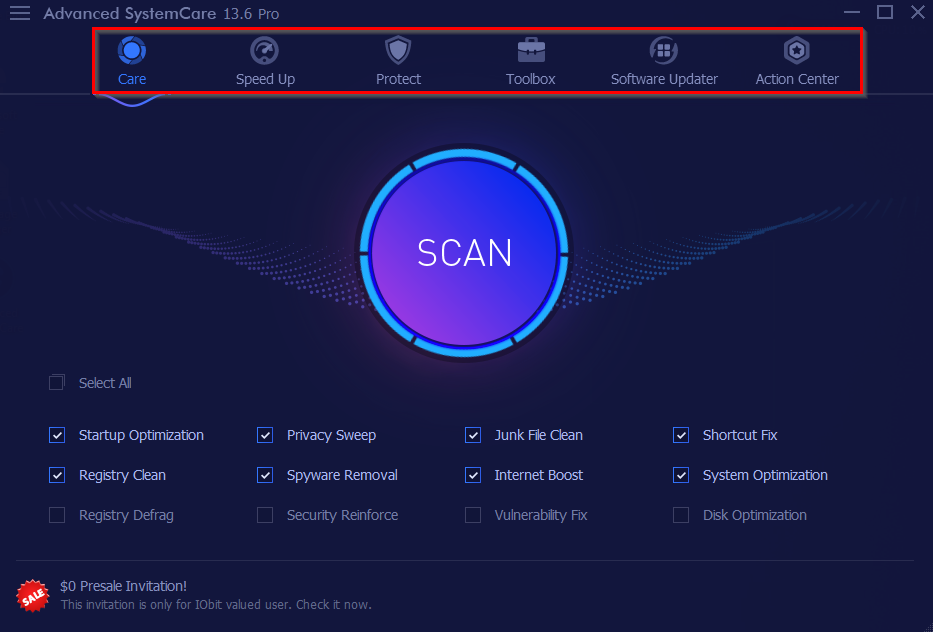 Care: Click on SCAN to begin scanning for junk files and other unwanted items. A summary of what can be fixed and optimized will be shown after the scanning is completed. Click on Fix to resolve.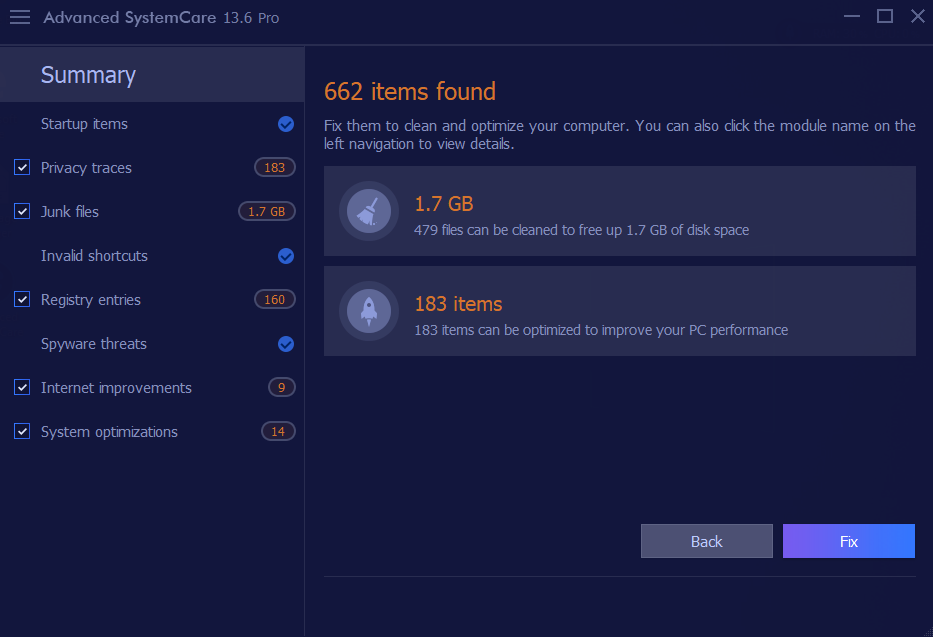 ASC13 Pro will clean up and optimize these items and the progress will be displayed in the results window.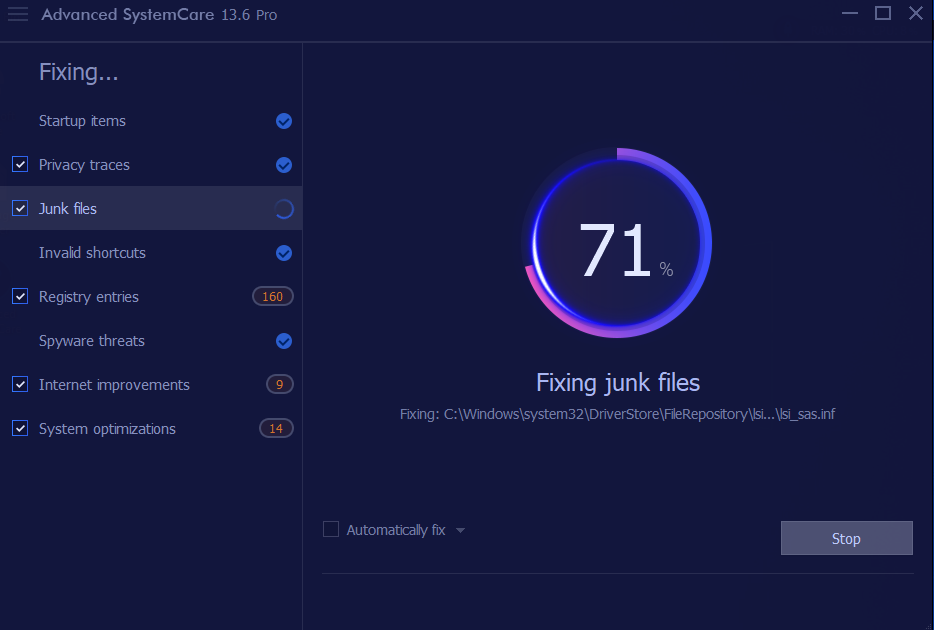 Once all the items are cleaned and optimized, click on Finish.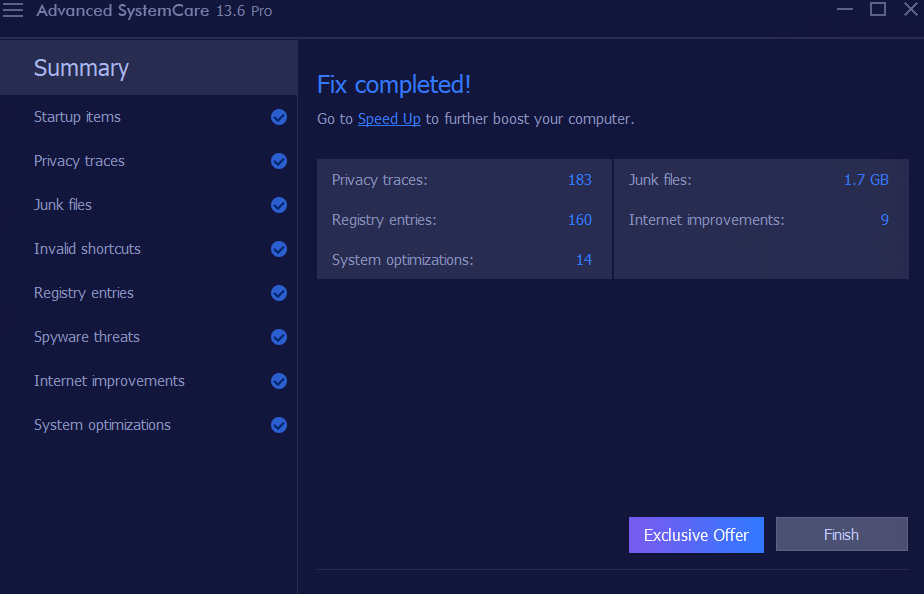 Speed Up: This section is for enhancing system performance. There are sub-sections in this like Turbo Boost, Hardware Accelerate, Deep Optimization, and App/Toolbar Cleaner.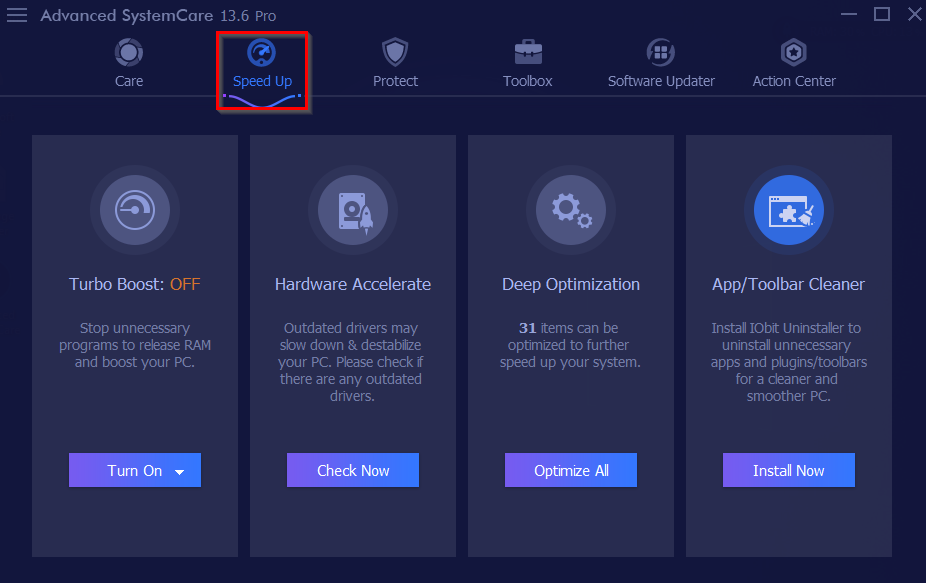 These can disable unwanted programs, check for the latest driver updates, optimize other items, and uninstall unwanted programs.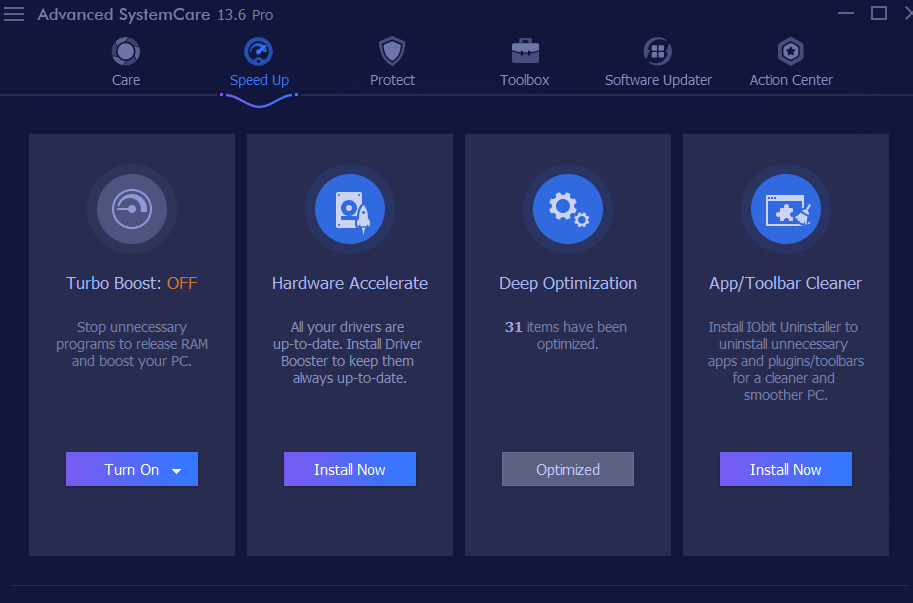 Protect: This is for protecting the PC by applying privacy settings, disabling ads while surfing, and so on.
Some features like Privacy Shield, Browser Anti-Tracking, and Real-Time Protector as available only in the PRO version though.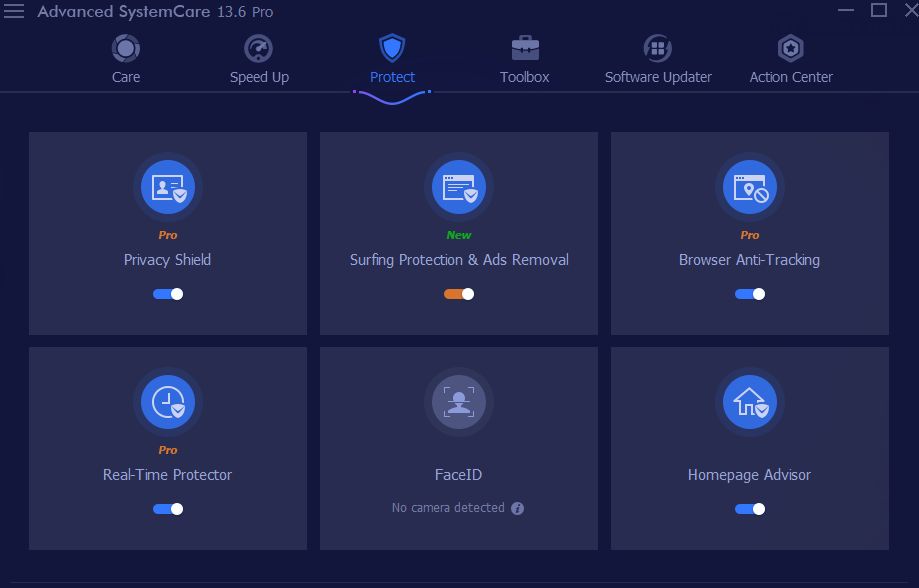 Toolbox: Different stand-alone utilities related to system optimization, clean-up, and security can be downloaded from here.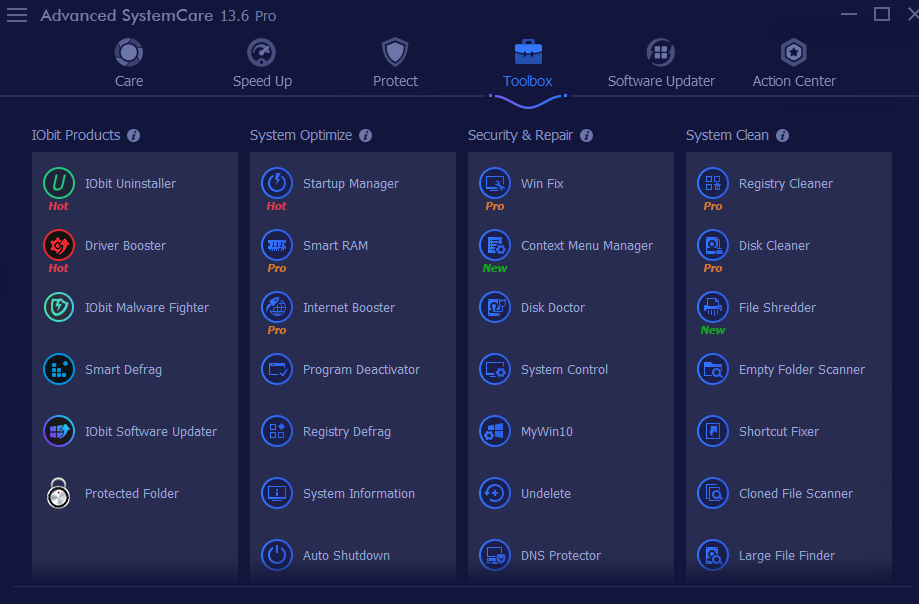 Most of these are only needed if you need to apply specific system tweaks, otherwise, the built-in scan and fix features are sufficient for removing junk items and optimizing.
Software Updater: This section will display the installed programs and indicate whether they need to be updated. So you can directly apply updates for them from here.

Action Center: Other products are listed here and you can visit their product pages for more information.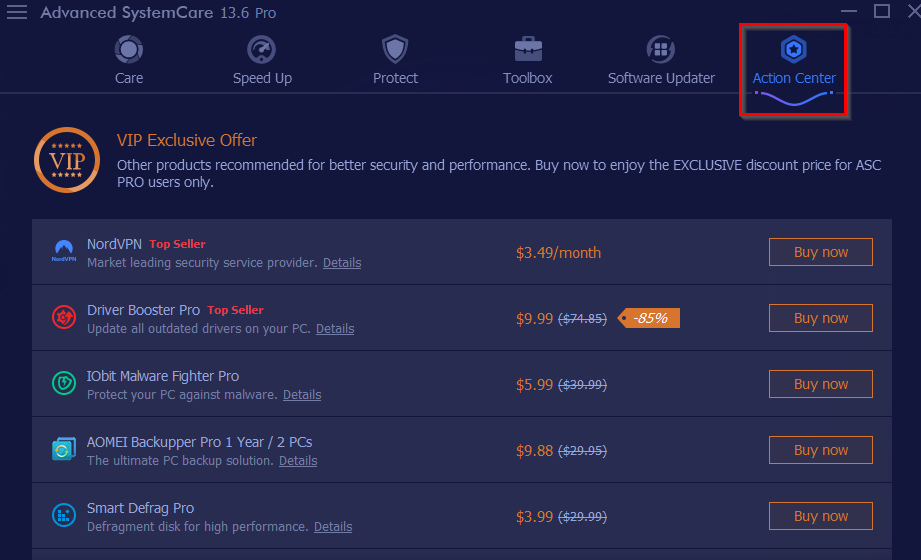 ASC PRO 13 Settings:
You can also individually configure cleaning and optimizing options  by clicking on the top-left icon and choosing Settings.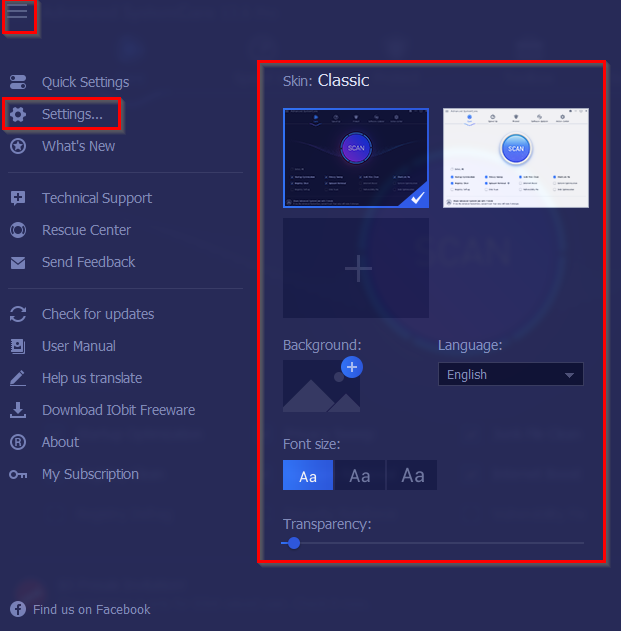 Also, the default theme type as well as the interface language, font size, and background can be set from here.
The settings are available for each of the ASC PRO 13 features and are granular.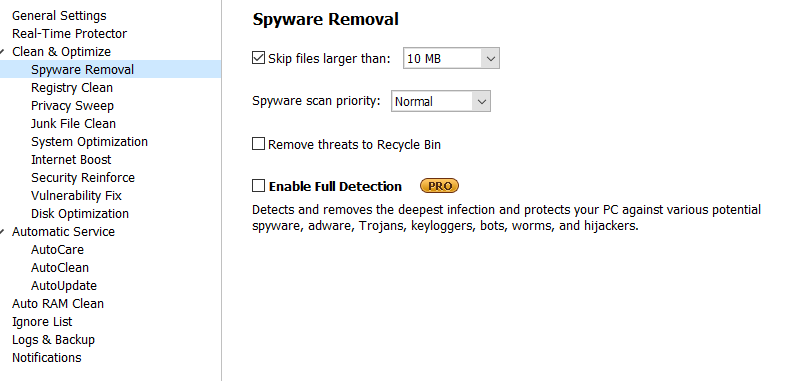 So you can configure them as needed like selecting what to delete, add items to an Ignore List so that they will be skipped from being scanned, schedule a clean-up, and so on.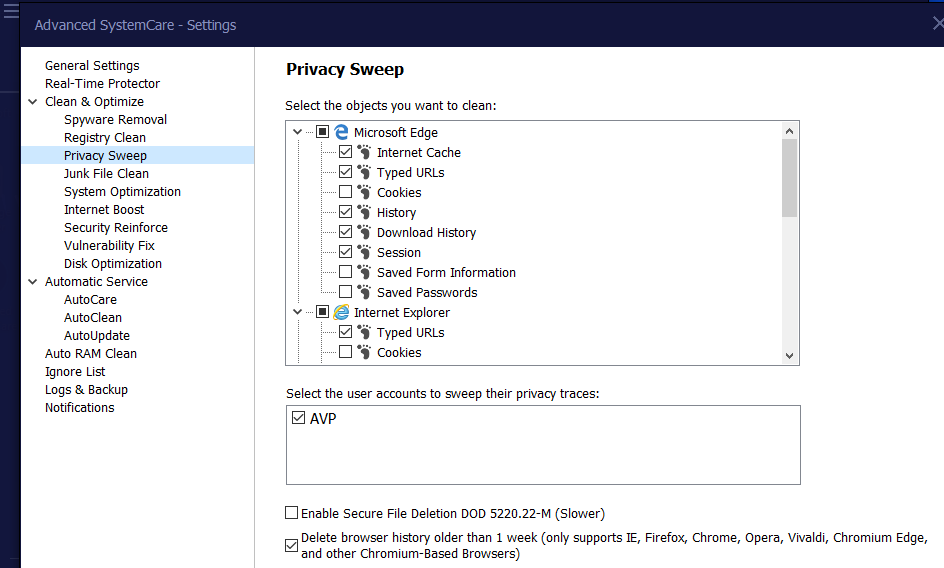 A word on Advanced SystemCare 14 Beta (ASC 14 Beta):
The new version Advanced SystemCare 14 will also be released soon and it's beta version is currently free to download and use from here.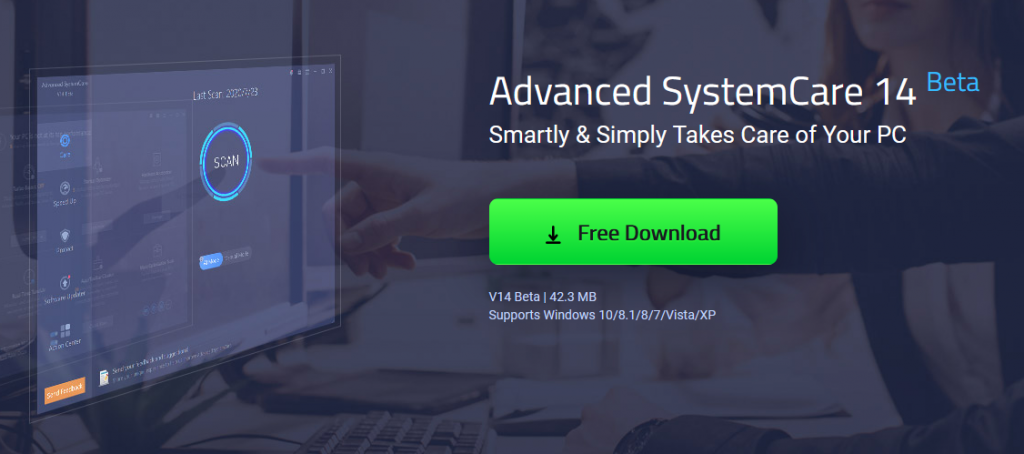 It has some new features like:
AI Mode: Auto selects items to clean-up and optimizes using AI so that you don't need to decide what to choose every time while optimizing.
Antivirus Protection: Has a built-in firewall and antivirus for better PC security.
Better PC cleanup and optimization: Faster cleanup and optimization compared to older versions.
Happy participating.
Update [2 September 2020]:
This giveaway is now closed and the following winners were picked: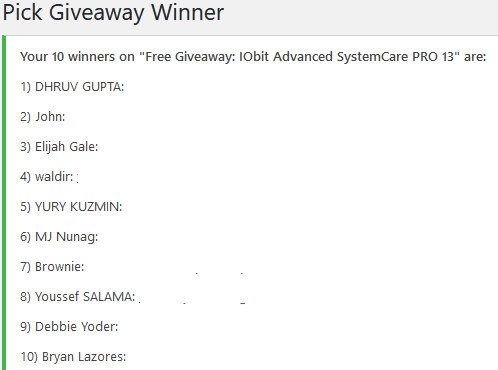 License keys have been emailed to all the winners.
Thanks for participating and if you didn't get selected, there are always more such giveaways to come.