If you'd like to only stream the audio from YouTube videos to save bandwidth and conserve battery, then Youtube Audio is a useful Firefox add-on for that. This is also particularly useful during periods of peak network congestion and slow Internet surfing during lockdowns. 🙂
Download and install it from here.

Click on Add to finish installing it. This add-on also works for embedded YouTube videos too. Playing them from within webpages will only stream the YouTube audio.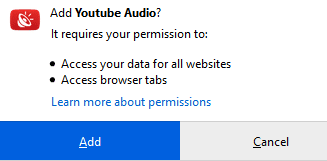 After it is installed, the icon will be displayed next to the address bar.

From now on, whenever you access YouTube videos, the audio will be streamed but the video will be blocked and instead, a message about the add-on in use will be displayed.

To stream both the video and audio, simply click the add-on icon. The page will reload and the add-on will be disabled. You can then again view YouTube videos.
You can also choose to turn off the message that is displayed instead of the YouTube video. To do that, right-click on the add-on icon and select Manage Extension.

Then, go to Options and from there choose to disable the video text.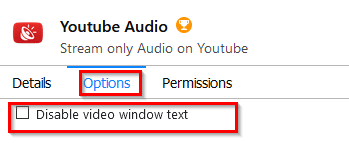 This is a lightweight and useful Firefox add-on when wanting to stream only YouTube audio.
Happy listening.