TunesKit Music Converter for Spotify can download music from Spotify and convert it to MP3 and other formats. This is useful when you don't have a premium Spotify subscription. So you can still download your playlists and albums with a free Spotify account.
Note: This program is for personal use only and can be useful when you need to keep a collection of your Spotify albums and songs offline and want to playback on different output devices.
Key Features:
• Easy to use interface
• Download Spotify tracks and albums with just a few clicks
• Batch download and conversion supported
• Lossless conversion with the original metadata and ID preserved
• Convert and save Spotify playlist and albums in various formats like MP3, M4A, AAC, WAV, FLAC, and M4B
Download and install TunesKit Music Converter for Spotify from here. The trial version allows you to test the features and can convert one minute of Spotify audio per song. The premium version which can be purchased from here has no such restrictions.
The setup is straight forward, choose the destination folder where it will be installed to complete the installation.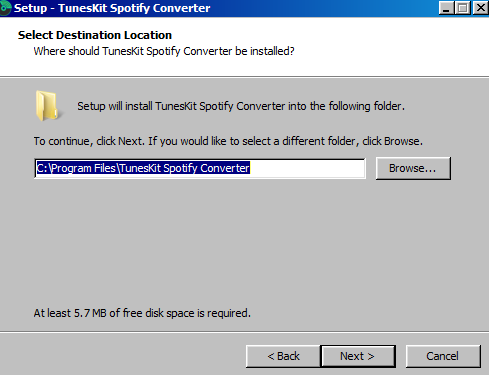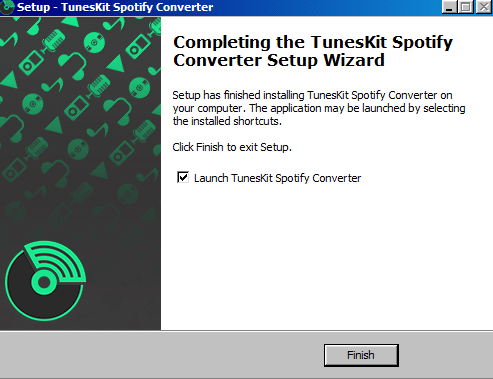 After it is installed launch TunesKit Music Converter for Spotify. If you don't already have Spotify installed, then there will be an error message about that. So first install the Spotify app from here.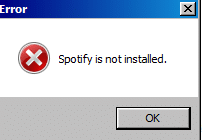 Then, log in to the Spotify account and launch TunesKit Music Converter for Spotify.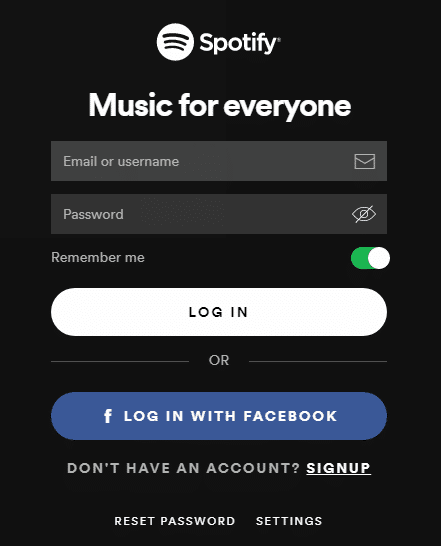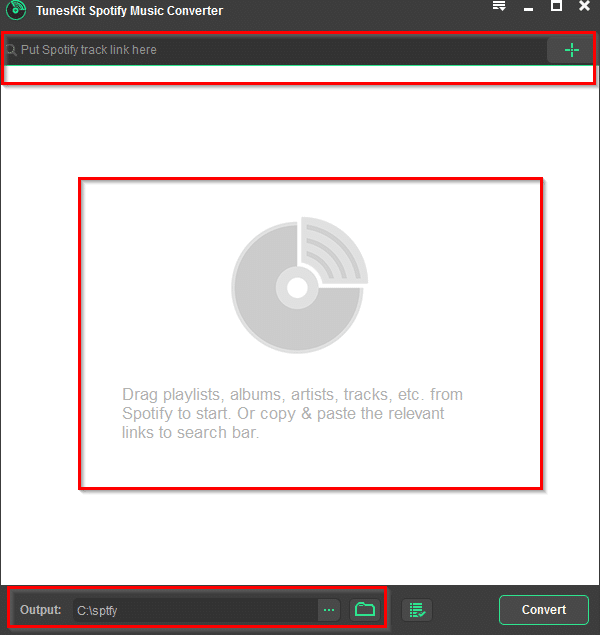 To download music from Spotify, right-click on the specific track in Spotify and choose either Copy Song Link or Copy Spotify URI. Then, in the address bar of TunesKit Music Converter for Spotify, paste it.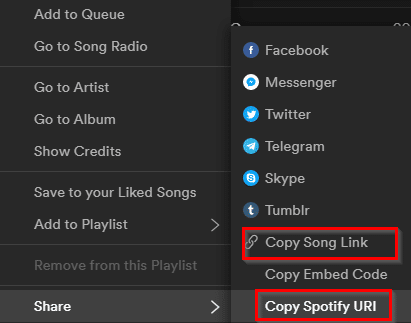 You can also directly drag albums, playlist, and songs to the main window and add them in the download queue. This is a much quicker option when you need to download many albums in one go and put them in the queue for batch processing.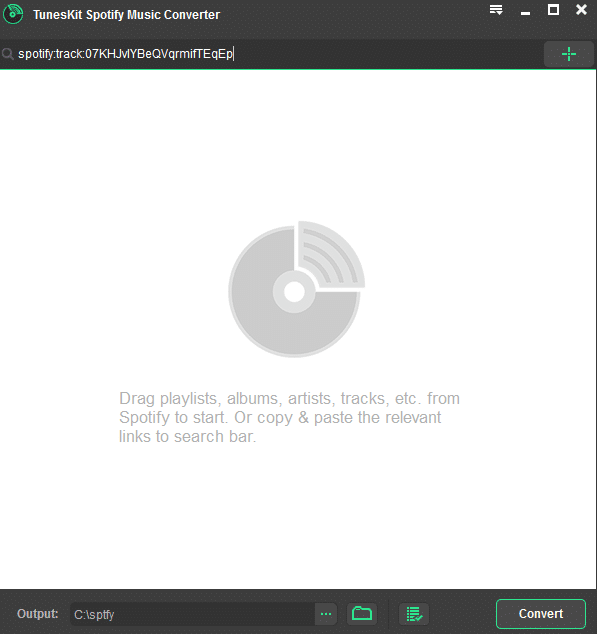 Before downloading, you can also change where the music will be stored by changing the destination folder in the Output field.
To add the Spotify tracks to be downloaded, copy-paste the Spotify link and click on the + sign.

You can also add multiple Spotify links one by one as the batch conversion is supported. They will be queued up and then processed individually one after the other.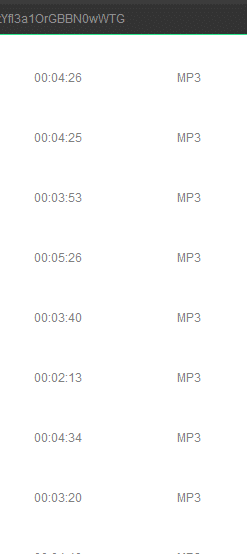 Finally, click Convert to download and convert the chosen Spotify songs and albums. Depending on the length, duration and number of songs or albums, it can take a while.

The conversion by default converts them at up to 5X speed ensuring that the process completes as quickly as possible.
It also converts them losslessly and retains the ID tags and metadata info which means that all the original related information about these songs and albums will be intact.
After the conversion is complete, the tracks and albums will be available as MP3 files in the destination folder.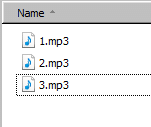 The number of items converted will be displayed as a number next to the Output field.

You can also view all the converted tracks by clicking on the list icon. To delete them, click on Delete all.


You can then either move them to a different location or completely delete them.
You can also change the conversion speed and other output settings. To do that, click on the rectangle icon and select Preferences.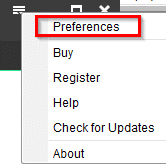 Then, from the Convert tab, the output format (default being MP3 but can be changed to other audio formats like M4A, M4B, AAC, WAV, and FLAC), the number of channels, sample and bit rate as well as conversion speed can be changed.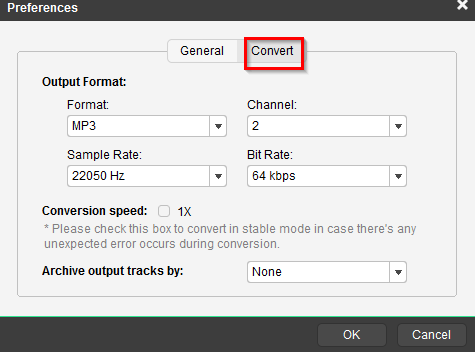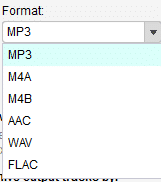 If there are any errors during the conversion, enable the tick next to 1X conversion speed. The conversion will then be slower but more reliable if there were previous errors while doing that.
You can also group and organize the downloaded tracks and albums by artists and albums automatically from here. This makes it easier to manage the output folder when you've downloaded many albums and songs.

You can also change the interface language from English (default) to others from the General tab. Also, TunesKit Music Converter for Spotify by default will automatically check and update to the latest version but that can be disabled too from here.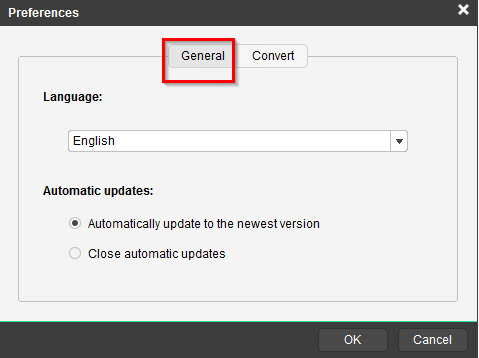 Also, if you already have the license code for TunesKit Music Converter for Spotify, click on the rectangle top on the top right and choose Register.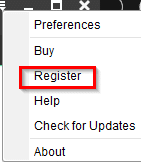 Then enter the license code to upgrade it to the full version.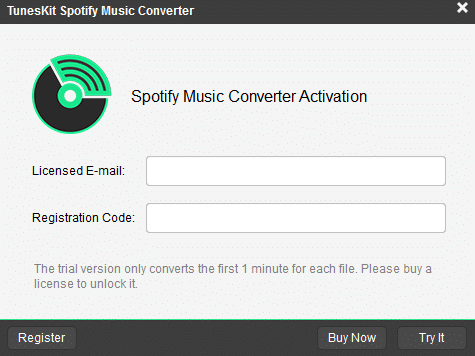 This is an easy to use program and can be the best Spotify Music Downloader that can help in maintaining an offline collection of your Spotify albums and playlists and can also ensure playback compatibility with different devices like cell phones, computers and more.
Simply copy-paste the Spotify URL of the specific songs or drag-drop complete albums to be used offline after conversion. No technical expertise is needed to use it.
Do try it out.