Dark Reader is a Firefox add-on that turns on dark mode for websites. It does this by generating dark themes on the go when loading websites.
Download and install it from here.

After it is installed, enable it for Private Windows too. The icon will now be visible next to the address bar.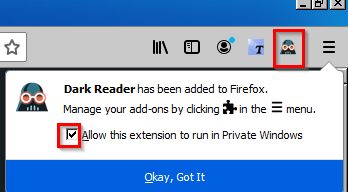 Whenever a website is now loaded, it will be rendered in dark mode. You can toggle the dark mode on or off for selected websites.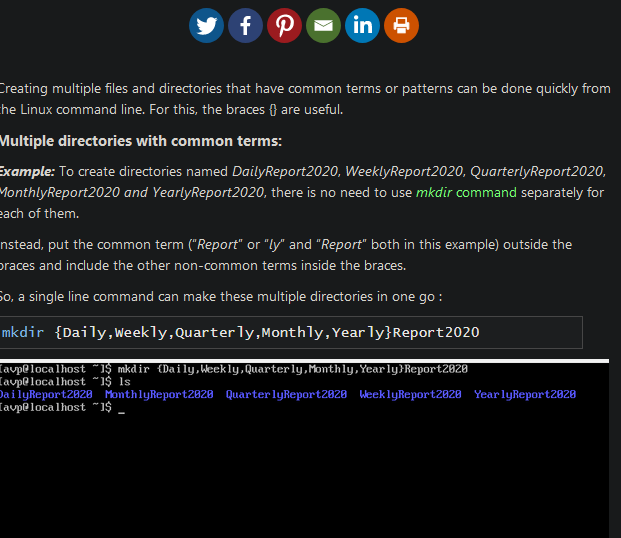 To do that, click on the add-on icon. Then, switch it on or off (shortcut keys: Alt+Shift+D).

There are three tabs to configure how Dark Reader works, they are Filter, Site list and More.
Site list: To include or exclude websites for dark mode, select Site list. Then add the websites (shortcut keys: Alt+Shift+A).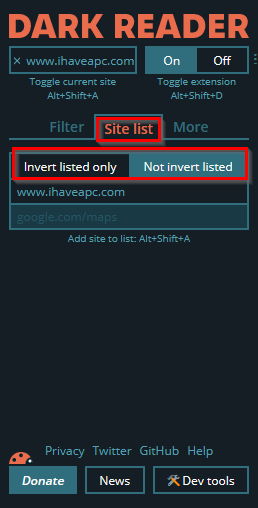 There are two options here: Invert listed only and Not inverted listed. For enabling dark mode only on the websites that are on the list, select the first option. To exclude them from being displayed in dark mode, use the second option.
Filter: To change various display settings for websites, choose the Filter tab.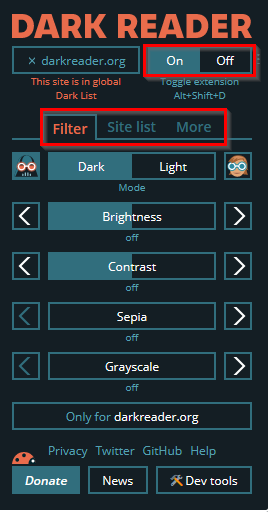 Over here, you can adjust the brightness and contrast for the websites. You can also enable the Sepia filter and Grayscale mode.
More: For changing font settings, select More. Then, choose the required font drop-down menu along with the text stroke settings.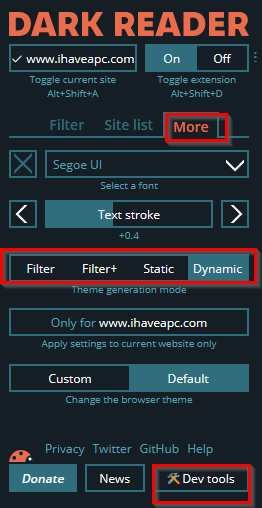 Also, you can set the theme generation mode from here. The default is Filter which works well for most of the websites and takes up fewer resources. The Dynamic option has the best rendering of these but takes up more resources. There is also the Dev tools option by which you can customize CSS for websites when rendering them.
This is a useful Firefox add-on for viewing websites in night mode or dark mode.
All done.