Able2Extract Professional 15 has just been released and it comes with all the features needed to work with your PDF documents and more. It is a complete suite of PDF tools for making it easy to work with PDF documents.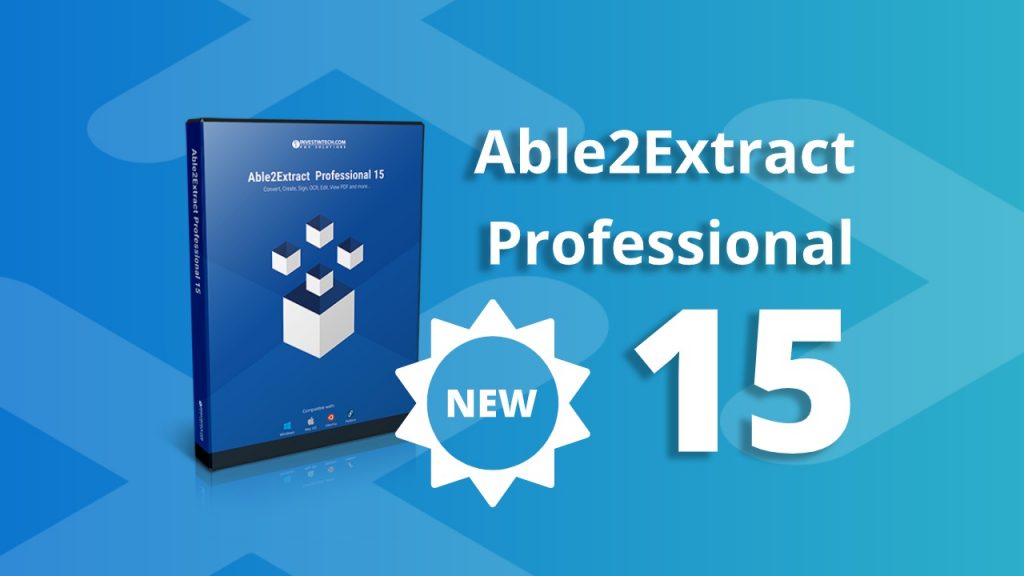 An earlier article covered the software's ability to sign PDF documents last year, which was one of the highlight features of that year's release. You can now download a 7 day free trial of Able2Extract Professional 15 from here. (Also, there are online free tools offered by Investintech – the developer of this PDF tool suite which can be used from here. )

Here is how the latest version of Able2Extract Professional 15 can boost your PDF productivity.
What's New in Able2Extract Professional 15?
New Streamlined, Customizable, and Convenient Interface
The latest version comes with a revamped interface.

The new ribbon-style tabbed menu toolbar with PDF features and functionality all grouped. Everything is easily accessible and you can refine those PDF tasks with the settings in the corresponding side panel.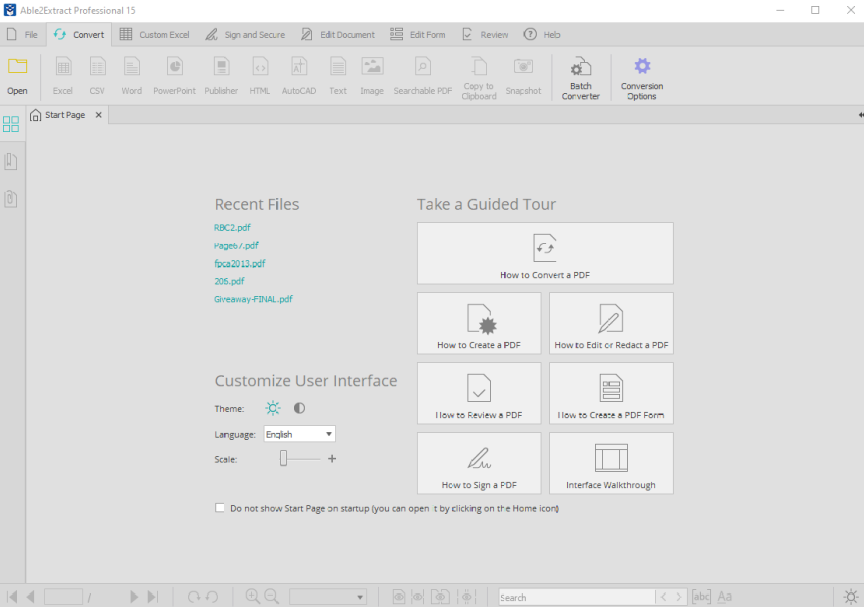 The new Start Page is also one of the first things to notice. This is an area where you can get set up quicker than before by easily accessing recent documents, customizing the interface and getting familiar with the software using the walk-through tutorials.
And here is now support for light and dark themes. So, you can change the appearance of the interface when working in low lit environments, preventing eye strain and allowing you to work comfortably when and where you want.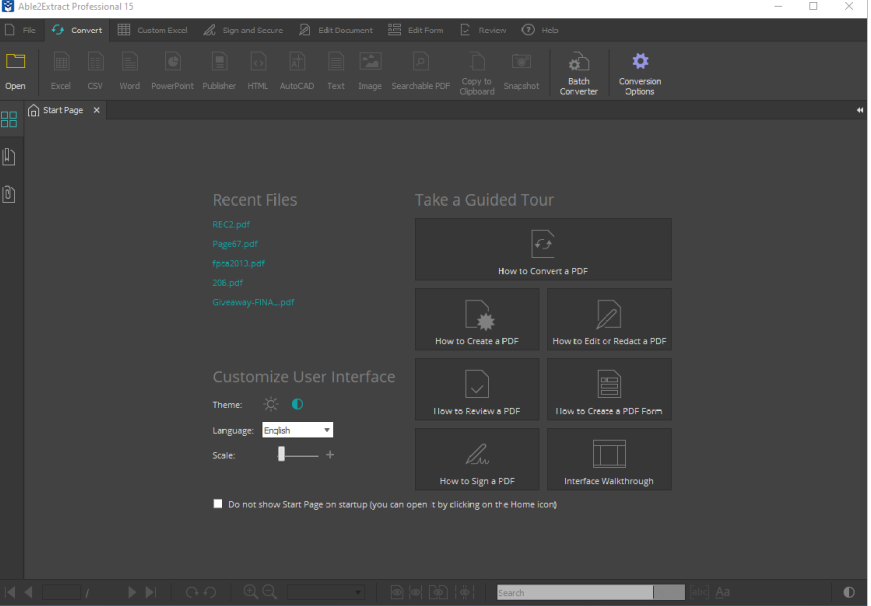 One of the newest changes to this version is that the interface supports French, Spanish and German. Native speakers can now work around the interface instantly and with ease simply by selecting your language of choice from the Start Page.
Convert Scanned PDFs in Different Languages
Another useful change is the ability to convert PDFs in different languages. The OCR engine can convert scanned PDF documents in French, Spanish or German.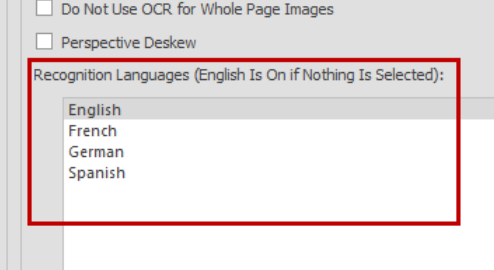 This eliminates the bottleneck when searching for a PDF tool that can convert that one non-English PDF document you have to work with. You can select the languages you need Able2Extract Professional to convert from the Conversion Options dialog.
Convert Multiple Files to PDF Format
This version now comes with a Batch PDF Creator tool which takes into consideration the possibility that, in addition to batch PDF conversion, you may also need to create a mass number of PDF files, as well. You can do so just as easily as you batch convert.
If you're already a user of the software, you're already familiar with this new feature. If not, no worries – it's all straightforward and intuitive.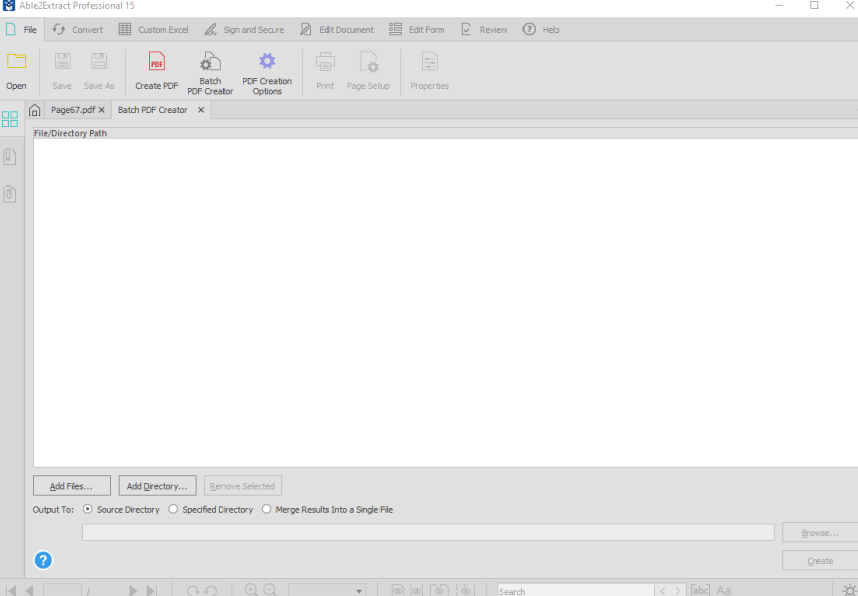 To add to this Batch PDF Creator tool, you can also upload multiple files and then batch merge the PDFs into one single PDF file. The aim here is to save a lot of time that would normally be spent merging individual PDF files one at a time by other tools.
Batch PDF Converter
Not to be left out, the existing Batch Converter tool has also been outfitted with the same capability to batch merge PDF documents into one output file format.
Also, you get better control in uploading PDF files by directory as this latest version allows you to set the new file type filter in case the folder you want to upload contains mixed file formats. You can pick out a single type of file that should be uploaded to the Batch Converter tool.

Moreover, it now also has batch PDF to HTML conversion added to the other output file formats you can convert multiple PDF documents into.
Enhanced PDF to Excel
Long known for its custom Excel conversion, Able2Extract Professional 15 has gotten enhanced. On top of selecting only the tables and data you want across several pages, you also get more refined control over customizing the settings for headers, footers and splitting text for individual tables. Just one more way to quicken the set up for your custom Excel conversions while customizing it at the same time.
Other Tweaks
There are also a few other tweaks that make working with PDFs easier, such as a new hand tool for easier navigation, the ability to split documents into even parts, and an improved, even faster document search function.
Worth the Try
Given the above, this tool is worth a try for all the features you can get, which will be more than what you need at any one time. Do try it out.