WinX DVD Ripper Platinum by Digiarty is an easy to use DVD conversion program which makes it easy to backup your existing DVDs. 
Powered by Nvidia CUDA/NVENC and Intel QSVWinX hardware acceleration, WinX DVD Ripper Platinum is quick. A full DVD can be converted to MP4 (H.264) in about 5 mins at 300-500fps.
Key Features:Â Â 
Quickly backup DVDs without quality loss

 

Clone DVDs to ISO images and DVD folders

 

Copy all the DVD titles or selected ones

 

Fast Level-3 hardware acceleration for optimum ripping

 

Edit, crop, trim and add subtitles to DVDs

 

Supports Disney, TV series and workout DVDs

 
Download and install it from here.
Also, there is a Black Friday giveaway and sale going on now till Dec 5th 2019 in which you can get the giveaway copy for free. More details about it here.   
The setup is simple, install as per the setup wizard and it is now ready to use.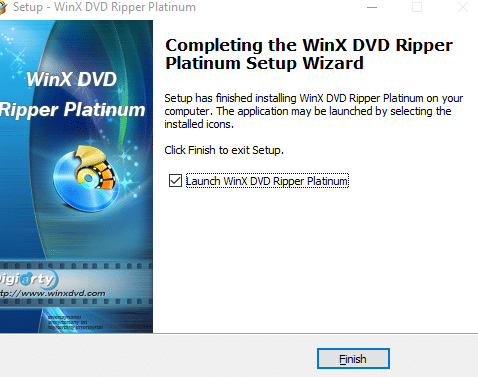 The main interface consists of adding existing DVDs, ISOs and folders that are to be ripped.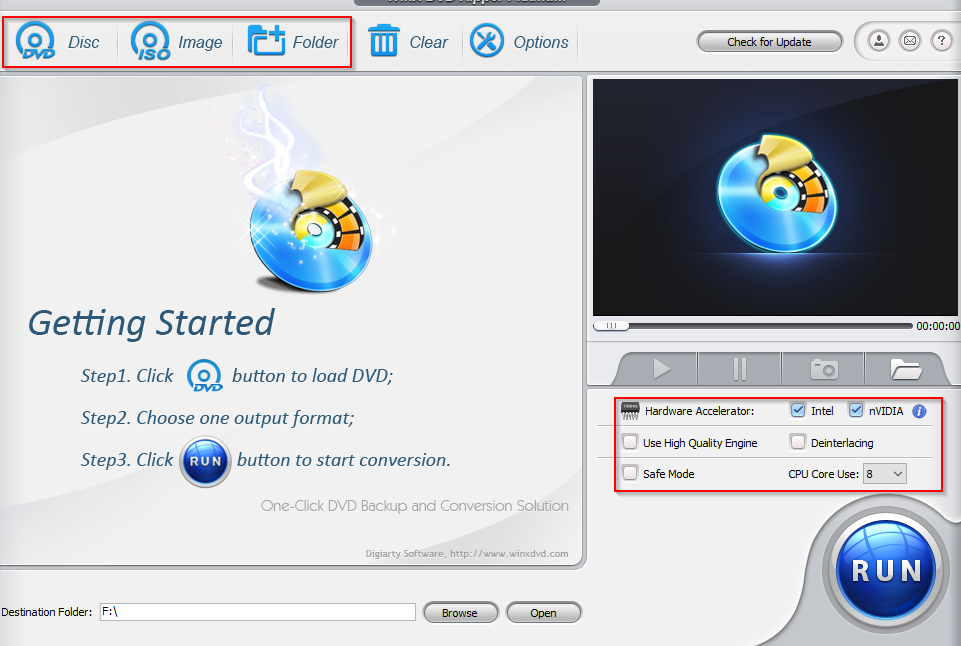 There is a preview pane on the right with which you can adjust the playback as needed. Hardware acceleration, as well as the number of CPU cores to be used for ripping, can be changed from here. For better conversion quality, enable the options of Use High Quality Engine and Deinterlacing. 

 
The Safe Mode option is for converting when there are errors encountered during the process. Also, the destination path can be set as needed from the bottom pane.
There are three steps to using WinX DVD Ripper Platinum:
1. Load the existing DVD or ISO
2. Choose the output profile and playback format
3. Edit titles, configure other settings and rip
1. Load the DVD/ISO:Â 
To begin, load an existing DVD or an ISO file.WinX DVD Ripper Platinum will automatically detect it's contents and pop-up an output profile window. It can also rip damaged DVDs.  If a damaged but readable DVD is present, you can select the Force UDF or Force ISO option when it is loaded.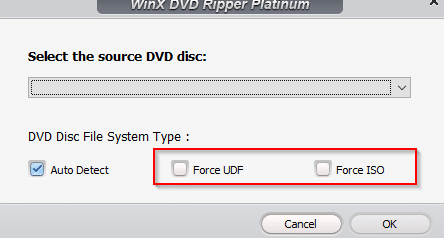 2. Choose the output profile:Â 
 There are five main profile categories – General, DVD Backup, Device Profiles, Web Video Profile and Common Video/Music Profile.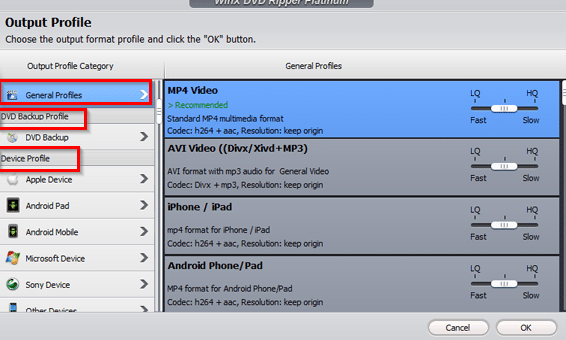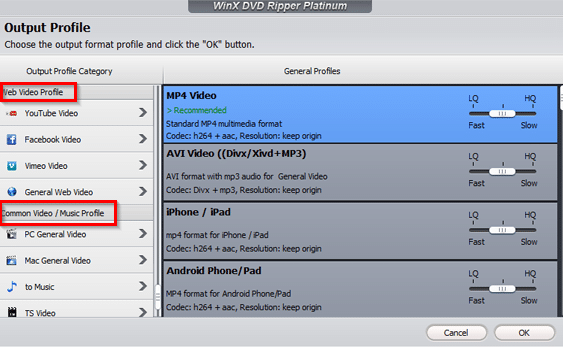 General Profiles consist of commonly used profiles like converting to different formats like MP4, AVI and widely used playback devices like iOS and Android devices.

 

DVD Backup Profile has four different modes and they can be used to duplicate DVDs without any quality loss.

 

Device Profile is useful when you want to convert DVDs for playing it on different devices like mobile phones, TVs, gaming consoles and so on. By choosing the appropriate playback profile, WinX DVD Ripper Platinum loads the optimum preset settings for the playback depending on the target device. 

 

Web Video Profile is for converting to web video formats that can be uploaded to YouTube, Facebook, and other social networks.

 

Common Video/Music Profile is for extracting only audio/music from the DVD. It can be converted to MP3, AAC and other audio formats from here.
It supports more than 350 different playback profiles and over 210 codecs so you'd get the optimum playback experience depending on the profile selected and also lossless conversion even if storing these DVDs on PC. 
 3. Editing and ripping:
Once the profile is selected, you can edit individual titles from the DVD before ripping it or all of them. 

Click on the specific title and select Edit from the drop-down menu. You can preview the changes in the video preview pane from the right. 
There will be options for General, Subtitle, Crop & Expand and Trim.  
General is for adjusting the playback volume.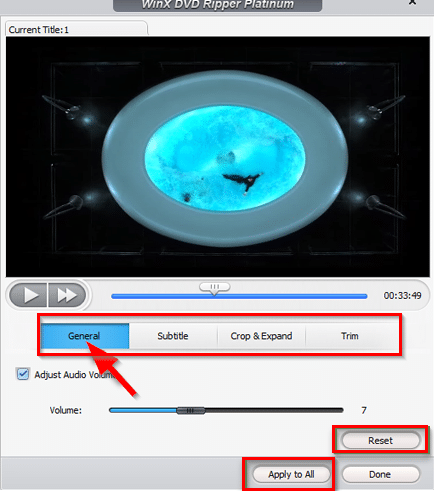 To add a subtitle, select the Subtitle menu, add the path of the subtitles and the location where they will be displayed. Choose Apply to All to add the subtitles to all the titles.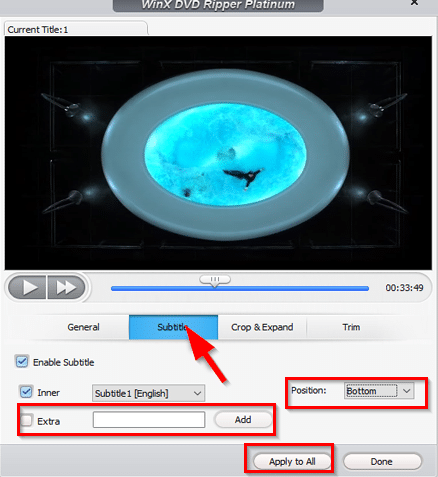 Similarly, to crop and expand as well as trim, use the corresponding menus. Then choose the position and the dimensions and click on Done. To have those same dimensions for cropping and trimming, use the Apply to All option. For trimming, choose the start and end time as needed.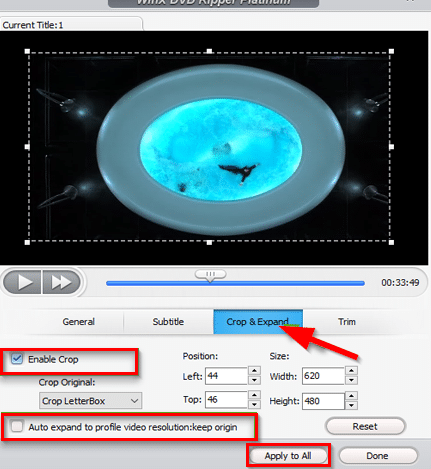 To change the output profile of the selected titles and customize codec, frame rate, bit rate, and quality settings, click the gear icon next to them. 

You can also set tags for them by clicking on the SET TAG button.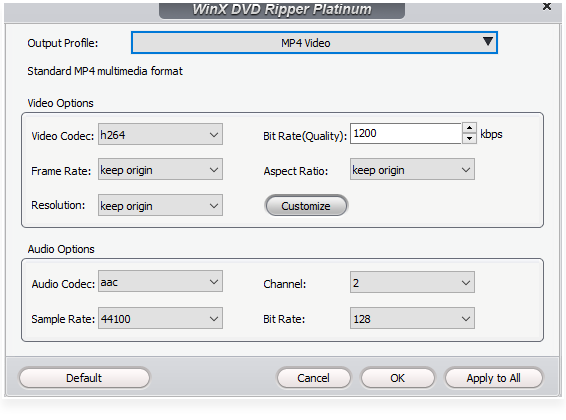 When all the changes are finalized, rip the DVD by clicking on RUN.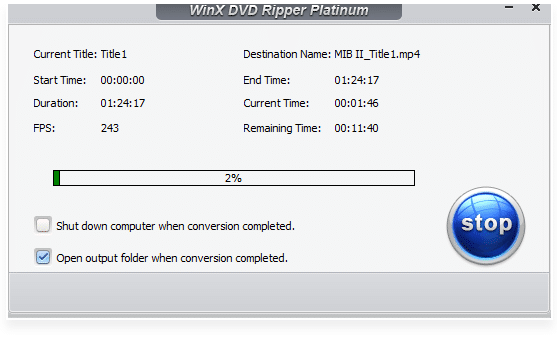 The output folder where the converted DVDs and ISOs will be stored can be changed from the Options menu. Choose the new path and click Done. The interface language too can be changed from there.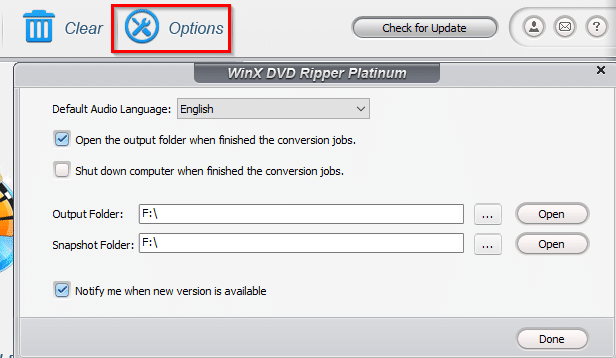 So overall, this is a useful DVD conversion program and can be used for making backups of existing DVDs as ISO as well as playing them on other devices. 
Do try it out and get a free copy during this Black Friday sale here.