antiX is a Debian based distro geared for older PCs that is easy to use and install. It needs a modest disk space of about 4 GB to install and a minimum of 256 MB RAM which makes it a good choice for really old or low-end PCs.
Download the ISO from here. This example uses antiX-19 (Marielle Franco).
Installation:
To install it, boot into the live environment. antiX has its environment – antiX Magic. System Monitor (Conky) will be visible on the right side with various system details. Click on the Install icon to start the installation.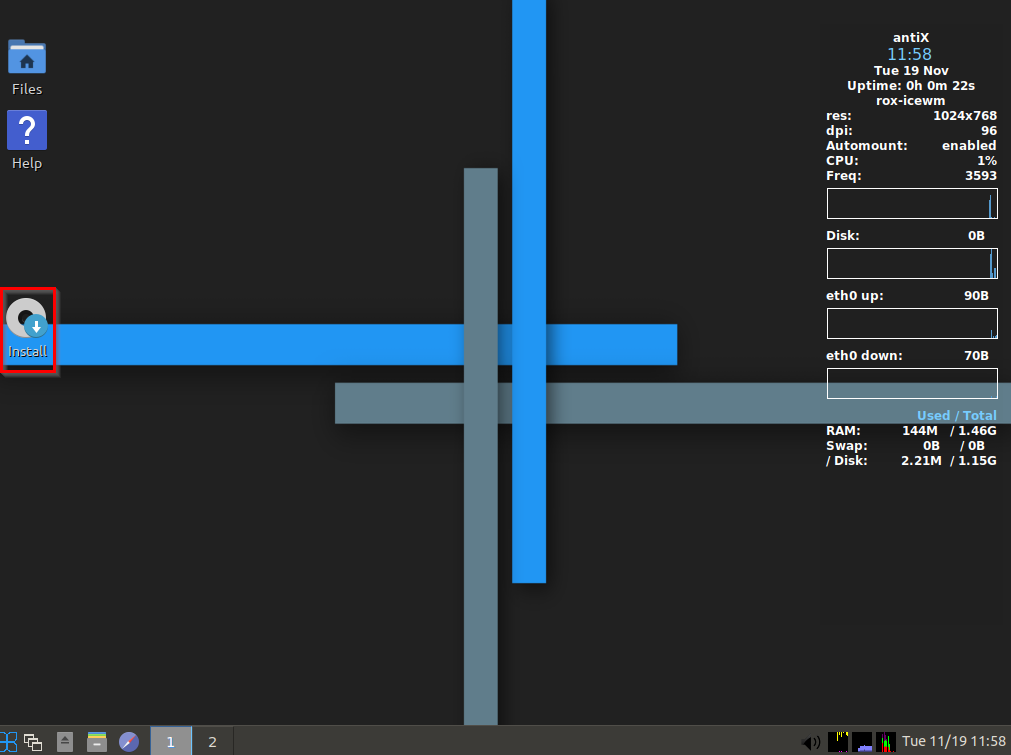 Select the keyboard layout and click on Next to proceed.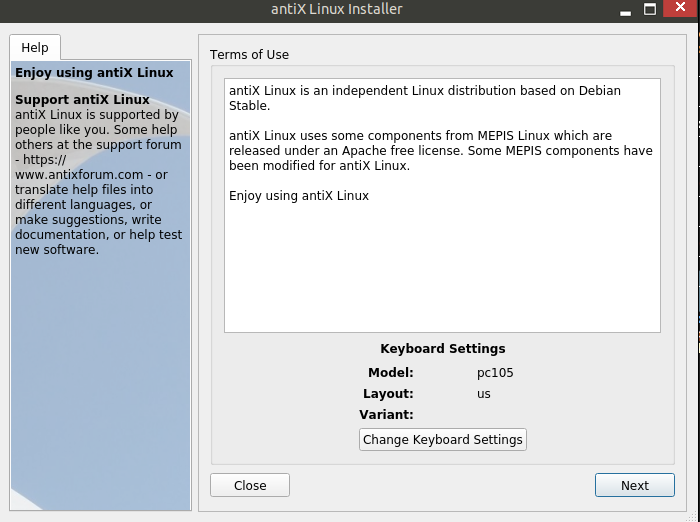 antiX comes with GParted disk partitioning and rescue tool which makes it useful to have even as a rescue disk.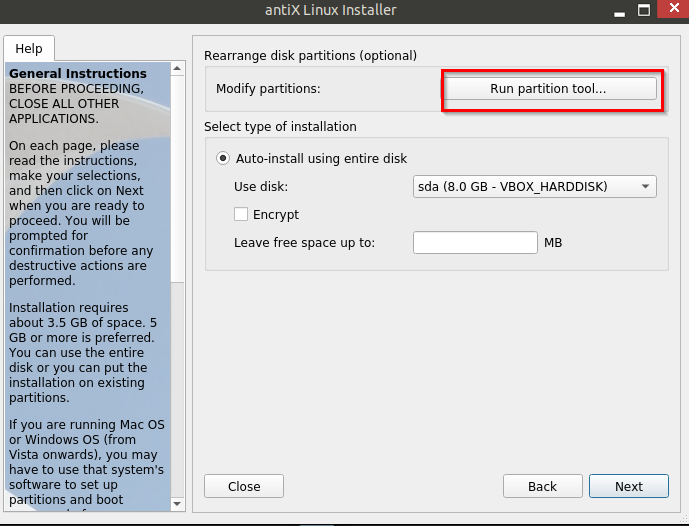 To modify partitions, click on the Run partition tool which will launch GParted.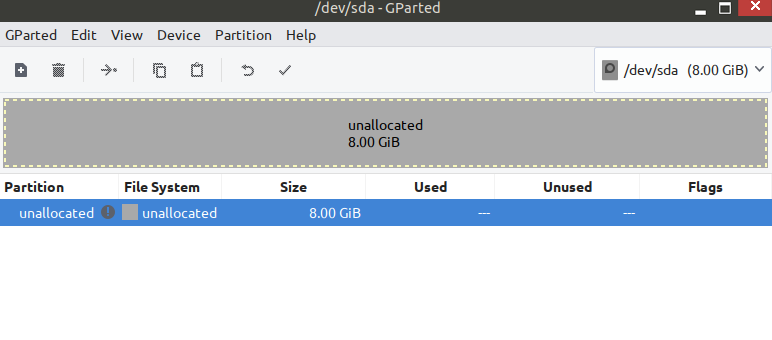 This example uses the entire disk. You can also choose to encrypt the disk during this step. Click Next. antiX installer will now set up the disk as per the partition scheme selected.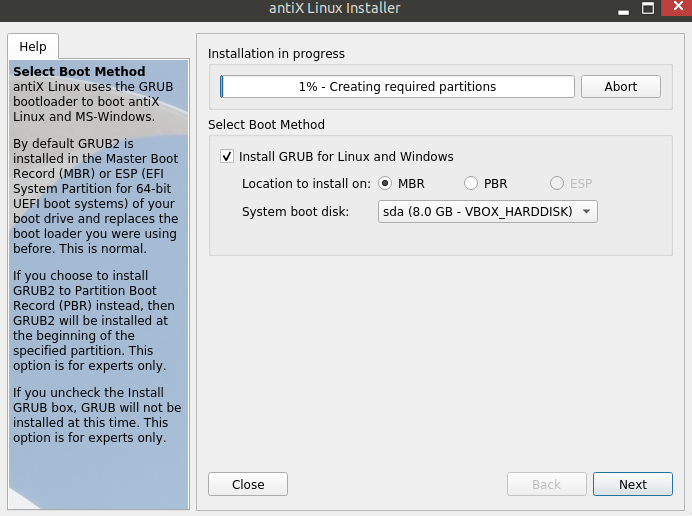 After a while, you'll see that the setup is paused. This is because it is waiting for user input (assigning computer name and domain). It would have been better if there was a prompt indicating that, otherwise, it would seem that setup has run into some glitch. Fill up the names and click Next.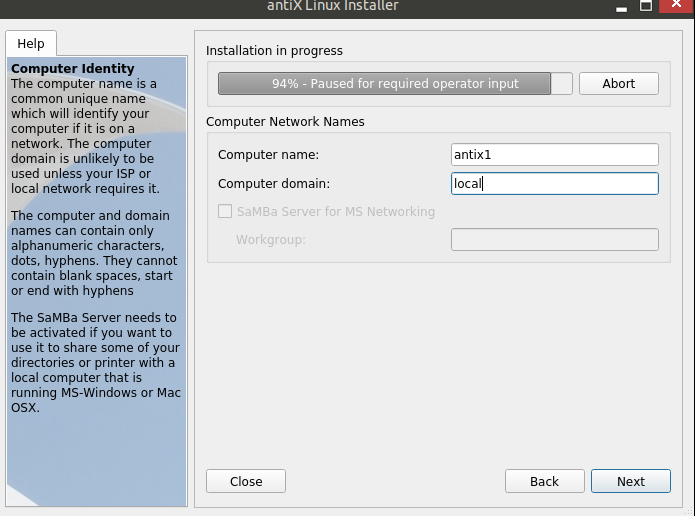 The setup installation will still remain paused. Set the system locale and the time zone. You can also enable or disable various system services at this point by clicking on View from Service Settings.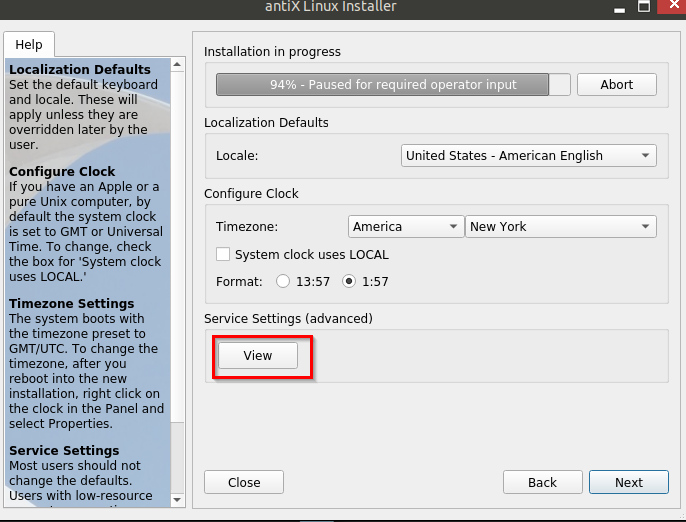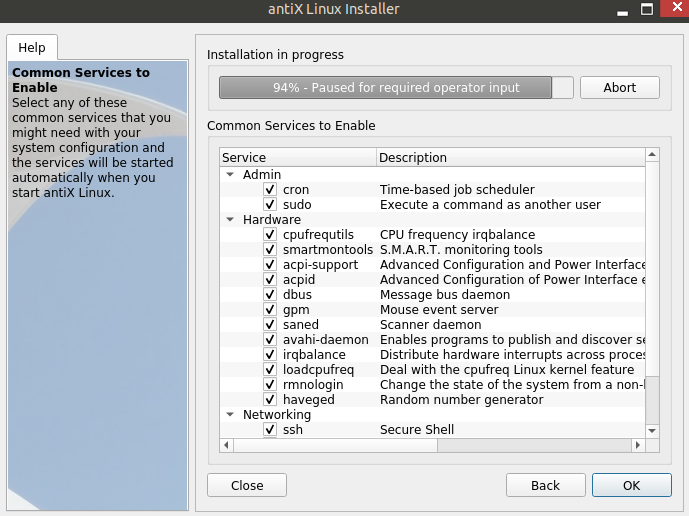 Click Next to proceed.
Finally, enter the user name and passwords for both the root and user.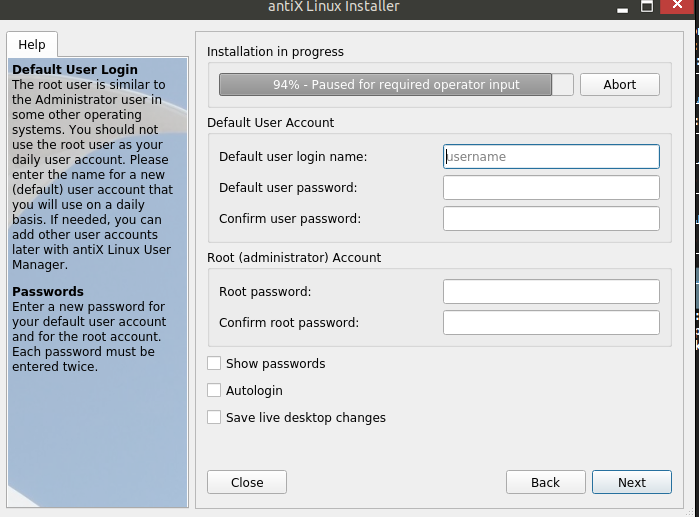 You can also enable auto-login from here. Finally, click Next.
antiX installer will finalize and wrap up the installation process.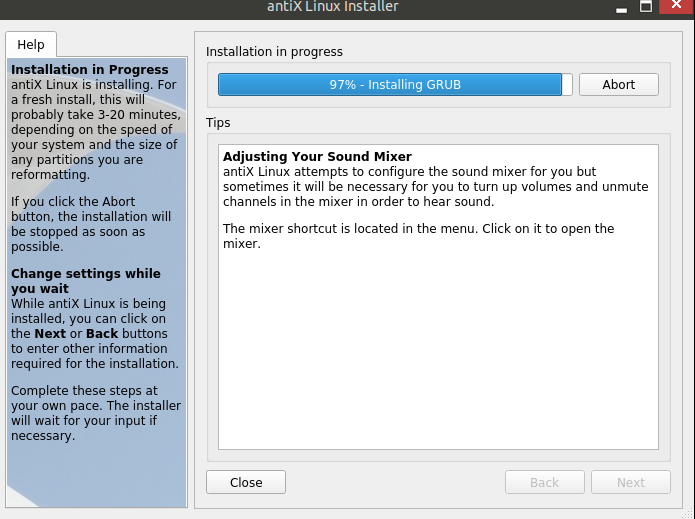 Click on Finish and restart.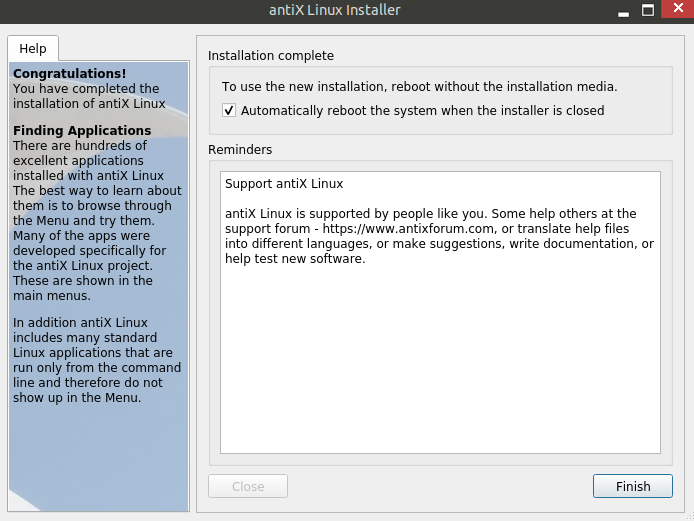 antiX is now ready to use.
Using antiX:
Log in with the user details.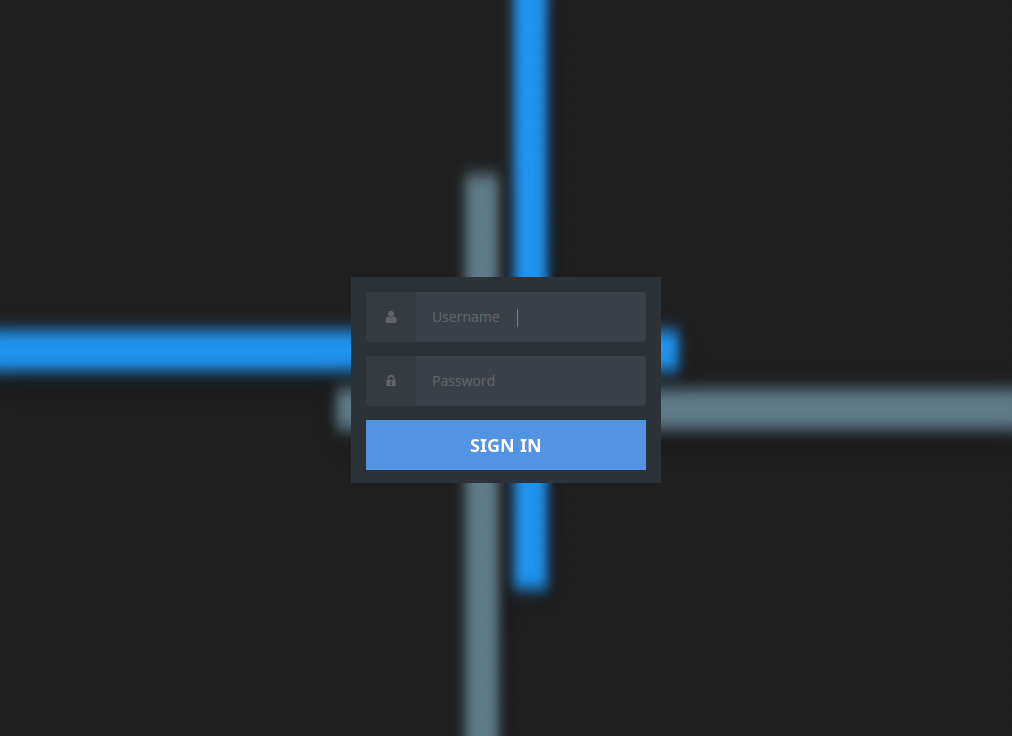 antiX comes with IceWM as a desktop interface/window manager. The bottom panel consists of the menu button, task switcher, file manager, and workspace.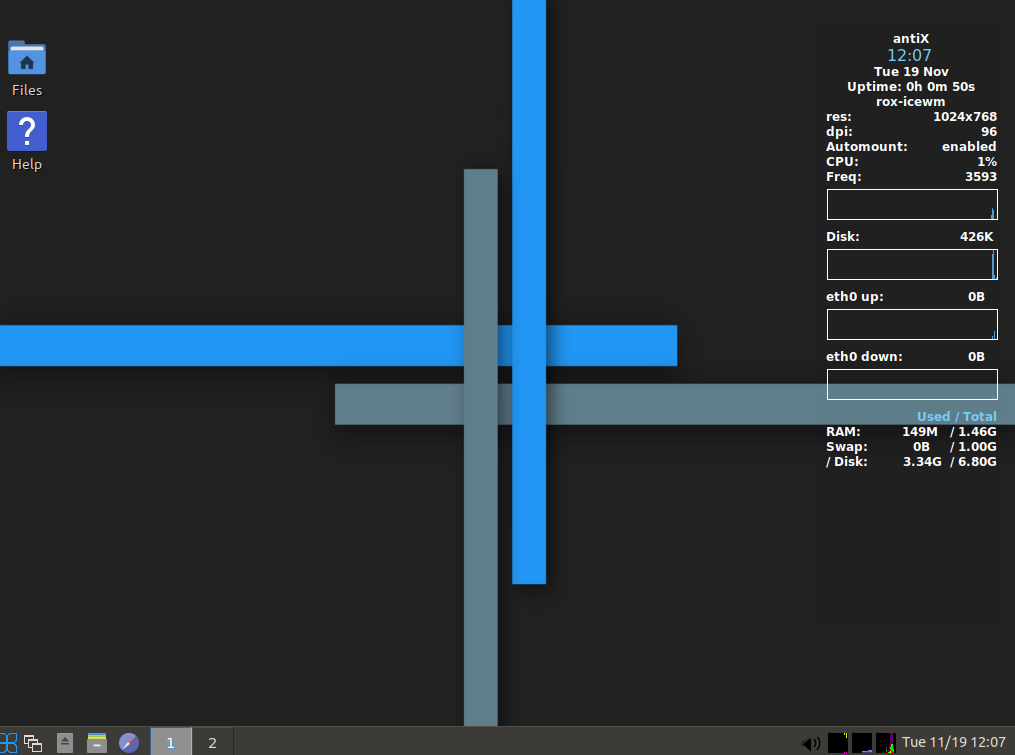 By default, antiX comes with many pre-installed apps for various tasks. Leafpad is the default text editor and CherryTree for notes.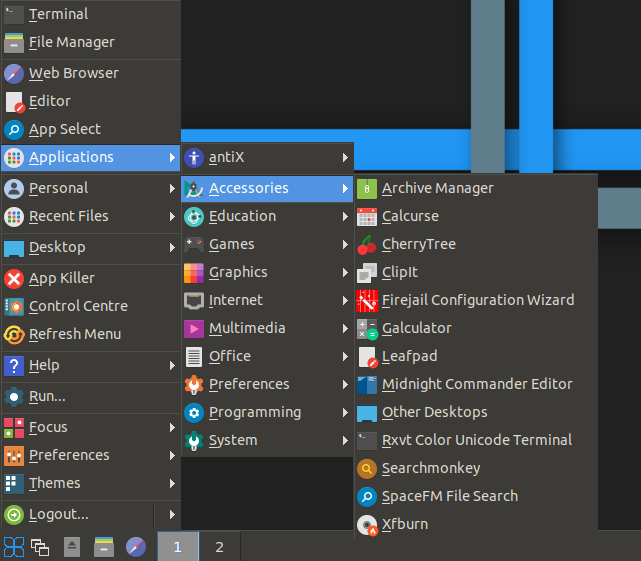 It also has Midnight Commander as a text based file manager besides the graphical file manager. Pretty nice.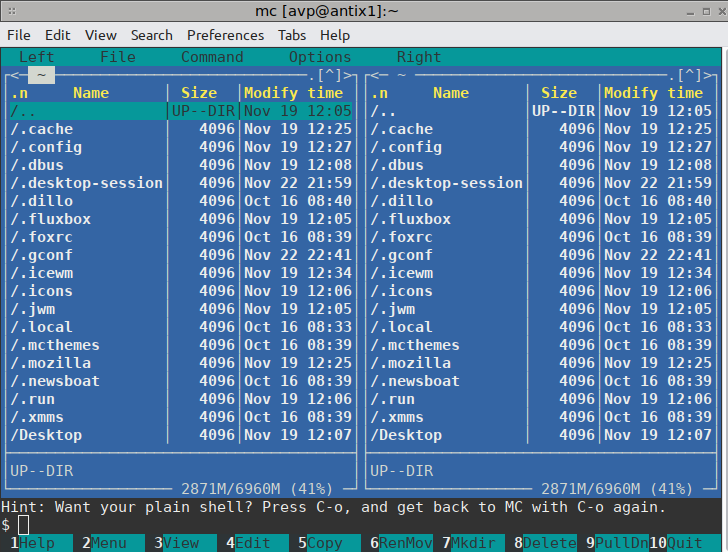 Web-related apps are grouped in the Internet section.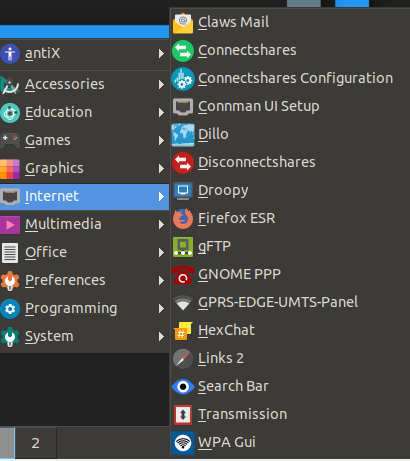 As antiX is Debian based, FireFox ESR is the default browser but you can install Firefox too for supporting proprietary audio/video codecs playback when watching Netflix and other web streaming services. It also has gFTP (FTP file manager), Claws Mail as the default email client and Connectshares for file sharing.
Multimedia tools consist of MPV Media Player, GNOME MPV, Streamlight and more. You can install various apps available from the vast Debian repository if needed. Libre Office is the default office suite that comes with antiX. (You can also install proprietary codecs from System > Codecs Installer.)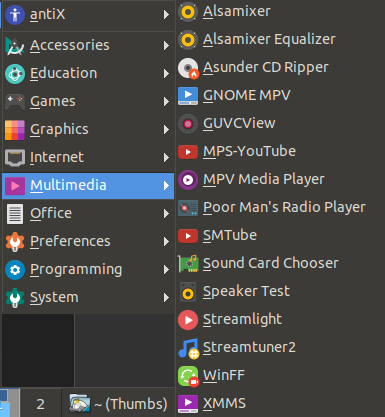 Installing apps:
antiX has its tweaked control centre: antiX Control Centre. This essentially provides an interface to various system tasks from under one roof.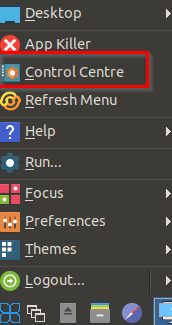 To install apps, access antiX Control Centre and choose System. Then select Package Installer.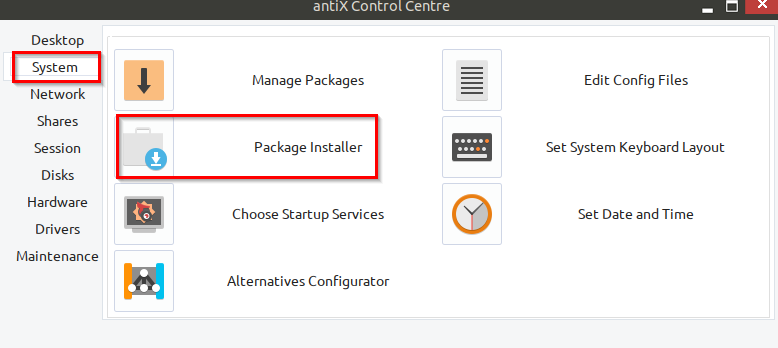 The available packages are grouped into different broader categories.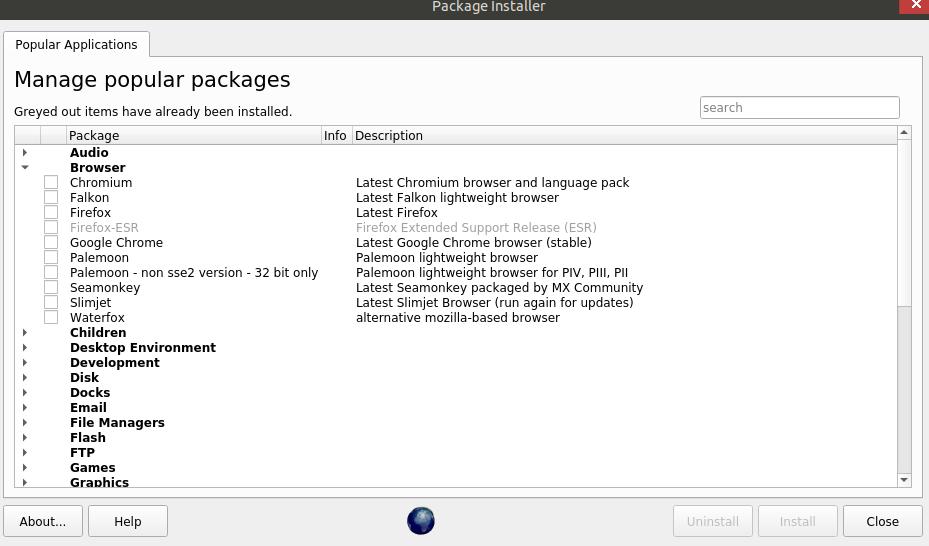 To select what needs to be installed, you can either search for the specific package or drill down the categories. Or you can directly install them from the Terminal (ROXTerm) using the apt commands.

Other than that, you can customize the desktop settings and appearance from the antiX Control Center.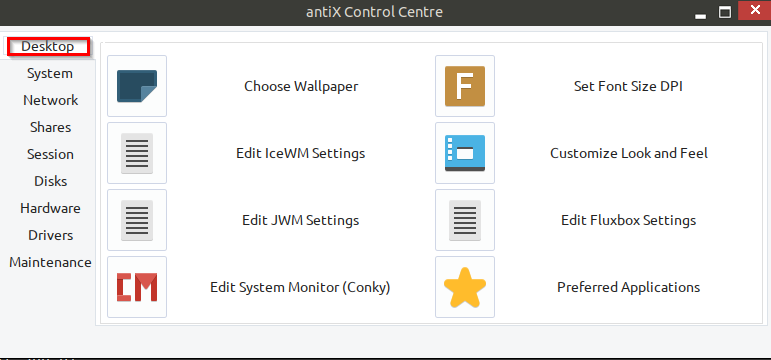 Choose Desktop and then change the related settings as needed.
antiX also has a feature of terminating unresponsive apps right from the main menu. Choose App Killer from the menu.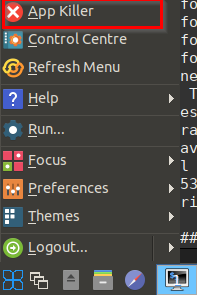 The mouse pointer will change into a cross-hair. Then click on the unresponsive app window to shut it down. Pretty neat.
You can also back up the existing antiX system from the antiX Control Center. Go to Maintenance and choose System Backup. Just like MX Linux, antiLinux too uses luckyBackup for that.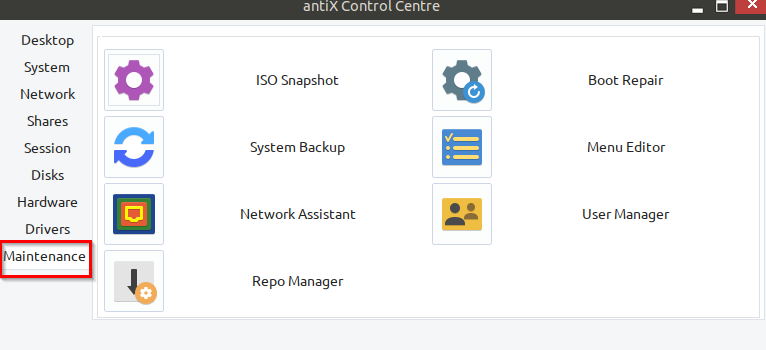 An ISO snapshot can also be created from there.
Overall, this is a lightweight Debian based distro suitable for all types of PCs and is easy to use.
Do try it out.