It can be useful to create a backup of your existing DVD collection after a while to safeguard it against physical loss. Such backups can be either to another set of DVDs or can be stored in ISO format on the PC.
WinX DVD Copy Pro by Digiarty Software is a useful tool that does that and is easy to use.
 Key Features:
Clones DVD-DVD, DVD-ISO and supports 9 DVD backup schemes
Copy DVD to MPEG2 with no quality loss
Unlock region codes and read-only DVDs
Copy and backup scratched DVDs
Supports removing Disney's Fake and Sony ARccOS bad sector
Low system resources for burning DVDs
Download and install it from here.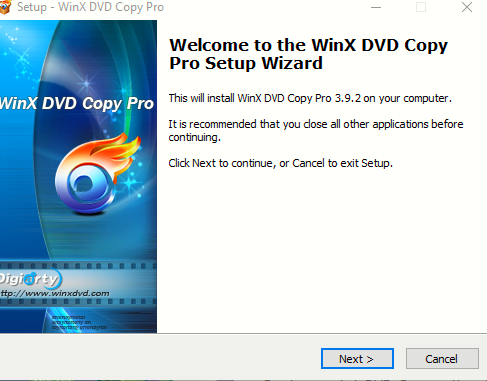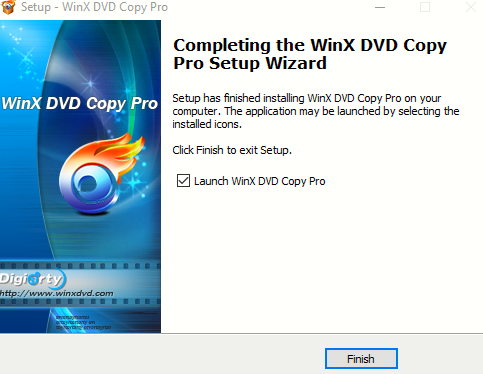 If you have purchased it, then activate the product.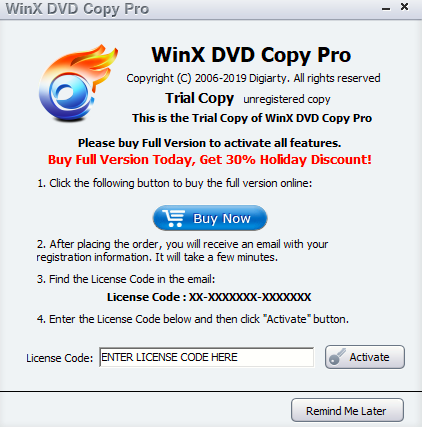 By the way, there is a free Halloween giveaway of WinX DVD Copy Pro  in which you can get a giveaway license code for free and enjoy all the software features without time limits. More details here.
WinX DVD Copy Pro's interface is divided into three main sections: Full DVD Disc Backup, DVD Title Backup, and Tools.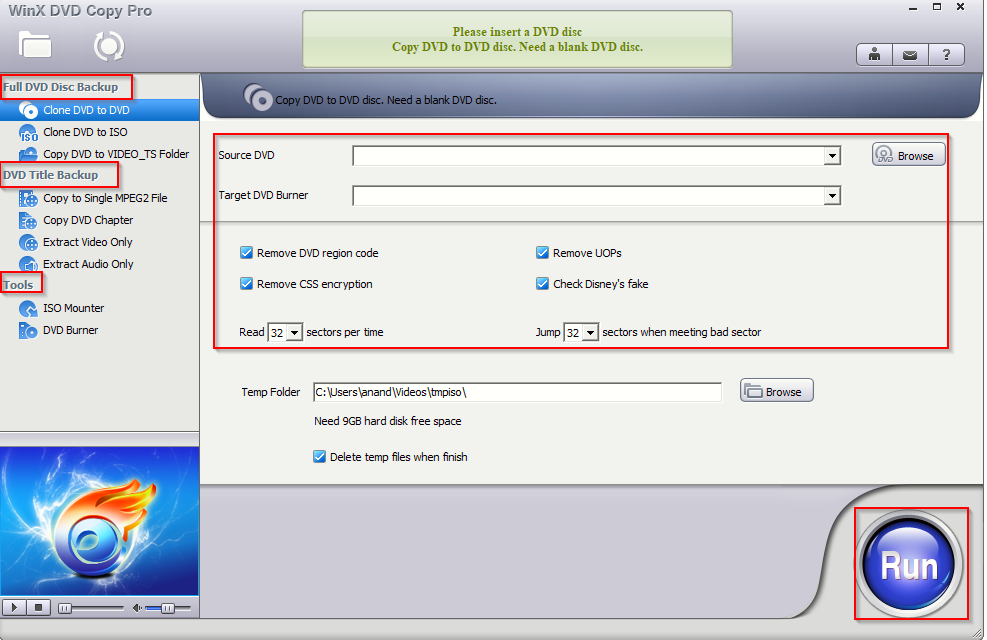 These options can be selected from the left panel, while the right panel is for selecting the source and destination DVD files. You can also change the number of sectors to be processed, copy restrictions as well as change the output folder for the processed file from here.
Full DVD Disc Backup:
This section is for making a full DVD backup. You can either clone the full DVD content to another DVD, to ISO format or VIDEO_TS folder. Choose the option as needed and insert the source DVD to be backed up.
Clone DVD to DVD: Once the source DVD is selected, to clone it to another DVD, insert the target blank DVD and choose the unlock options if any.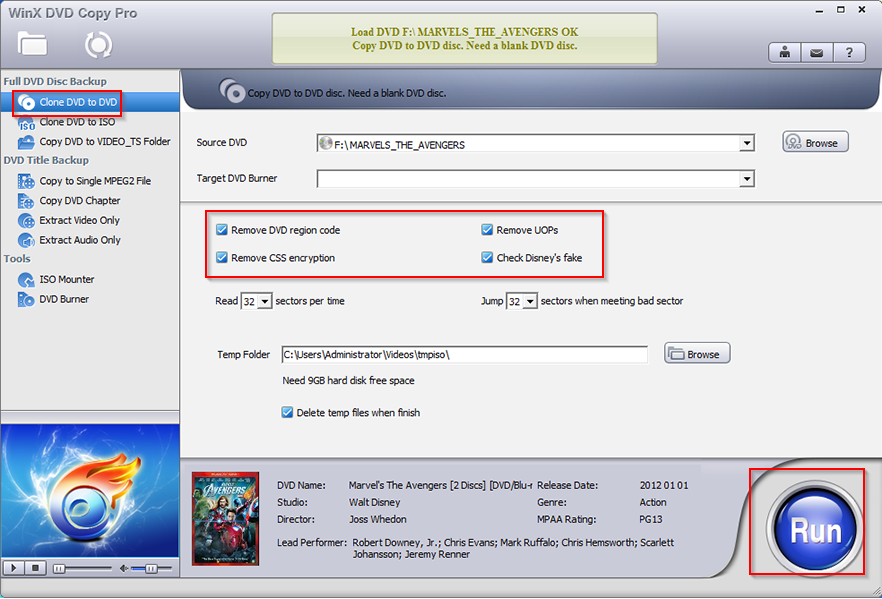 WinX DVD Copy Pro can remove region code, UOPs, CSS encryption and check for Disney's fake. Select the temp folder to be used during the cloning process and click Run to begin cloning. The process takes around 12-17 minutes for cloning an existing DVD with very low CPU consumption (less than 1%).
Clone DVD to ISO:

If you want to backup or clone the existing DVD to an ISO file which can then be stored locally on the PC, then select this option.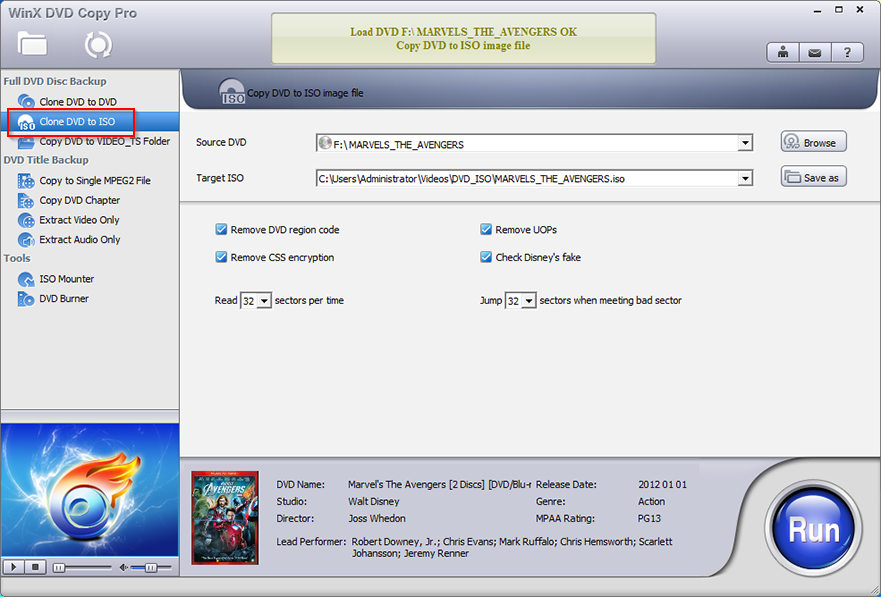 The options of unlocking region code and other restrictions are the same as that of cloning DVD to DVD. Choose the path where the ISO file will be generated and click Run to process.
Copy DVD to VIDEO_TS folder: The process is similar to the previous two. Choose the source DVD and the target folder. Remove restrictions if any and click on Run to process.
DVD Title Backup:
To copy individual DVD chapters, or to extract just the video or the audio from the source DVD, use this option. It consists of Copy to Single MPEG2 file, Copy DVD Chapter, Extract Video Only and Extract Audio Only.
Copy to Single MPEG2 file: Choose the DVD main chapter that is listed from the source DVD. The target file will be a single MPEG2 file where this chapter will be copied.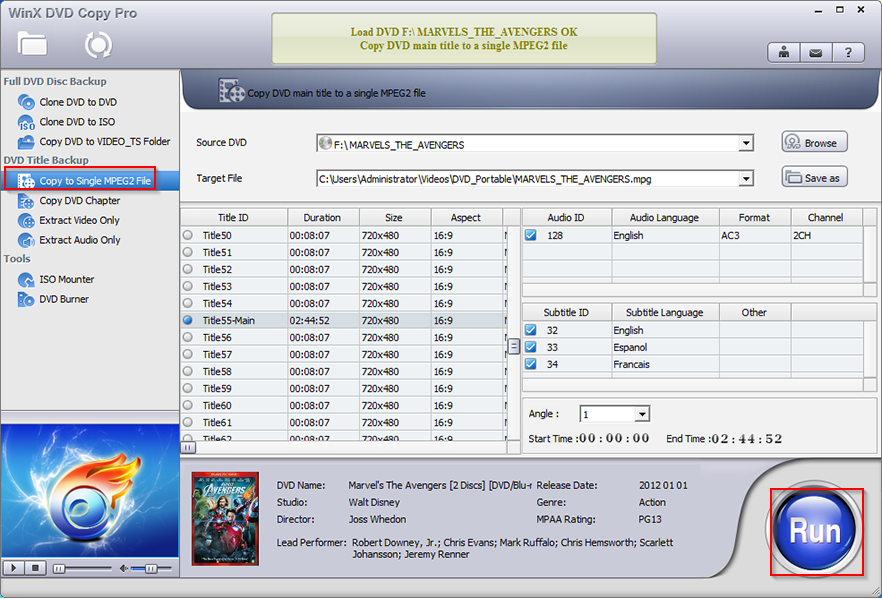 Then choose the Audio ID and Subtitle ID (if any) and click Run.
Copy DVD Chapter: The difference between this and the previous feature is that you can selectively copy different chapters and they will not be stored in an MPEG2 file.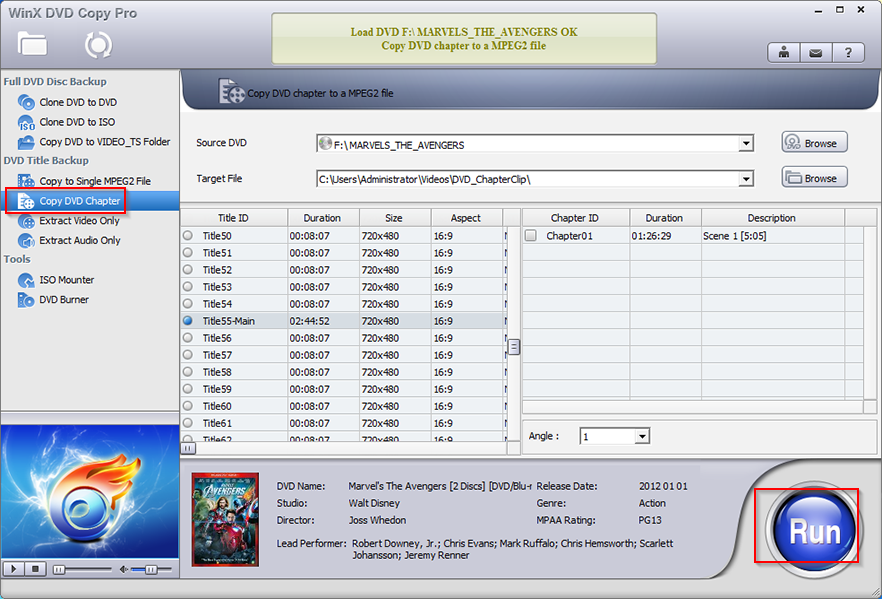 Instead, they will be saved separately at the target path that is selected. Click Run to begin processing.
Extract Video Only: >Select the specific chapters from the source DVD. The corresponding Video IDs will be listed. Copy them to a target file by clicking on Run. The processed file will only have a video.
Extract Audio Only:The only difference is that instead of the Video IDs, the Audio IDs for different chapters will be listed. Select and copy them to the target file by clicking on Run. The processed file will only have audio.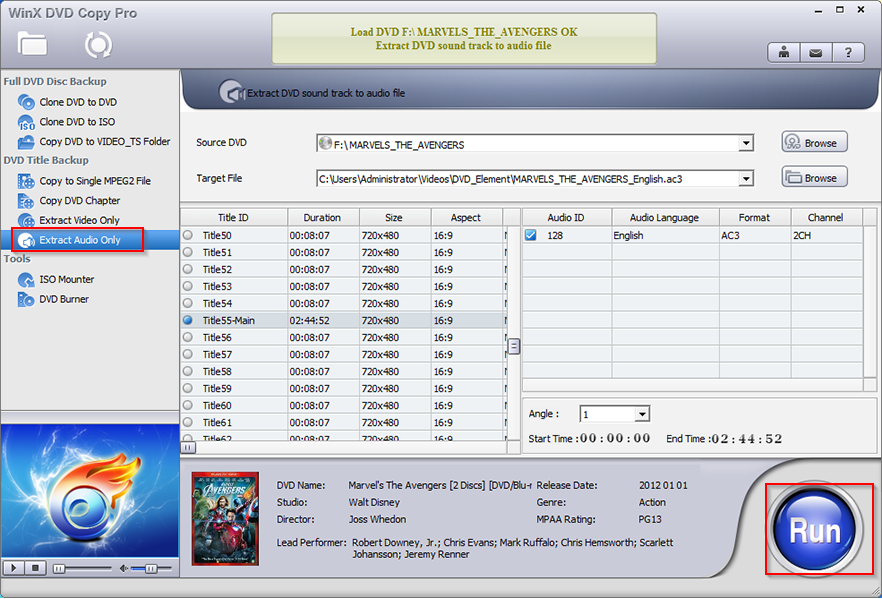 Tools:
There are a couple of useful tools that come with WinX DVD Copy Pro: ISO Mounter and DVD Burner.
ISO Mounter: Mount the ISO file and click Run. A virtual DVD drive will now be visible through which the ISO contents can be accessed.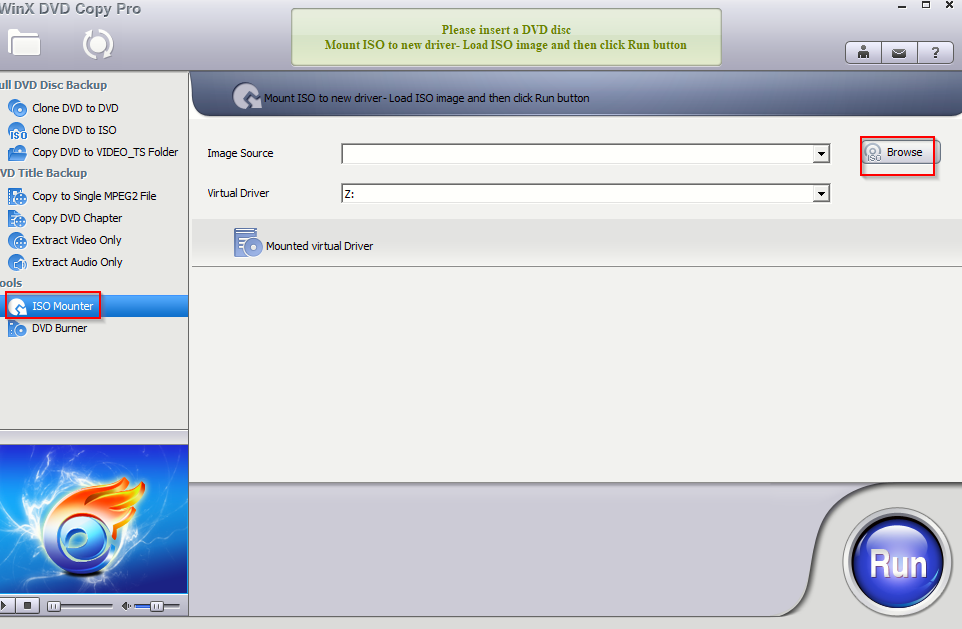 DVD Burner:Burn DVDs from the existing ISO images with this option. Select the source ISO and insert a target DVD to begin. You can also set the write speed and write mode from here before finalizing and burning the DVD.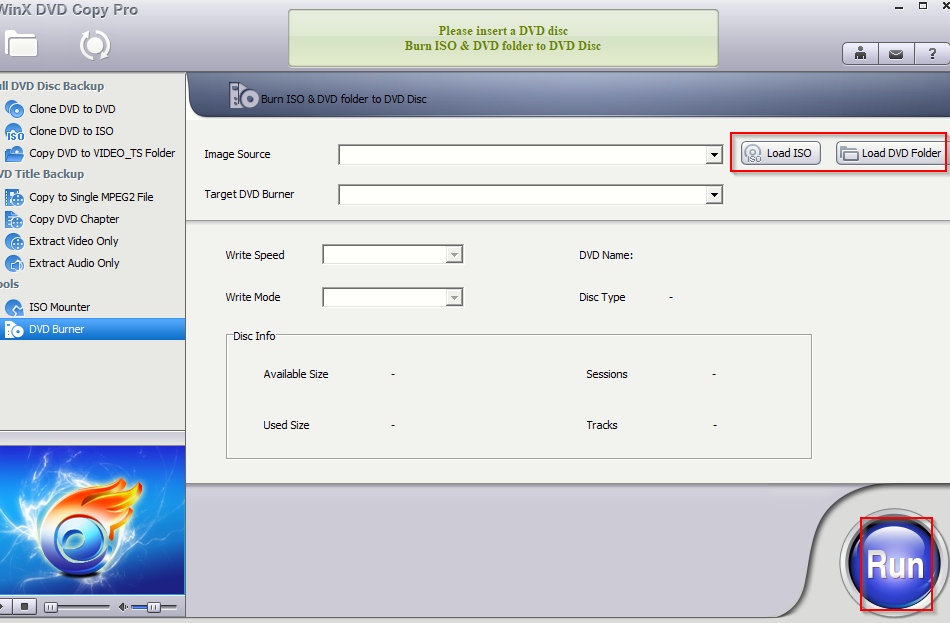 Overall,WinX DVD Copy Pro is a DVD copy software for Windows and helps in managing DVD collection. 
Again, there is a giveaway right now by which you can get a free lifetime license for it, so do try it out.