WinX HD Video Converter Deluxe from Digiarty Software is a versatile video conversion tool that can convert large HD, 4K and SD videos to different formats. Besides that, it also has an online video downloader and a slideshow converter for photos. 
This can be a useful tool when wanting to convert large videos, to convert HEVC to MP4  and for proper playback on different devices.  
Key Features: 
Supports conversion of 4k, 1080p multi-track HD, MPEG-4, MKV, HEVC, Blu-ray videos and more 
Has over 420+ preset profiles for optimum conversion depending on the playback device 
Fast level 3 hardware acceleration for quick and stutter free conversions with low CPU utilization 
Easy to use editor for adding subtitles, trimming, merging and cropping videos 
Online video downloader 
Photo to video slideshow maker 
Download and install it from here.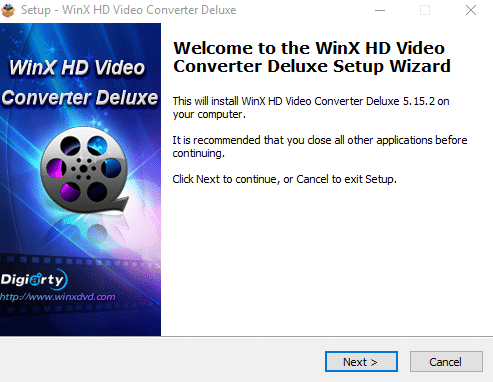 If you have a license, you can enter it on first run and activate it.  
By the way, you can get a free giveaway copy of WinX HD Video Converter Deluxe as a part of a giveaway campaign. More details on how to participate here. 
You can also try your luck at the sweepstakes and stand a chance to win a Bose headphone .  
Once installed, the user interface is fairly self-explanatory.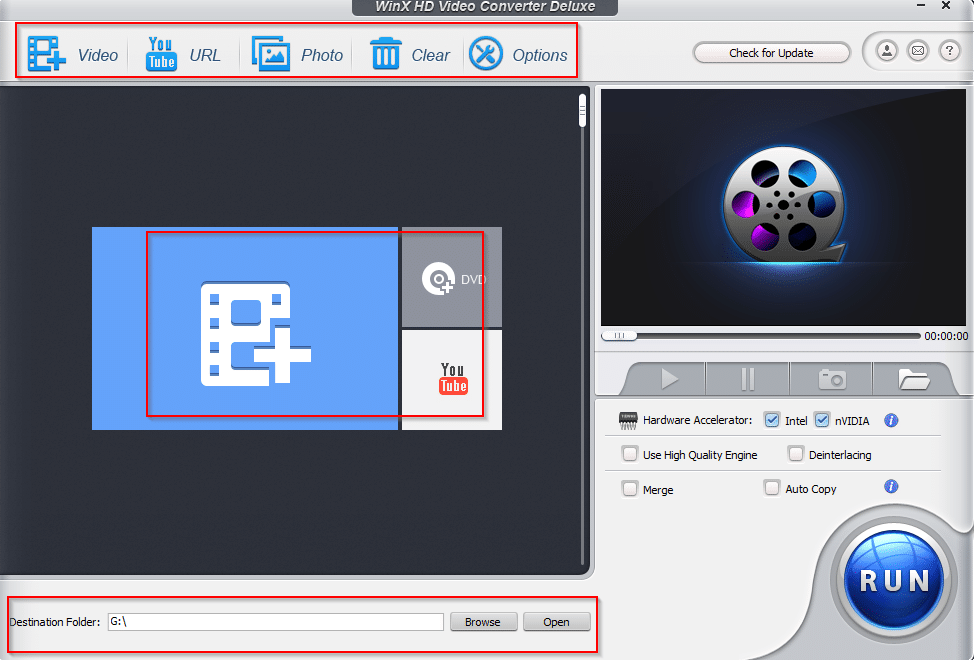 There are 3 main modules: The video conversion module (Video), YouTube URL downloader (online video downloader) and Photo (for making slideshow videos from photos). 
Let's take a look at each of them. 
Video:
To add an existing video file that needs to be converted, click the + icon.  
This will bring up the output profile screen. You can even convert videos to music format if needed.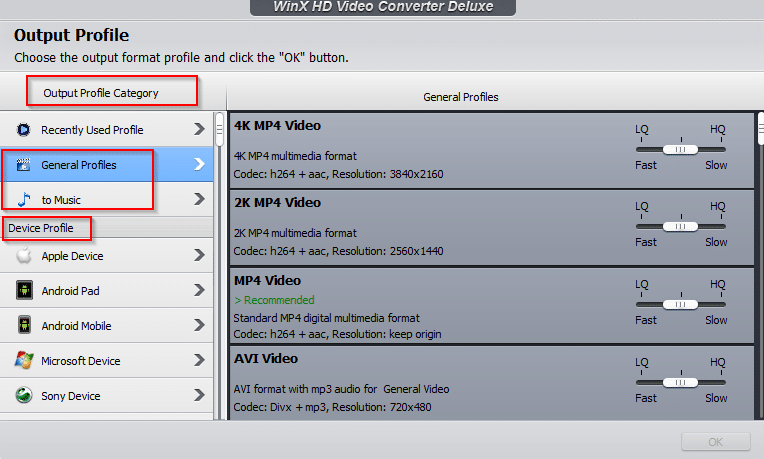 There are three main profiles that can be applied and each has a sub profile. 
Device Profile: This is useful when you want to convert a video to play on a specific device like an Android phone, an iPhone, a PS4 console and so on.  
Simply choose the required profile and the output settings will be applied for optimum playback for that. 
Web Video Profile: For converting videos that need to be uploaded to online video sites like YouTube, this is the profile selector to use.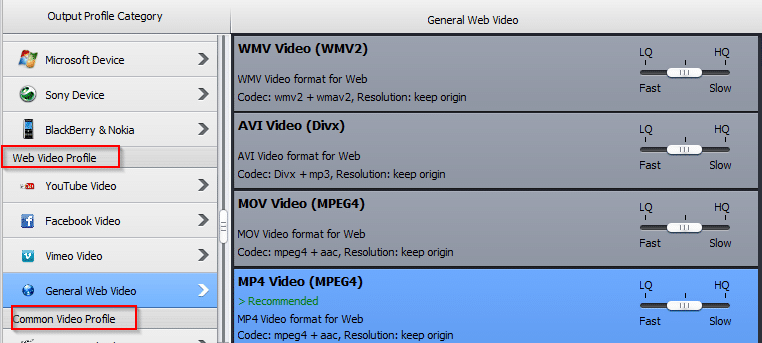 Choose from a variety of options like YouTube profile, Facebook profile, general web videos and so on. 
Common Video Profile: When you want the output video to directly play to PC or have a generic profile to be applied, use this option.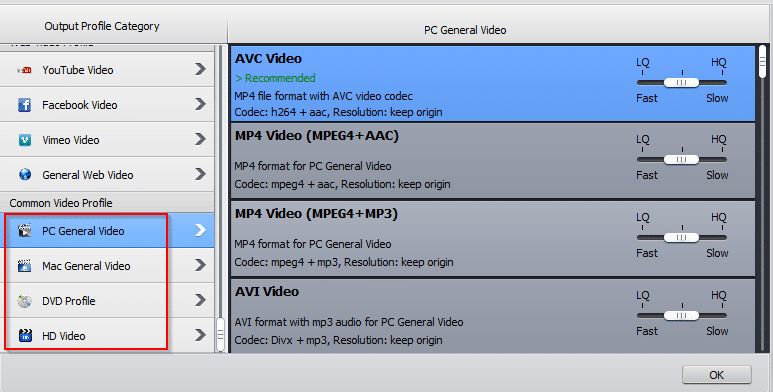 Also, once you use any of the profiles, WinX HD Video Converter Deluxe will automatically remember that and prompt to apply that during the next video conversion thereby saving time. 
Once the source video is selected, choose a profile and a destination folder (if needed, else keep the default).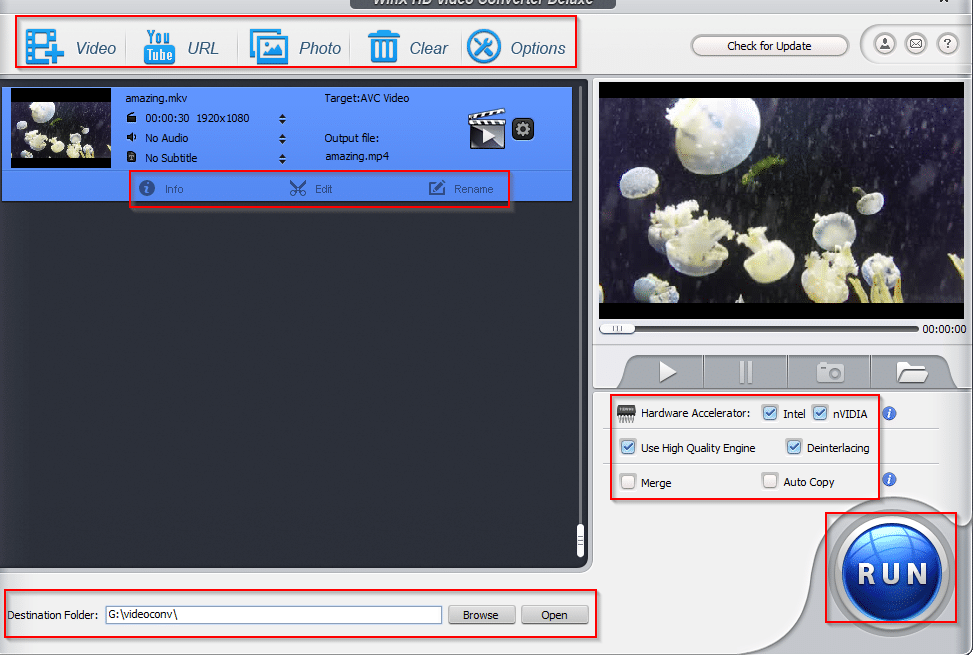 Also, you can review advanced options like codec settings, aspect ratio and more by clicking the gear icon and changing them.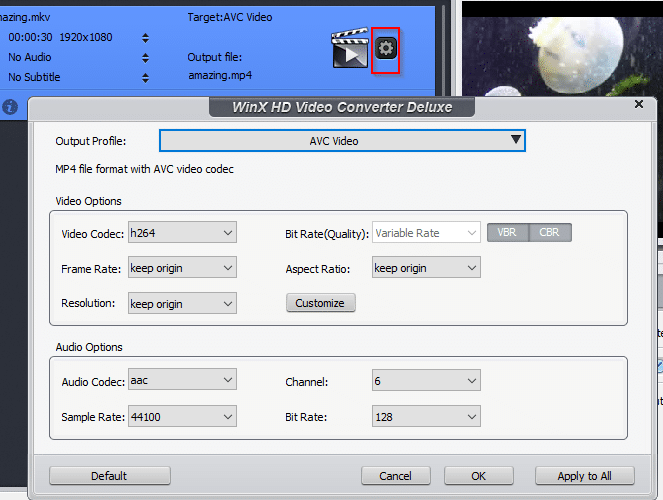 After the changes are finalized, click on RUN to begin the conversion.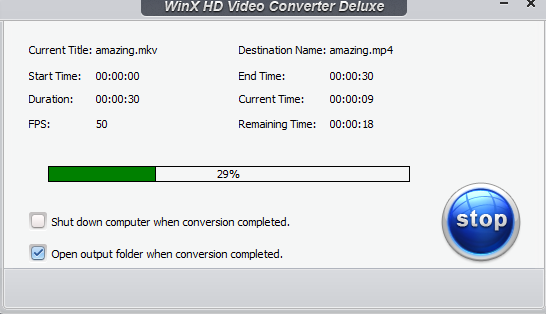 Depending on the size of the source video, this may take a while.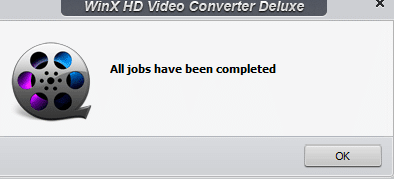 However, it will be a lot quicker because of WinX HD Video Converter Deluxe using Level-3 hardware acceleration to speed up the process. 
After the conversion is complete, the destination folder will have the output video.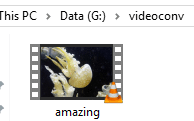 Merge, Edit and Trim:
Also, if you have more than one video to process, you can merge them in a single video. Add the source videos as before and select the Merge option before clicking RUN.  
The output video will be a single file consisting of multiple source videos.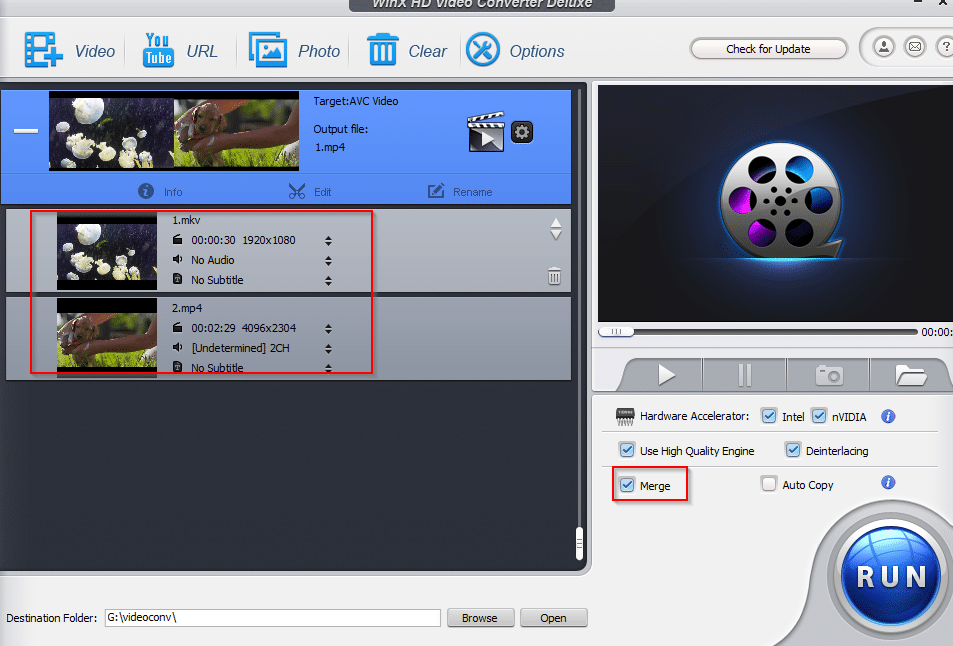 To edit and trim videos, click on Edit from source video box and choose Trim.  

Enter the start and end time for the trimmed video.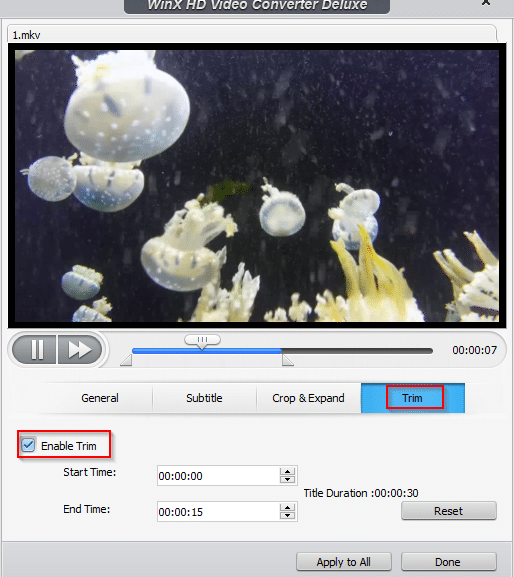 To add subtitles, from the Subtitle section, enable that option. If the source video has no subtitles, you can add one externally by enabling the Extra option.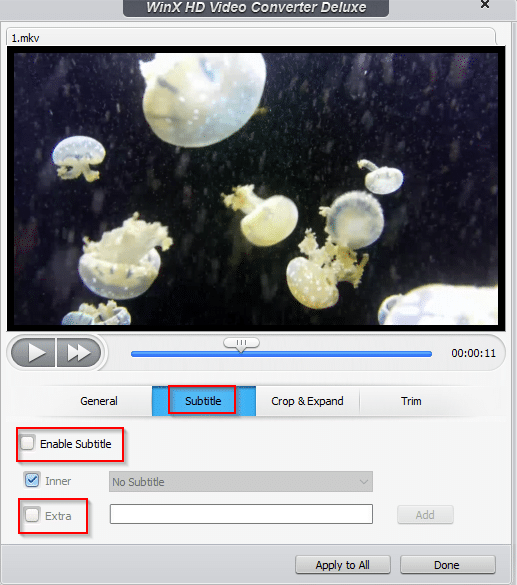 To crop videos, from the Crop & Expand section, enable it and choose the orientation by dragging dropping the video boundary. Click Apply to All once done.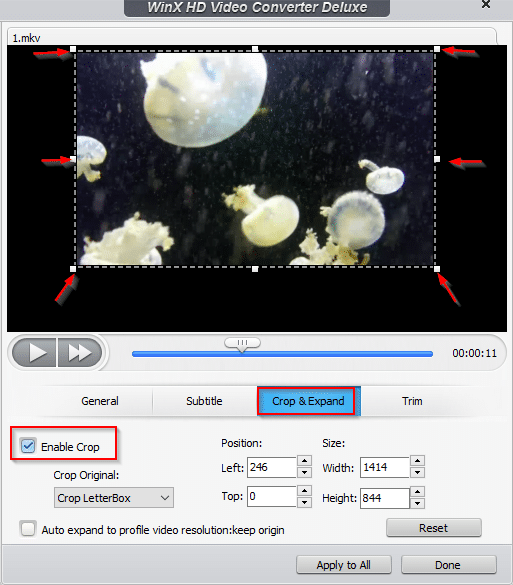 Online video downloader:
WinX HD Video Converter Deluxe supports a variety of online video sharing sites from where videos can be downloaded. A complete list can be found here. 
Copy the video link in the URL box and click on Paste & Analyze. 

WinX HD Video Converter Deluxe will parse that URL and if valid, will show a list of supported resolutions which can be selected for output video. You can also enable auto conversion of video URLS by enabling that option.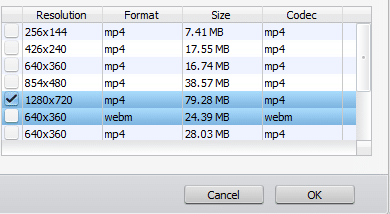 Photo:
This feature is for making a slideshow video from a bunch of photos. Simply click the Photo section and add the folder with the source photos.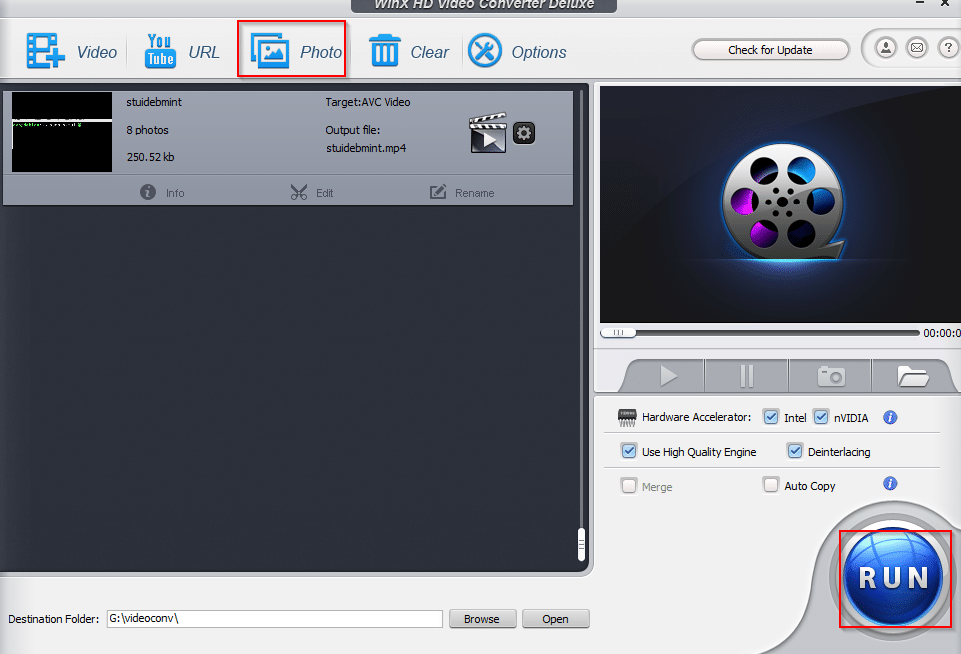 Apply the video profile as needed and WinX HD Video Converter Deluxe will convert that into a slideshow video. 
Options:
You can customize additional settings from Options tab. Configuring the default audio language, number of CPU cores to be used, destination folder path for videos and snapshots and more can be set from here.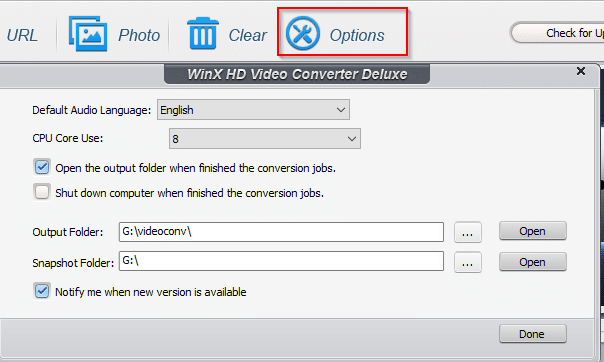 Overall this is a powerful 4K video converter that can easily convert MKV to MP4 videos and optimize videos for playback on different devices.  
Do try it out and participate in the giveaway to get a free copy before 15 June 2019.