If you are looking for a simple to-do list to keep a track of tasks and organize them while using Firefox, then MinimaList is a useful Firefox add-on to have.
As the name suggests, it is very minimal in what it does – maintain a to-do list all with just a few clicks. That's it.
Download and install it from here.

Once installed, it will show up next to address bar.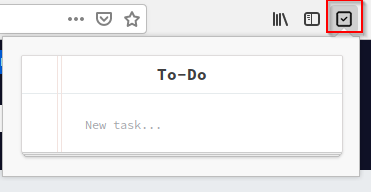 To add tasks, click on the MinimaList icon and add them by typing in the blank area. As you keep adding them, the icon will display the changing count of tasks in red.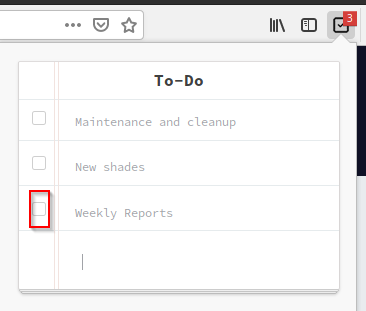 These basically display unfinished tasks from to-do list.
To mark a task as complete, click the tick box next to it. The pending task numbers will change accordingly in the MinimaList add-on icon.
Extremely basic but quite simple to use and without distractions.
By the way, for maintaining a To-Do list between Windows PCs and Android devices, Microsoft To-Do is a handy app to have.
Happy organizing.