SimpleTabOrder is a useful Opera add-on that makes navigating new tabs easier.
What it does is change the behavior of new tabs as in where they open and how they open.
Download and install it from here.

Once installed, the add-on icon will show up next to Opera address bar.

To change tab behavior, right click on the icon and choose Options.

The initial settings are set to tab defaults. There are two options for managing tabs : On tab open and After tab close.
On tab open:
It has two settings that can be changed : Position and State.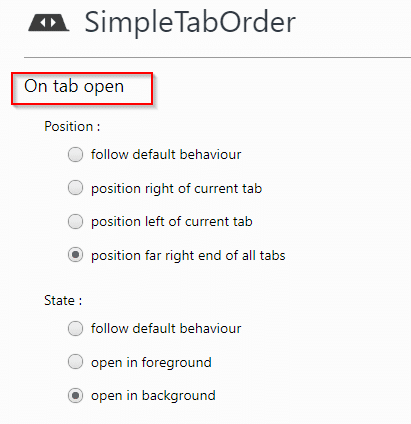 Position: To change the tab orientation of the new opened tab, choose the options from the drop-down. These include positioning the new tab to either left or the right side of the current tab.

Also, the new tab can be opened at the extreme right of all the current tabs. This last option is useful when you have many open tabs and want to keep track of new tabs that are being opened.
State: The new opened tabs can be either opened in the foreground (the focus will shift directly to new tab window once opened) or in background (current tab from where it is opened will remain as it is).
After tab close:
There is only one setting to be configured here which is Position.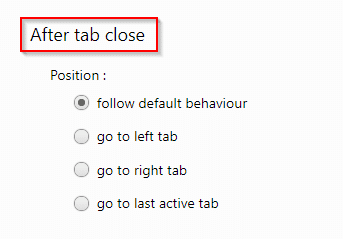 Once the tab is closed, the focus can either switch to left tab, right tab or the last active tab.
This is a useful add-on when managing a lot of tabs in Opera.
Happy browsing.