Why do we need to encrypt messages in images?
In this age of communication, we would beam files, emails, files, and texts around the world in a few seconds. While this makes it brilliantly convenient and easy to share information with friends and partners, you will never feel completely confident about what would happen to your data. In many cases, somebody, especially notorious hackers, can access your files and steal valuable information concerning financial and personal data. This can be serious and cost you a lot of money to get back.
If you want to ensure that only your friends, and nobody else, can see the files or texts you are sending, one of the most effective ways is to encrypt and hide it in another file, notably images. By doing this, you can conceal your sensitive information and data in a more innocuous mask, thus preventing the attack of malicious hackers.
Overview of Secret Message
While there is a variety of applications and software available for encrypting files and hide them in images, most of these can be expensive or hard to use for beginners. Fortunately, you can resolve these issues easily with Secret Messager – one of the best options for these purposes. It is an application which is specially designed to encrypt and prevent unauthorized access to your messages.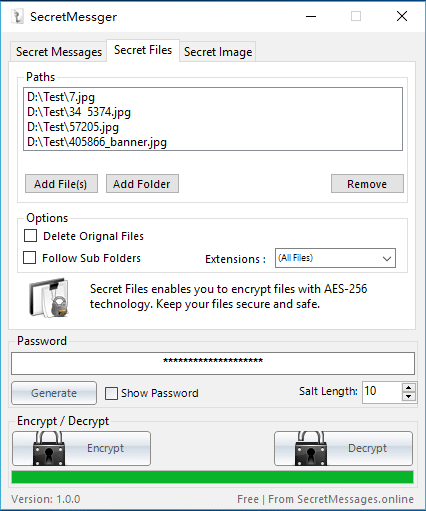 With many advanced features, it can ensure that your valuable information can reach the right people. In addition to messages and texts, Secret Messager can also hide your files and other formats.
How to hidetext in picture with Secret Messager
Even when you are not a tech-savvy, it is simple to use Secret Messager. Here are a few simple steps to hide texts in picture with this application: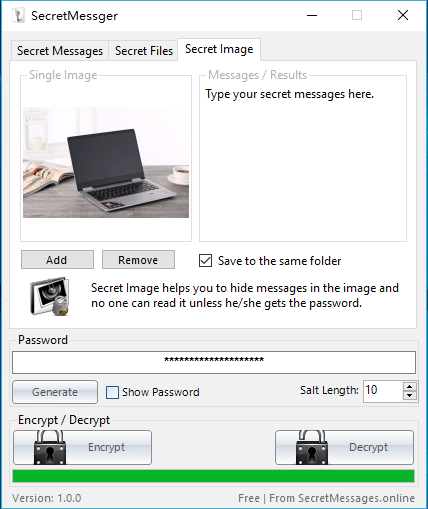 Step 1: In the main interface, choose "Secret Image"
Step 2: Upload the pictures that you want to use for hiding your texts. You can do it by choosing "Add" or using the "Drag and drop" feature
Step 3: Type your message in the "Messages / Results" box
Step 4: Enter the password in the "Password" box or choose "Generate" to create a random password. If necessary, you can adjust the length of the password.
Step 4: Choose the "Encrypt" box to generate your encrypted message and finish the process
If you or your friends want to read the encrypted message, just upload the image and enter the right password, then choose "Decrypt"
Benefits of using Secret Messager
Compared to other programs available on the market, there are many benefits of using Secret Messager to encrypt and hide your texts:
– Free to use
This is perhaps one of the most significant benefits of using this application. Both portable and desktop version are available for free downloading. You just need to visit the main site and get the version you want.
– Completely clean and safe
With advanced encryption technologies, Secret Messager will ensure the safety and security of your valuable information. It is nearly impossible for hackers to break encrypted images.
– User-friendly interface
The application comes with an intuitive display which can be used by anybody. You can drop and drag the images and easily encrypt the message in a few simple steps.
– Offline process
The whole encryption process will be completed offline. It does not require any internet connection. Also, your files or images won't be upload to any servers.
AES-256 technology
What makes Secret Messager different from other similar applications is the use of AES-256 technology. Basically, the AES-256 encryption tool applies a 256-bit key to decrypt or encrypt your files and data. Compared to 192-bit and 128-bit encryption, this technique has more modern and advanced algorithms, technologies, and protocols, making it almost impossible to break encrypted messages. This means your information will be fully protected from any malicious hackers who are trying to steal your financial and personal data with their programs.
Conclusion
With many advanced features, Secret Messager in undoubtedly one of the best options to encrypt and hide your files, messages, or information in images. More importantly, the AES-256 encryption technology will ensure the ultimate safety for your sensitive and valuable financial or personal data. Even when you are a novice user, the intuitive interface can allow you to do everything quickly in seconds. Start downloading and sending your messages online securely now.