Cinavia is a DRM protection measure that is found on DVDs and Blu-Ray discs. What it does is discourage ripping and copying media by introducing a digital watermark to the audio video stream. DVDFab DVD Cinavia Removal is a tool to remove Cinavia.
There are two elements to Cinavia. First is the watermark which will be detected by media players and the playback will stop or automatically mute after about 20 minutes. Second will be the DVD/Blu-ray players who recognize this Cinavia watermark.
While this is a preventive measure to stop piracy, it can be annoying when trying to re-encode or copy your own private content like personal collection of movies for backup or converting them to a different format to store them on different devices for viewing.
DVDFab is meant to get rid of Cinavia for your own media backups but doesn't support removing it from say recording movies in a theater and so on.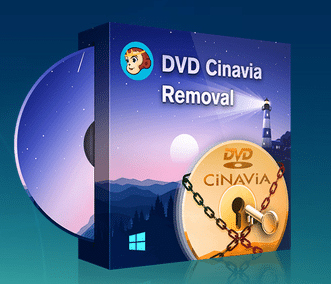 In a nutshell, it works by trying to restore the original audio track before it was distorted with the Cinavia watermark. This is done by downloading and applying a patch/fix from DVDFab servers.
This entire process is invisible to end user and it isn't very resource intensive either. The only bottleneck here can be the read speed of DVD and its overall condition.
Note : As a Christmas sale and Cyber Monday campaign, DVDFab is now offering up to 50% on it's products either as new purchases or upgrades. Other prime offers include 20-in-1 complete DVD and Blu-ray solutions found in DVDFab 11 flagship products.
To know more about these offers, visit the Christmas sale page here.
Key Features:
 Restoration to original audio track
Restored audio video content is compatible with all players
Easy to use
True lossless quality for Blu-ray and UHD
Always updated Cinavia information
The online setup of trial version for DVDFab is available for download from here.
Alternatively, an offline installer can also be downloaded from there if online setup is taking a while to complete.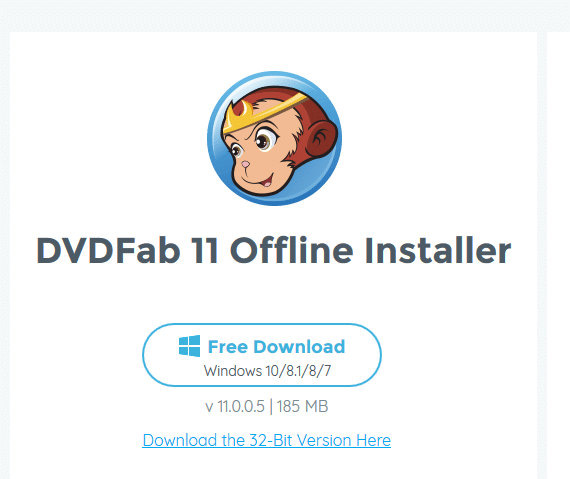 It supports Windows and Mac platforms along with 32 and 64 bit versions.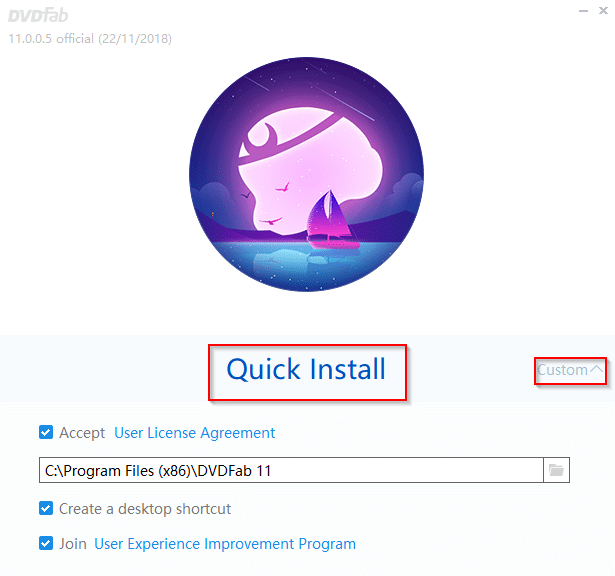 The installation is pretty simple, either continue with the default settings by clicking Quick Install or choose Custom and change the installation path and other options.
The setup will now be downloaded and it may take a while.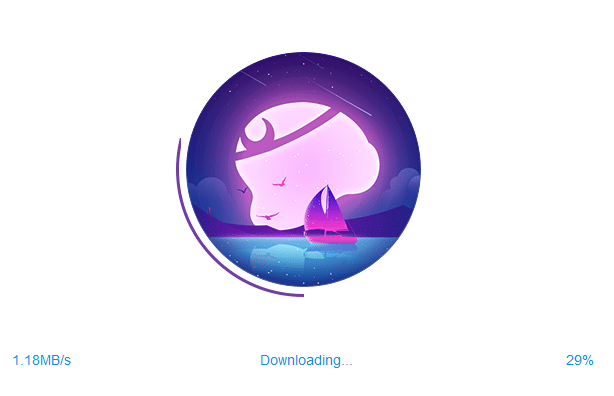 There will be different modules like Copy, Ripper and so on.
For removing DVDs having Cinavia, choose the Copy module. (Ripper module is for doing that with Blu-ray discs).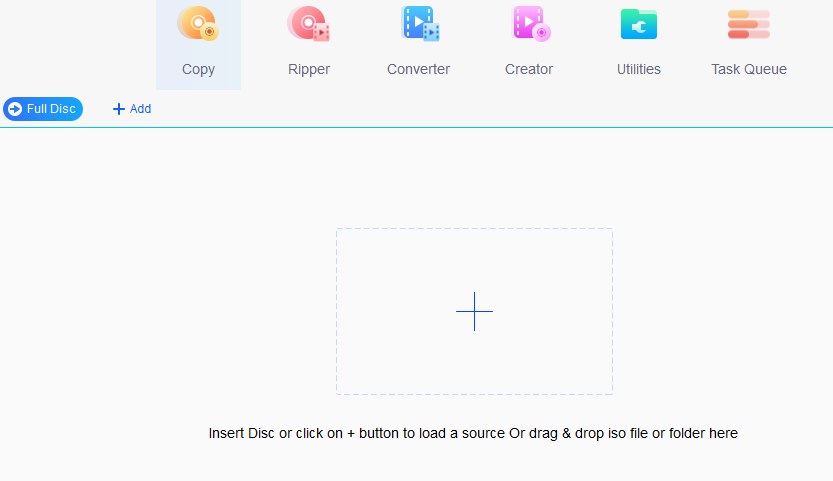 There will be different copy modes available like Full Disc, Main Movie, Split, Merge, Clone/Burn etc. To remove Cinavia fully, choose Full Disc.
These modes are used for different choices like splitting a DVD into two, merging multiple DVDs and Blu-ray disc in one, cloning an existing disc, converting from DVD to Blu-ray or vice versa and more.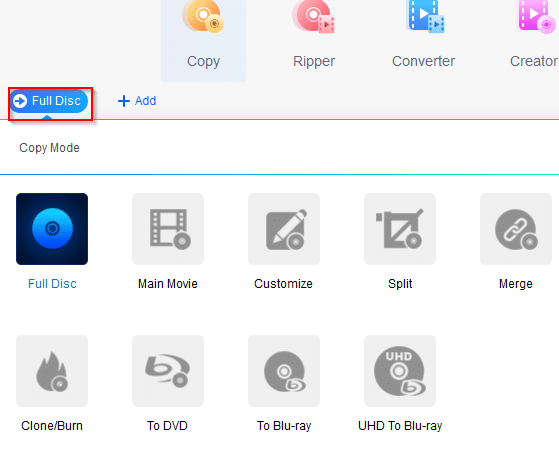 Insert the DVD disc to start or alternatively click the + sign or drag drop the folder for ISO files. Then click on Advanced settings (wrench icon).


From the drop-down in Audio tab, make sure that the audio track with a slashed Cinavia logo with is checked.


Choose the output directory where the processed file will be available. If you are writing this to a DVD drive, keep the default choice as DVDFab auto detects the DVD player. Else, choose a different folder by clicking on folder icon for saving as a DVD image.

Finally, click the Start process to begin.
Various settings for DVDFab can be customized by clicking on the down arrow icon > Common Settings.

These include setting a default output path, specifying codecs, conversion settings, allowing multiple instances of DVDFab to run and more.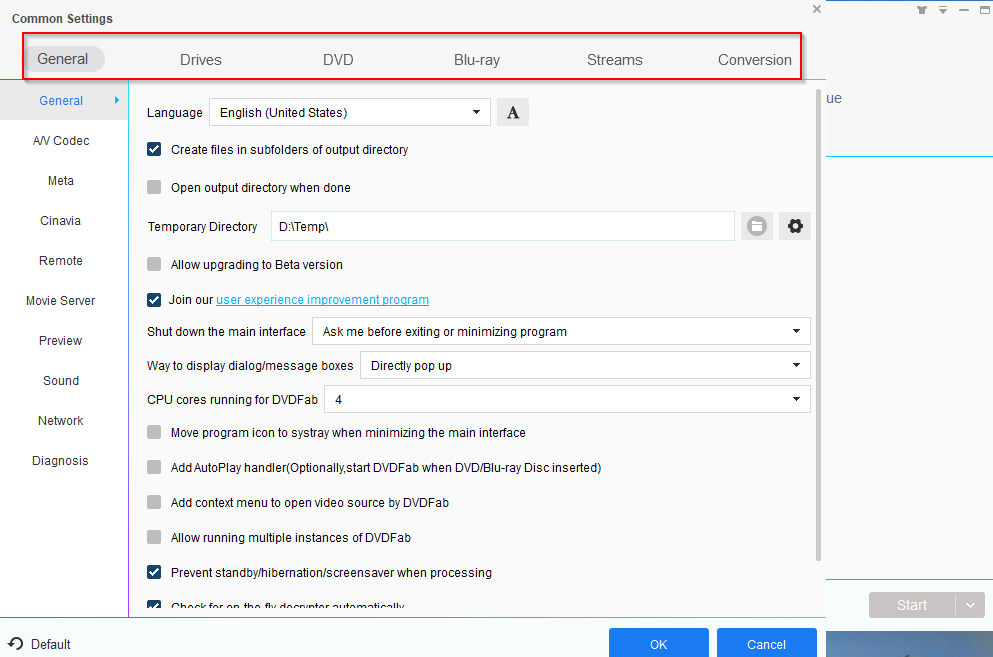 All done.