With increasing use of technology and online interactions, it can be useful to keep a track of web activities by parents as a form of parental control for kids. Also, this is applicable for corporates which have employees handle sensitive data and so a means to safeguard this is needed.
Elite Keylogger does just that. It has been around for a while and is in list of best keyloggers for Windows.
Do note that this tool is meant for authorized use only and as a parental control software.
The one main advantage of using Elite Keylogger is that it is software based which can be easily installed and not visible compared to a physical keylogger which is easily visible.
The Windows and Mac versions can be downloaded as a trial from here. (The free version will be visible when running while Pro will run invisible.)
Also the Pro version has other additional features too :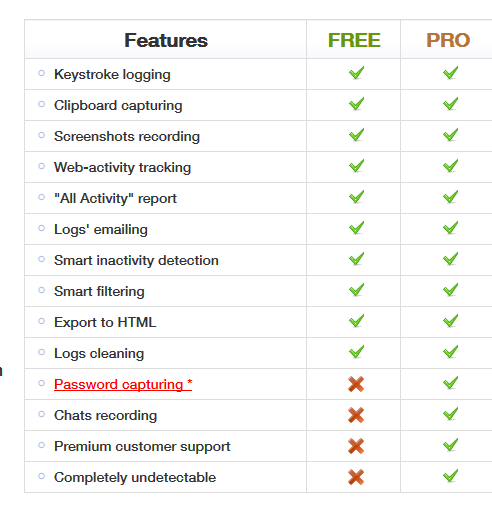 Key features :
Supports Windows XP SP3, Vista, 7, 8, 10 and Mac
User interface in English, Russian and Spanish
Captures passwords and clipboard data
Records keystrokes
Records emails, chats and take screenshots
Invisible and runs in background
Once installed, there are various features available for monitoring the PC/Mac. It runs silently and won't be detectable by users. Also, it won't show up in system scans and continue to monitor user activity (Pro version).
The main interface consists of various recorded activities including keystrokes, screenshots and so on.
Keystrokes : Keystrokes that are captured can be viewed from the Keystrokes column. As Elite Keylogger also monitors and copies clipboard data, passwords that are copied and pasted will also be captured by it.
Screenshots : This section will show the details about various websites visited along with timestamps. This is particularly useful for documenting in a corporate environment as it can be helpful to estimate productivity of the employees.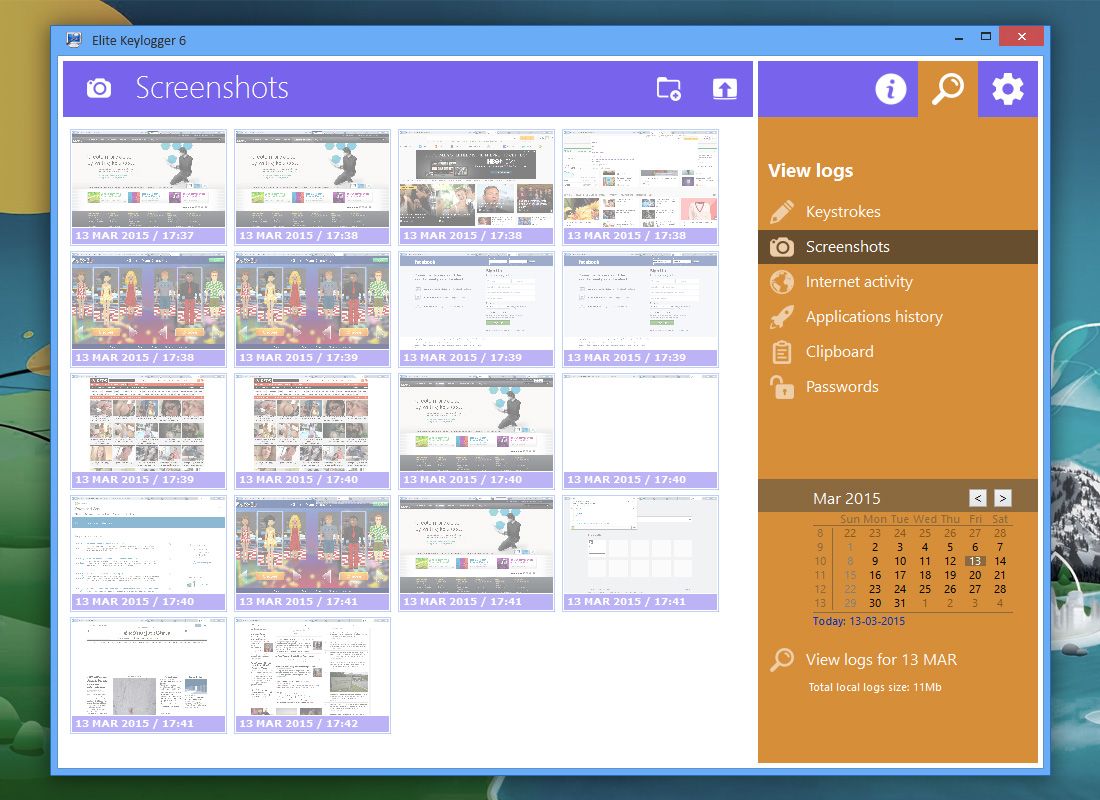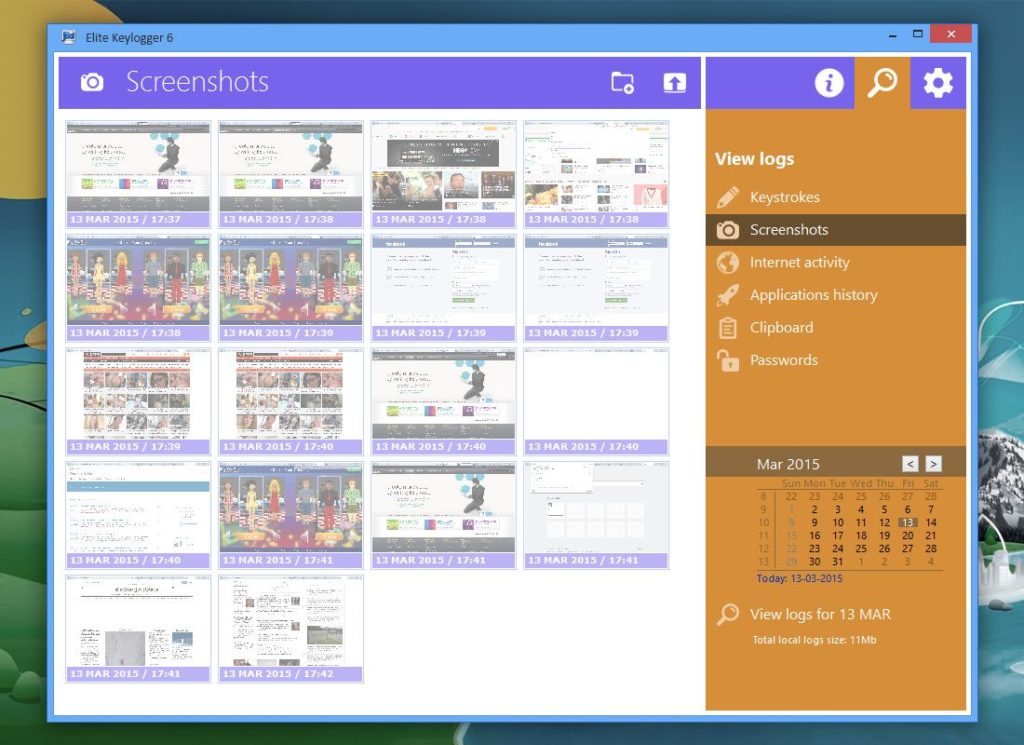 Internet activity : This will keep a track of various websites visited. The logs can be visited for any date using the calendar option.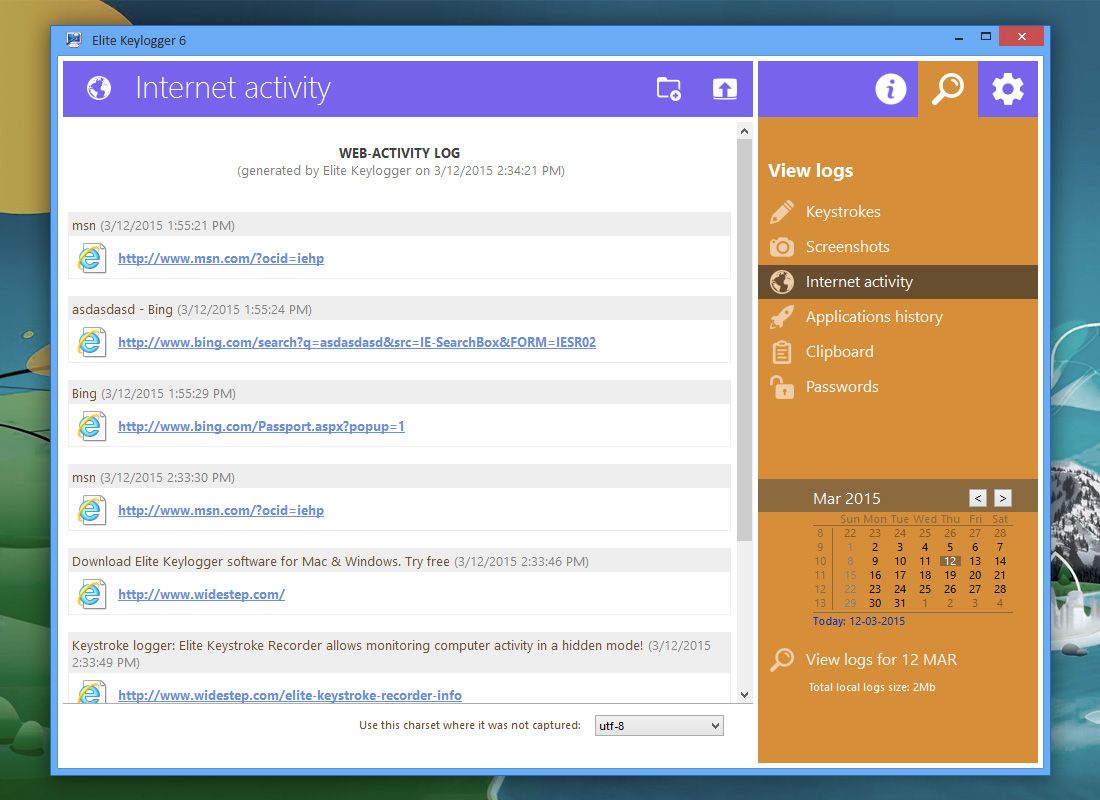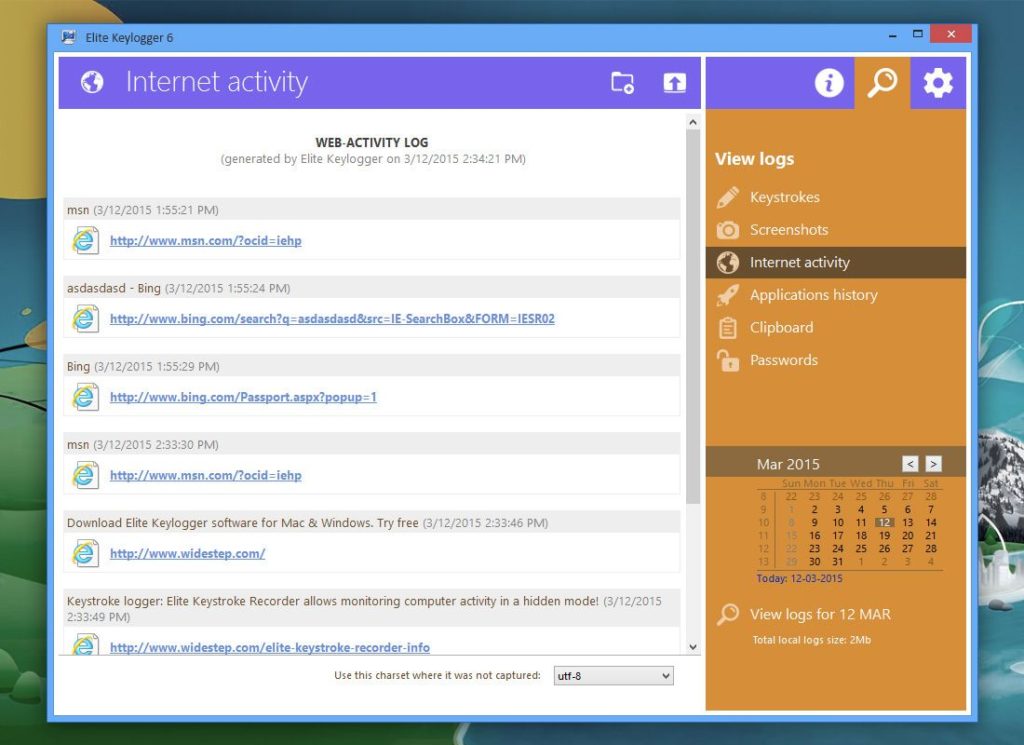 Applications history : All the accessed applications like emails, chat messengers and so on can be viewed from this section. It can help in knowing the usage per application.
Passwords : Login passwords can be traced from here. This is useful when auditing logins and usage patterns.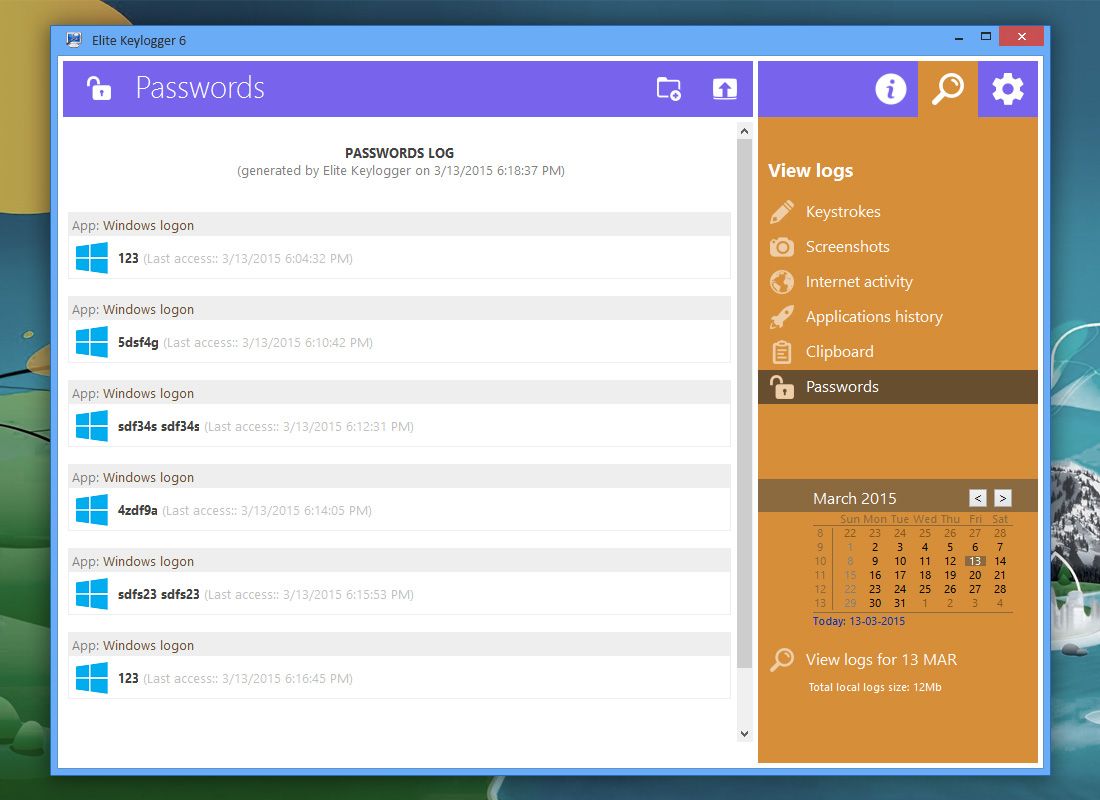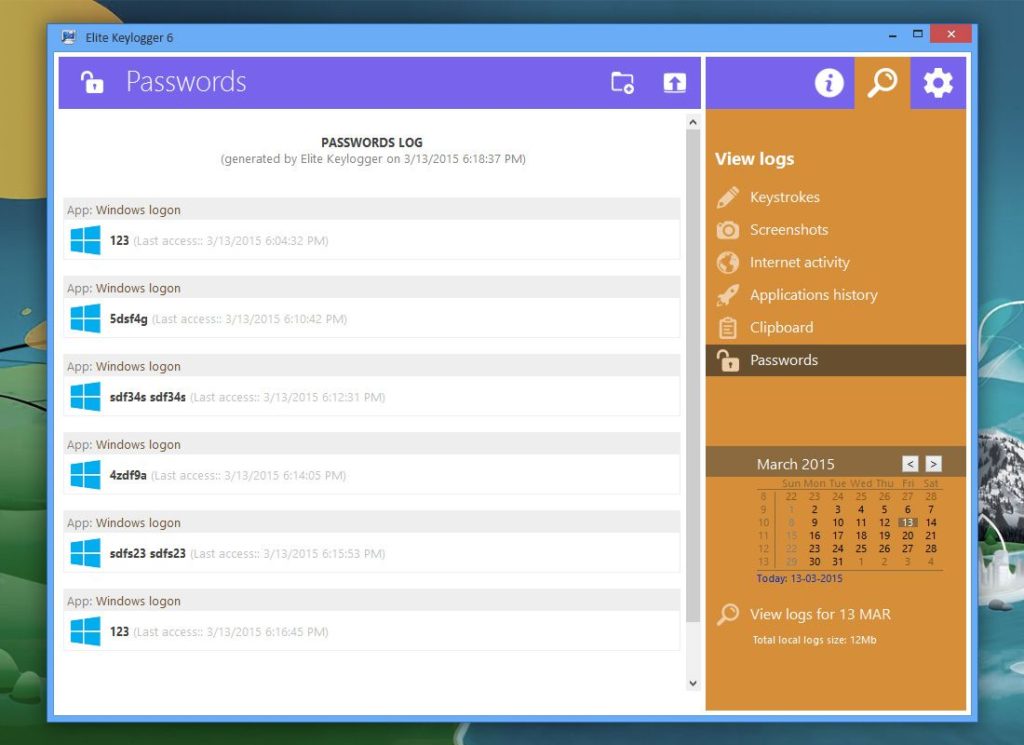 Preferences : The gear icon is used to set preferences for Elite Keylogger. Over here, various options like setting a password to make Elite Keylogger visible, enabling monitoring on a per account and per application basis and as a schedule can be configured.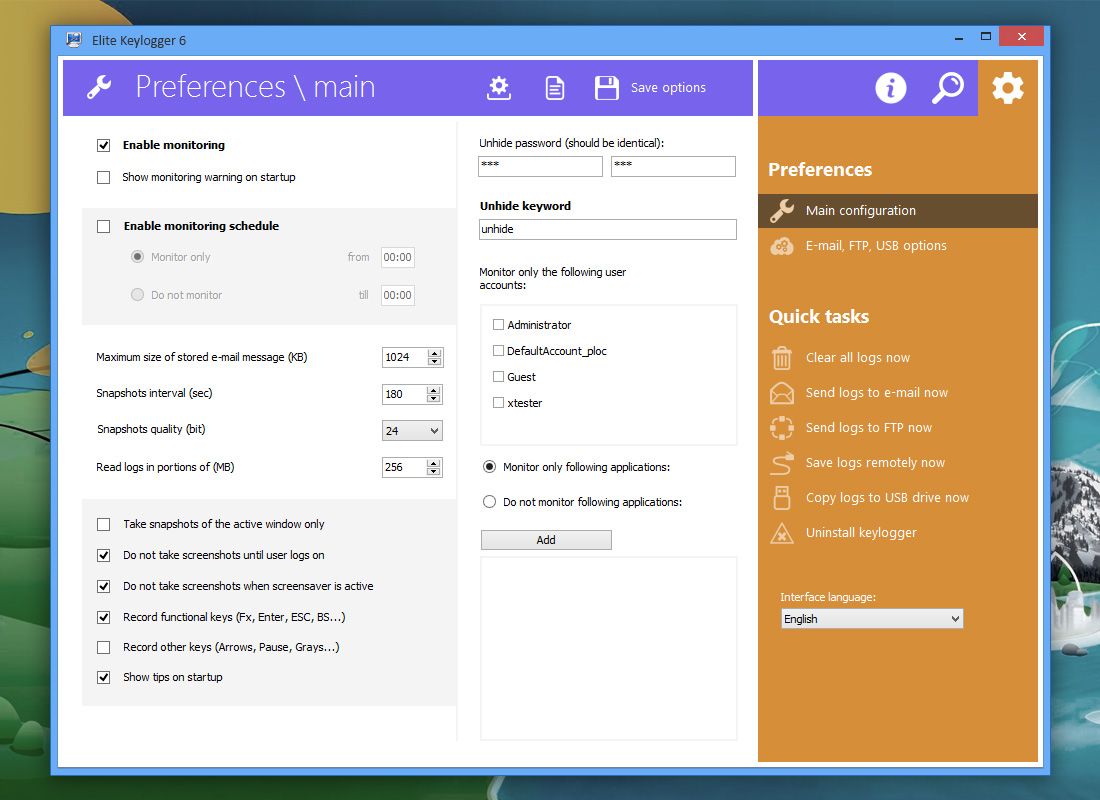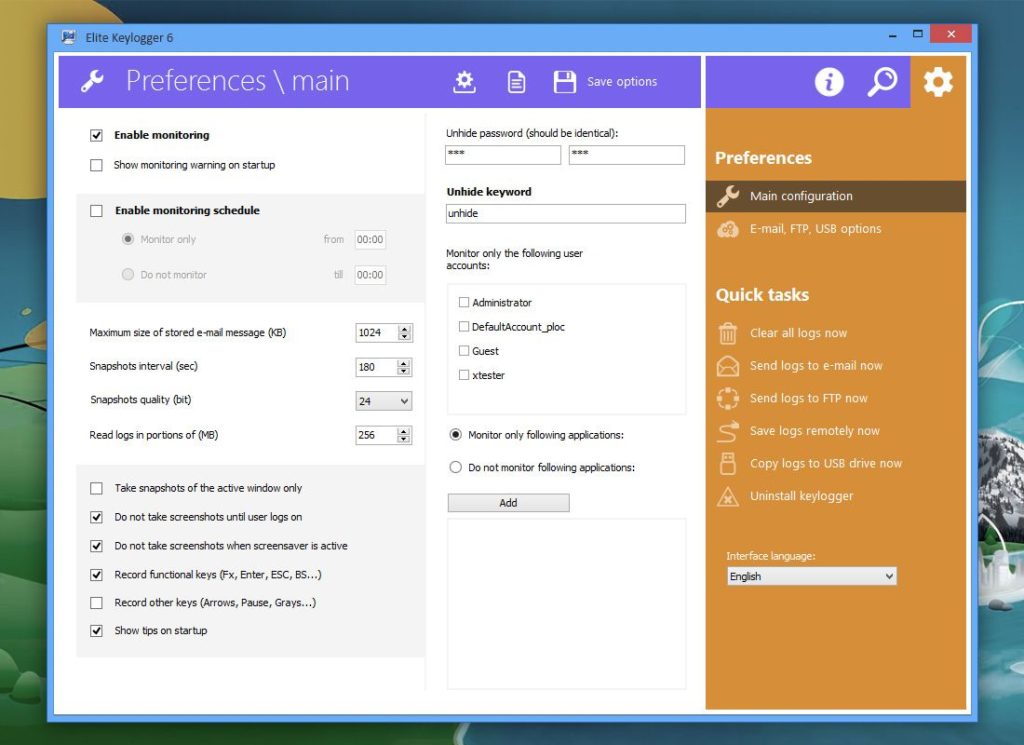 Other useful preference is that the logs stored for various elements like keystrokes, screenshots and so on can be remotely stored to a FTP server, be copied to a USB drive or be emailed. So parents if out of town can still monitor PC usage of their kids and same goes for a corporate environment where employees who are on the move can still be monitored remotely.
Overall, this is also in the list of best keyloggers for Mac  just like for Windows. It can be a powerful parental control tool as well as for corporate networks.