Batch Word to PDF converter is a freeware conversion utility tool that allows conversion of Word to PDF format on the go. In addition to converting MS Word files, the software supports a range of other formats including Excel (XLS, CSV, ODF, ODS), Rich text (RTF), PowerPoint (PPT, ODF, ODP, PPTX), Plain text (TXT) to PDF as well.
Download and install it from here. It is available for installing locally and also as a portable version.
The tool comes equipped with batch conversion for processing multiple documents in one go. Unlike other PDF converting tools, users no more need the PDF virtual printer to convert files to PDF one by one.
Additionally, users can also choose to merge all the selected files in a single PDF as per their requirements.
Once downloaded and installed, the main interface is self explanatory with various functions like adding/deleting documents or changing their order in a list.
To get started, users need to drag and drop the Word file (or files) that require conversion in the tool interface or through the add button.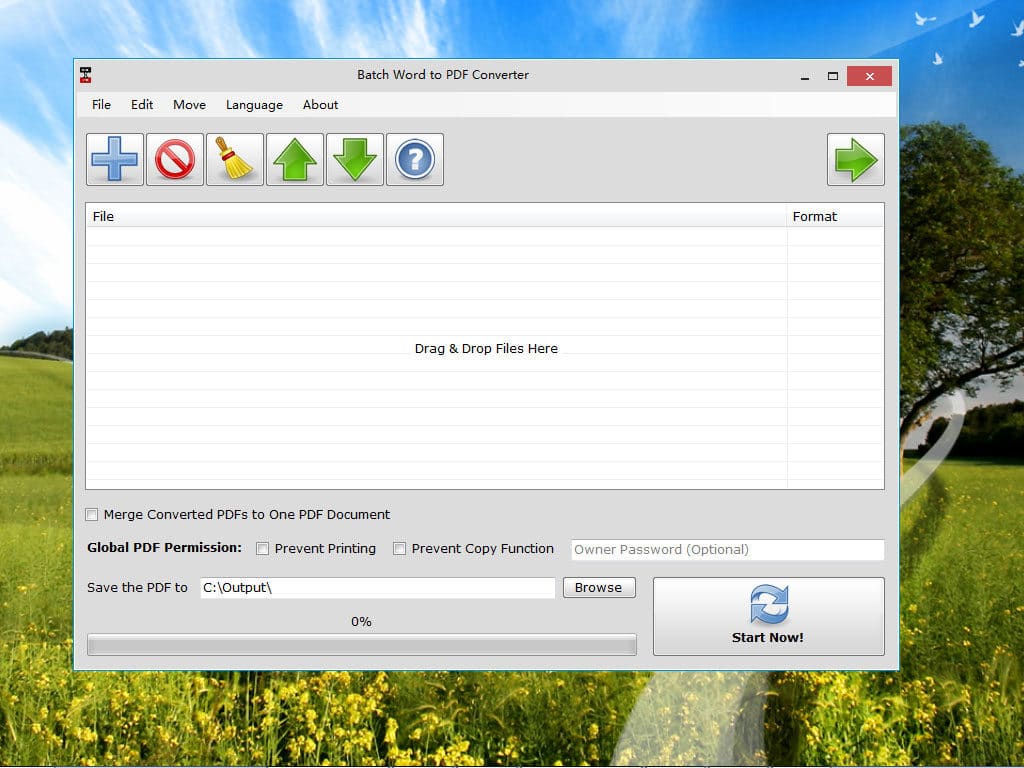 If more than one file is selected, users can merge the files into a single PDF document by checking the corresponding option at the bottom of the tool, however, this option is not mandatory. Next, select the location where the file is to be saved and click on Start Now.
Batch Word to PDF Converter also comes equipped with special security features which allow users to set global PDF permissions in the output PDF file. Users can choose to prevent copying and printing and can even set a password to keep the freshly converted PDF files secure. This feature comes in handy when the PDF file contains confidential and copyrighted material which prevents anyone from reproducing the content.
The tool supports a range of languages including Arabic, Czech, Dutch, English, French, German, Greek, Portuguese, Korean and Simplified/Traditional Chinese.
Batch Word to PDF Converter is a freeware which not only keeps your data safe and secure but also ensures that the output PDF file is clean from any malware. The tool doesn't store any file anywhere, but simply converts on the go, thus ensuring utmost security.
All done.