The Samsung Galaxy Note 8 is an innovative piece of technology — a unique tool capable of much more than simply making calls, sending texts, and getting online. Its original and high-tech features help it stand out in a crowded smartphone market. These are just some of the cool things you can do with a Samsung Galaxy Note 8.
Make and Send Animated GIFs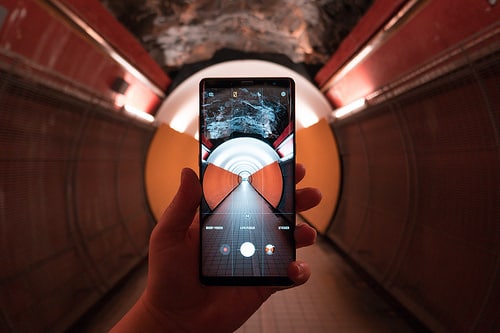 [Image via Flickr by GillyBerlin]
Animated GIFs are red-hot at the moment, allowing us to communicate in messages and social media threads in a new, creative way. When you have a Samsung Galaxy Note 8, you needn't rely on GIFs created by other people to make a statement. This clever phone lets you turn any video, including movies and clips you've captured, into a fun GIF.
Simply load the video, tap the Air Command symbol and choose Animation, and select the capture area with your S-Pen — and you've got a unique GIF. Samsung played with GIF creation on its Galaxy Note 7, but the Galaxy Note 8 fully realizes its vision by letting you send your custom GIFs to friends and family members via the new Live Messages feature.
Multi-task With App Pair
Samsung has long realized we're a society of multi-taskers. Its old Multi-window and Multi-tasking feature let you use two apps simultaneously, but opening both apps and using them together was clunky and confusing.
Samsung has refined the notion for the Galaxy Note 8, its first smartphone featuring App Pair.
The App Pair function lets you identify two apps you like using together and saves your preferred pairings. Simply enter multi-window mode, select a pairing, and easily launch them simultaneously.
App Pair is an intuitive tool which lets you use your smartphone the way you want to use it.
For example, you can open a cooking app and a conversion app so you can easily convert metric measurements of ingredients to imperial ones while preparing dinner. Or you could launch your favorite streaming app at the same time as your email app so you can watch a movie while clearing your inbox of spam and marketing messages.
Multi-tasking can slow inferior phones down, but the Galaxy Note 8 can easily keep up with your demands on T-Mobile's 4G LTE network. The Qualcomm Snapdragon 835 Processor and lightning-fast mobile network form a powerful partnership that's made to keep up with you.
Stream Sound to Multiple Devices
Streaming audio to a portable speaker or car stereo via Bluetooth is nothing new, but your stream is usually broadcast from just one device.
The Galaxy Note 8 makes streaming more versatile with the addition of modern Bluetooth 5.0. This upgraded Bluetooth lets you stream audio to two separate devices. This capability means you can enjoy stereo sound by streaming to two separate Bluetooth speakers of any brand. You can also stream from two different apps simultaneously. For example, you might stream music to one speaker and the audio from a YouTube video to another.
Bluetooth 5.0 also has a much greater streaming range of more than 120 feet, compared to just 30 feet in the previous model, so families could potentially stream different audio from a single smartphone to different rooms in their home.
No doubt more smartphone makers will add Bluetooth 5.0 to their latest models, but for now, the Galaxy Note 8 is a rare treat for audiophiles.
Take a Dip
Samsung doesn't recommend swimming with its Galaxy Note 8, but YouTube videos suggest you can — and your phone will still survive.
There are some conditions, though. The Galaxy Note 8 and its S-Pen have an IP68 rating, so you can only submerge them to a depth of 5 feet for up to 30 minutes. You might have some speaker distortion until the phone is completely dry, but everything should return to normal. That's great news if you want to snap some underwater shots at your next pool party or just feel more comfortable with your phone at hand.
If you want a phone that can do things that your friends' smartphones can't, then look no further than the Samsung Galaxy Note 8.