The Internet can be a difficult place for kids and teenagers especially with various unfiltered content and constant social media usage. With almost all activities now being online or through mobile apps, completely blocking Internet usage or smartphone usage for kids is not a viable option for parents.
This leads to a rise in harmful effects like cyber bullying, identity theft and other harmful stuff. All of this can be minimized by keeping a track of how kids and teenagers use their phones and Internet.
This is where parental control APP like Kidgy can help.
It can keep a track of where the kids are (GPS), the type of contacts they associate with or are friends with, nature of online activity, monitor text messages, calendars, calls and also keystrokes and so on.
So by doing an online activity check of kids, Kidgy can enhance teenager security as well as of young kids and also overall improve parental supervision.
Kidgy is a comprehensive monitoring app and parental control software with privacy controls which is available for both Google Play Store and Apple App Store.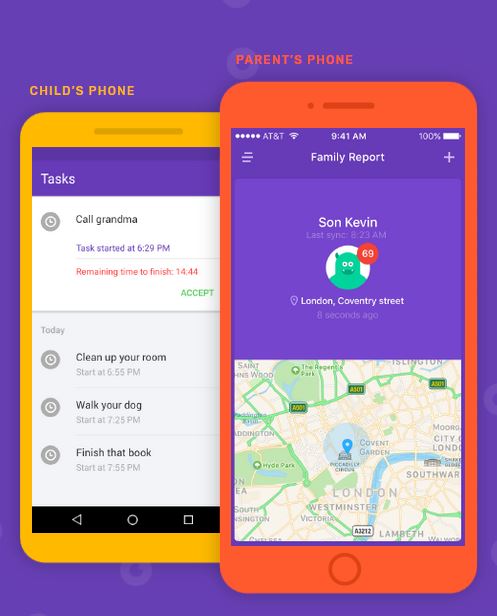 It is designed as per the guidelines prescribed by UNICEF for creating a safe online environment for kids and is easy to use.
Setting up is simple and involves three main steps:
Downloading the app
Creating a parent and a kid profile
Begin monitoring
Kidgy essentially follows the below principles for its uses :
Monitor
Manage
Protect
Educate
Monitor: By monitoring text messages, emails, chat sessions and call logs, supervising over kids becomes a lot easier. With the GPS feature, Kidgy can track at any instance about the location of kids. It can also define locations as safe or unsafe and alert parents if kids venture into areas that were deemed unsafe. Parents can also check the route history to detect any suspicious patterns or anything not routine.
Manage: Social media can be a huge waste of time and for kids that would mean a great distraction from completing assignments, homework and studying. Kidgy can block social media websites or set a time restriction for it along with blocking of inappropriate websites
Protect: By knowing whom the kids hang out with and the nature of interactions, cyber bullying as well as other malicious elements can be readily be identified and stopped. It also gives a peace of mind knowing that the supervision works.
Educate: Kidgy can create and set tasks and deadlines which can then be assigned to kids for doing their homework and studying. So there is no need to be physically present to remind them and once the alloted tasks are completed, it will notify parents. It's virtual parenting with constant interaction without having to repeatedly remind kids of their tasks.
Besides the above features, it also can detect various apps installed on kids phones and can generate a report for parents. This is a great way of keeping tab on kids without unnecessary intrusion.
Overall, this is a comprehensive parental control app which promotes a safer online and virtual environment and experience for kids as well as teenagers.