WinX MediaTrans is a cross platform manager that makes it easy to transfer photos from iPhone to PC. It also can do the same for videos, music as well as stored documents. It doesn't need iTunes to be installed and transfers the content without any loss or compatibility issues.
So whether it's all about iPhone 8/X upgrade and so transferring/backing up existing data or not having to use iCloud for syncing photos/music/files between PC and iPhone/iPad, WinX Media Trans can make this process easy.
To get started, first download WinX MediaTrans.
Some of the key features of this tool are :
Centralized interface for transferring music, photos, videos and files between PC and iOS devices
Makes connected iOS devices to work as a USB storage
Record voice memos and create ringtones for iPhone using the built-in ringtone maker
Manage and transfer e-books and documents between PC and iOS devices
After it is installed and run, the main interface displays the task icons.
These include Photo Transfer, Music Manager, Video Manager, Book, Voice & Ringtone, Flash Drive and Remove DRM.
Transferring photos from iPhone (8/X) and PC without iTunes :
As WinX MediaTrans supports all versions of iOS devices, the procedure for transferring photos from iPhone to PC without using iTunes is the same.
Here is an easy guide on how to do it :
1.First connect iPhone to PC using USB cable.
2.Then launch MediaTrans, it will auto detect the device.
3.Next, open Photo Transfer from the main interface of WinX MediaTrans.
All the stored photos on iPad or iPhone will be displayed. They can be grouped by year, day or month if needed. This can be useful in exporting photos of a specific month or a day.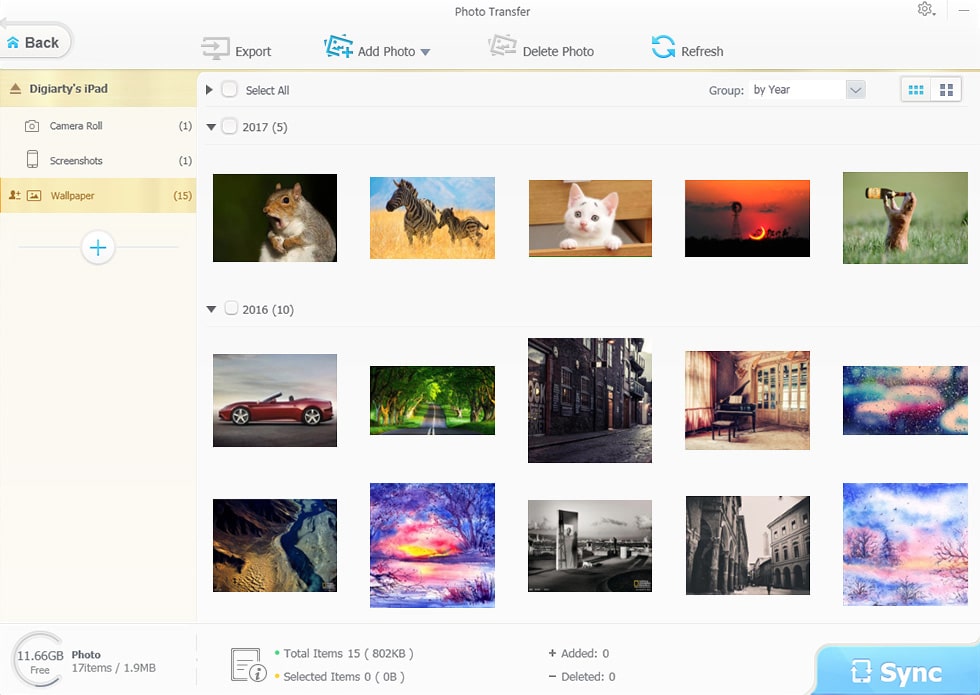 ​Choose them as needed or the entire collection and click Sync for them to be copied to PC. It also supports drag-drop for adding them using drag-drop too.
As WinX Media Trans is cross platform interface between iOS devices and Windows, there is now no need to install iTunes specifically for transferring photos to PC from iPhone.
Let's take a look at other features :
Music Manager : This is similar to using Photo Transfer. Stored music from iOS device can be synced to PC using Sync or drag-drop.
Other functions of Music Manager is organizing a new playlist or exporting it. Also, existing music tracks can be added/removed. All the imported audio files to iPhone/iPad are auto converted to AAC/MP3 to ensure compatibility.
Video Manager : Video files can quickly take up a lot of space on iPhone/iPad. Using Video Manager can help in avoiding this by only importing needed files from PC or removing existing ones that are stored.
Just like Music Manager, imported video files are also auto converted to be compatible and also reduced by as much as 50% for occupying less space on iPhone/iPad. It also supports auto rotate as well as playback/transfer of 4K and1080p HD videos.
Book: EPUB and PDF ebooks can be synced. The entire collection can be managed and streamlined using this interface.
This also includes removing the ones that are already read and adding new ones from PC.
Ringtone: 40 second custom ringtones for iPhone can be created through this. Choose the source file and click Make Ringtone. Or crop a selected portion from source audio file to make a ringtone.
No audio expertise is needed. Also, existing voice memos can be synced as well as added.
Flash Drive: This feature converts connected iOS device to a USB storage. It can then be used to store data. Available files and folders are listed for adding and deleting.
Make sure to click Refresh to view updated data. It also supports drag-drop of files/folders for quick access.
Remove DRM : Choose the audio/video files from which DRM restrictions are to be removed and click Ok.
Also existing multimedia files can be deleted.
So no more using iTunes or iCloud to sync photos and files to PC.
Also, there is a WinX MediaTrans Giveaway where winners can share interesting photo for winning $500 PayPal cash, so do check it out.​