Microsoft Edge can simplify reading and sharing articles with the Windows 10 Creators Update.
It does this through Reading View and Sharing directly from within the browser.
To make reading articles easier and without distractions, simply open the required webpage and click on the book icon.

This will render the article webpage in Reading view which makes reading it a lot easier especially the lengthy articles.
To share a webpage through email, Â Edge offers the following options :
Cortana reminders
Mail app
OneNote
Reading List app
To share, click the Share icon. Â As all these settings are synced when logged in to different Microsoft devices using the same account, these articles will be available everywhere.

Then choose as needed.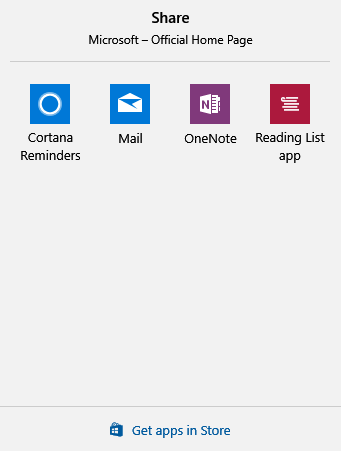 Selecting Cortana Reminders will add the web page as a reminder
Mail will prompt to share it using email. If there are multiple email accounts configured, select as needed. OneNote will create a new note with it.
Choosing Reading List app will prompt to select a category from existing ones or make a new one. Click Add once done.
These are useful features which may take some time to get used to but are very handy in managing time and productivity, especially when using multiple Microsoft devices.
Happy reading and sharing.