May, 2017 saw an unprecedented ransomware attack in the form of, WannaCry . It also includes other variants : WannaCrypt and Wanna Decryptor which will encrypt user files and folders such as documents, photos, videos, applications, database, etc and make them inaccessible. Once infected, a ransom is demanded to make them accessible failing which they will be deleted.
Influence of WannaCry
This kind of ransomware attack disrupts daily operations. Also, Â data loss is the greatest effect of this ransomware. This can be mitigated through regular backups.
Use AOMEI Backupper to reduce the loss
At present, the virus is still spreading out very fast. Some of the measures that can be taken are :
 If already infected:
Disconnect network or block port 445.
Backup your important data to external drives as soon as possible with AOMEI Backupper Free (Especially for WannaCry Ransomware).
If system is already infected, first install AOMEI Backupper Free on another clean computer and create a bootable media (eg. USB) with it. Then, boot the infected system with it and backup.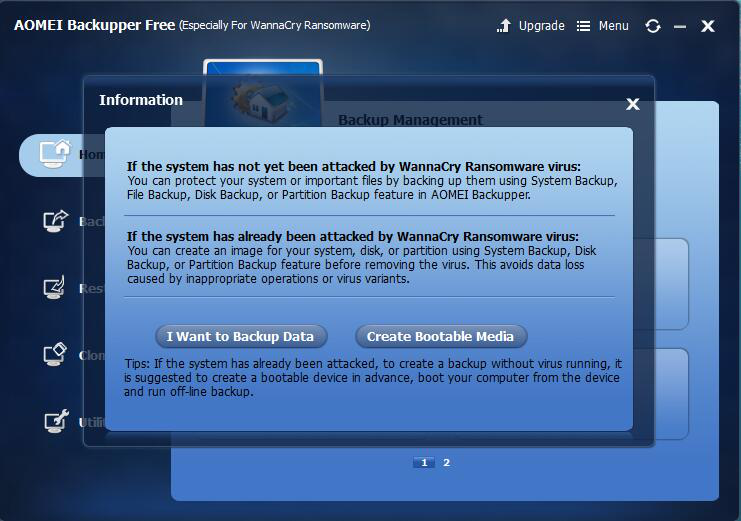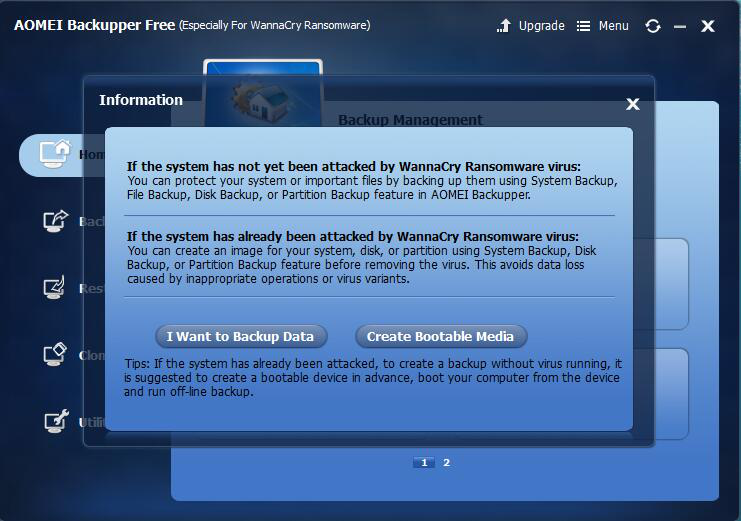 If not infected yet:
Find a reliable antivirus software and scan PC thoroughly.
Install the Windows MS17-010 vulnerability patch provided by Microsoft or upgrade to Windows 10; also keep the Windows upgrades enabled.
Do not open unsecure websites.
Backup your crucial data to external devices using free backup tool AOMEI Backup too.
Conclusion
Everyone needs to prepare for unexpected attack like ransomware. Backing up data is a simple way to reduce damage. AOMEI Backupper is a full scale backup software that includes backup, cloning features and a series of other utilities.