Although Windows provides its own built-in disk management utility to manage partitions, more and more users prefer to choose some third-party partition software to control their partitions on hard drives to save time and energy. Here we will take a look at the latest version of AOMEI Partition Assistant which we have reviewed before. Check the old version review here and compare it with the new features.
As a leader of hard disk manager, AOMEI Partition Assistant offers many practical features as well as advanced functions for Windows users. Using it can make computer disk management easier and safer than ever.
The user interface is self explanatory. Let's review it's main functions.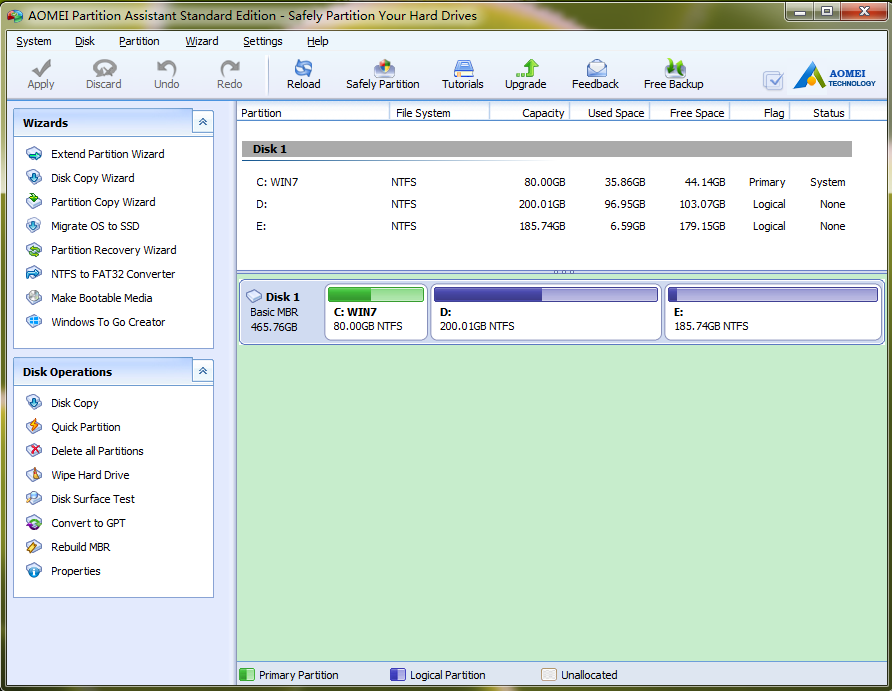 The basic features includes to merge partitions, resize partition, move partition, split partition, format partition, delete partition and create partitions. So it's a comprehensive free alternative  to Windows disk management. Besides those most familiar partition features, it also has the function to change the logical drive letters and align partitions.
There are two main parts on the main interface, one is Wizard and another is Disk Operations.
Extend Partition Wizard is extraordinary helpful when you are meeting problem of low disk space in system. With just three clicks, it could solve the problem and let you take full advantage of available partition space.
Disk Copy Wizard could help you to transfer lots of data from one disk to another one without data loss.
Migrate OS to SSD provides a faster  data access speed compared with the ordinary hard drives. It allows aligning partitions to optimize system performance automatically.
Make Bootable Media function let you to create a bootable CD based on Windows PE environment and help in booting operating system for repair/recovery. This CD works on all hardware RAID and is recognized on all storage devices.
Command Line Partitioning is newly-added feature which let users to resize, move, create, format, delete partitions without losing data. The partassist.exe command line enables you to control partitions quickly and safely.
As for the Master Boot Record disk and GUID Partition Table disk, the conversion of GPT and MBR disk is an inevitable problem. So a feature like convert gpt to mbr disk is one of the most frequently used ones in AOMEI Partition Assistant.
The New Release Notes:
Fixed issue: drivers are not digitally signed with EV certificate on Windows 10 Anniversary version
Support to create second Ext2/Ext3 partition on SD cards and USB flash drives without formatting
Enhanced GPT to MBR disk conversion: support to convert a GPT disk that has more than 4 partitions to MBR disk
 Overall, AOMEI Partition Assistant is a good choice for home users/desktop users needing free partition software. Even it's advanced feature like Windows To Go Creator is free to use. But for large scale enterprise using servers a server partition manager like AOMEI Partition Assistant Server Edition should be taken into consideration.
Happy partitioning.