Internet has become an integrated part of our life and we can't live without it. There are so many online services we use daily and most of them require an account for login. This makes pretty easy to forget the password and cause inconvenience.
Forgetting Windows 10 login password is quite common and so can't access or perform daily tasks if that happens.
But now there is no need to panic when having forgotten Windows 10 password. There are two most efficient ways to resolve this problem with ease.
Method 1: Get Help from Microsoft Account Reset Service
If you ever signed in your computer with Microsoft Live or Hotmail account, then you can reset the password via Microsoft account service. Then use the new password for login. Click on this link to the official support page for Microsoft account login- https://account.live.com/password/reset
After getting on the page, you need to follow these steps to reset your password of your Windows account.
● What you will see on this page is that three options are available. Here select the first one which is "I forgot my password."
● After that, you will see the familiar process of recovery used by most of the companies to verify your identity. If there is a registered mobile number or email with your Microsoft account, then a code will be sent through which you can open your account quickly.
● You will have to select either your phone or the email to get the code. Use this code to change your password and there you go.
Method 2: Bypass Windows 10 Password with UUkeys Password Reset Software
This is useful when there is not any pre-created reset disk, and administrator password too is changed but not able to remember.
UUkeys Windows Password Recovery makes this easy. It will help you to bypass Windows 10/8/7 password without reinstalling the system or damaging Windows installation.
The software offers two options to the user for creating the reset disk for the password, DVD/CD or the USB. And once you create the reset tool, insert the tool into the locked computer and remove the password after completing a few steps.
UUkeys Windows Password Mate software will detect and write built-in ISO image file in your USB or DVD automatically. The software program guides the user with simple wizard; all you need to do is select the Windows version and start the burning process.
● Steps to bypass Windows 10 Password
If you are wondering why should you choose the UUkeys when there are other similar programs available, then there are many reasons for choosing UUkeys. The program structure of the software is simple, the installation is quite an easy process, and it is safe. Also there is no need to have technical knowledge to use the software. The tool can burn the USB or the CD that takes place from the entire boot process automatically and quickly change the password.
Step 1: The first step user has to do is to download the UUkeys program and install it on another PC with administrator rights.
Step 2: Insert USB flash drive or DVD/CD into PC and launch the program. After that, start to burn the reset disk through built-in ISO images.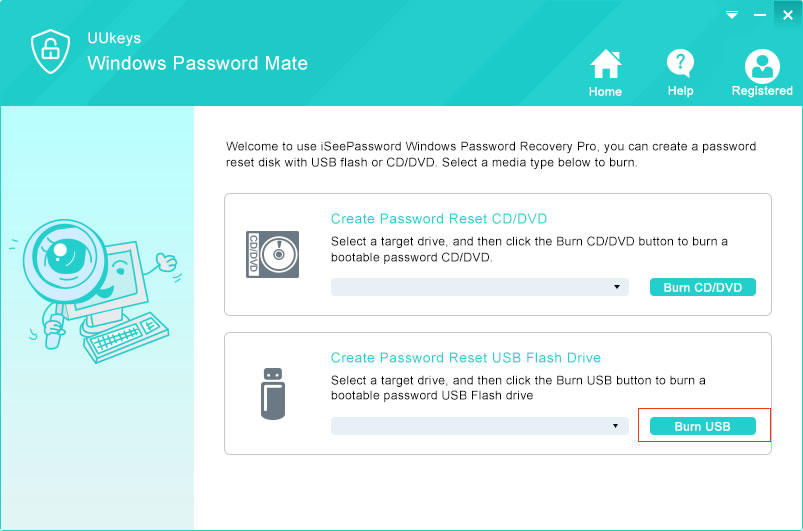 Step 3: Power on the password locked computer and set USB or DVD as the first boot device in BIOS settings. Or open quick boot menu during startup if the computer has that function.
 
Step 4: When UUkeys Windows Password loaded on the screen and displays list of user names, select the required user name and click Reset Password button to set the password to nil. This is done instantly. After that, Windows will load desktop directly without any password.
 Compatibility with PC brands and different OS
When it comes to compatibility, the software works for all the versions of Windows and PC manufacturers. It also works for Windows 8 as well. The software has many users, which include the enterprise as well as individuals who have been satisfied with the services of UUkeys.
Happy resetting.