With ever increasing Internet bandwidth, accessing information has never been easier than before.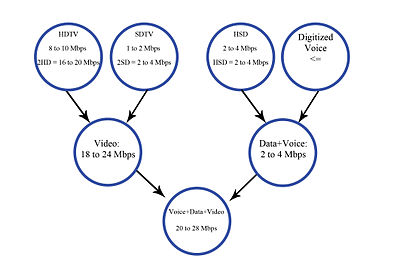 [Source: Wikimedia ]
It is not just the text based information and events but also multimedia usage which has changed. Due to this increased availability of bandwidth, videos as well as streaming broadcasts too have become cheaper and very easy to access.
This has impacted how viewers watch their sporting events, how they participate and even how sports athletes improve their performance all due to technology that is connected 24x7x365.
So, just using mobile apps, websites and even real time alerts as well as watching streaming live broadcast of various sporting events is available with a few clicks or taps.
Also, this growth of technology has made it easier to participate in fantasy sports. This involves creating virtual teams comprising of real players of a given sport. Then, the actual performance of these players is calculated and points are given. The team with most points win. Fantasy sports is in itself a huge industry.
Also, to give an edge to participants, there are useful apps that can give various statistics about teams, players, performance insights and even expert opinions. What once needed massive manpower and resources to crunch sports numbers is now available to analyze and decide on a smartphone or a PC.
This trend of on the go availability of sporting events is applicable for the sports gaming industry too. There are odds calculators, bookmaking tools and websites that allow placing good bet and so on. All that is needed for taking part is an Internet connection and an account. This can be done from anywhere and at anytime.
Also, its' not just the sports fans who have benefited. Technology is now used to refine various aspects of sports like preventing injuries, using GoPro to give a live immersive experience, to increase the fitness levels of athletes for peak performance and much more. This is just the beginning, with the increasing availability of virtual reality in near future, there will be ways to improve all the different aspects in ways that were never imaginable before.
As sporting events are a great place to market product brands, it's no surprise that ads during major events like Super Bowl Sundays can cost as much as $5 million USD for a 30 second slot with over 100 million viewers watching it. Social media as a tool can deliver insights to advertisers who use these sporting events for marketing their brands.
So to sum it up, it's clear that as technology keeps improving, so will the sporting events by making productive use of this.