Overview of AOMEI Backupper Standard


AOMEI Backupper Standard is a complete free backup software for Microsoft Windows users. We have reviewed AOMEI Backupper 3.5 version before, and AOMEI Tech has updated the new 4.0.2 version last year. As a powerful backup and restore utility, it not only provides basic functions to keep your computer data safe, but also helps you to create an easy digital life with the advanced features. Here we will take a look at the newly-released AOMEI Backupper Standard version.
Main Functions in AOMEI Backupper Standard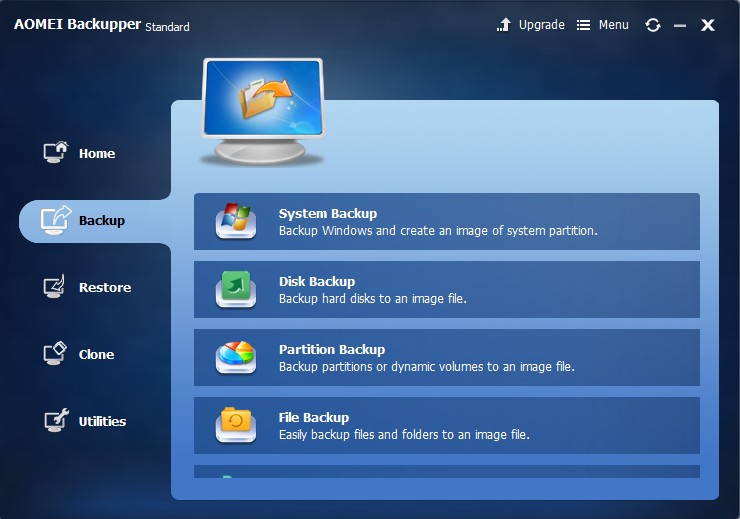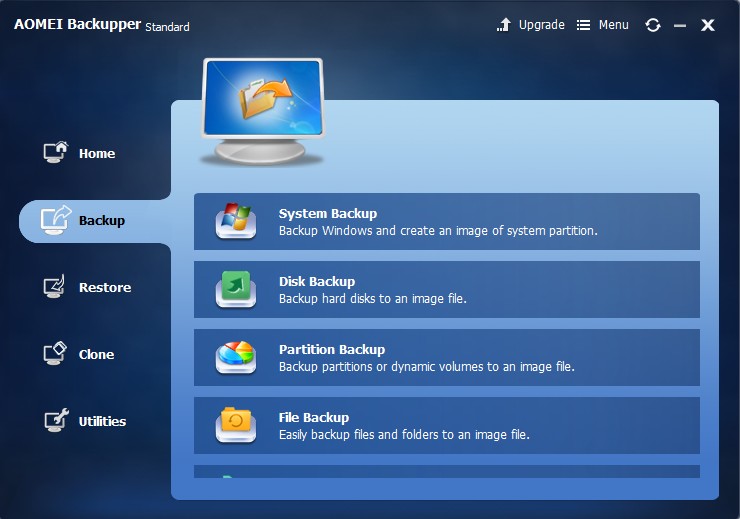 There are four main backup methods as well as file sync you can see them in the main interface. You can perform the specific backup types according to your demands. Trying system backup function to create a Windows system partition image if you want to backup your current Windows system.
Backing up the whole hard drive to upgrade to protect data, or just backing up multiple partitions, even some important files to NAS or Clouds, AOMEI Backupper Standard offers an easy and quick solution to protect your system and data. The newly added real-time file sync could back up your source file to target folder in real time without any delay. More advanced features could be found in Backup Options and Schedule, such as backup compression, image file splitting and auto-backup with scheduled plan.
The restoring function is to select a created image to restore when there are some problems with your computer. Currently you can restore disk images, system images, partition images and file images within Windows easily. It ensures you can boot your original system after the restoration.
As for the cloning function, there are only two cloning functions in the free version, that are Disk Clone and Partition Clone. With the cloning feature, you can work with the data without restoration and use it directly. The disk cloning feature usually be used to upgrade hard drive with faster SSD and replace old smaller HDD with new larger one.
 What's new in the current version?
Added real-time file sync: free to synchronize files and folders to the target source in real time;
Cloud storage can be selected as the target paths for backup, sync and restore, you can choose Google Drive, Dropbox, OneDrive, Box, SugarSync, hubiC and Cloudme as the path for backup, sync and restoration in the latest version;
Added shortcut to Network Share/NAS: click the Select a network share or NAS at the drop-down menu of the target path;
Updated the graphical installation interface and simplified the installation process to realize one-key installation;
AOMEI Backupper Standard supports to automatically run missed scheduled backups at the next system startup.
Final Verdict
AOMEI Backupper Standard version is a perfect backup utility for most Windows users. It has the basic functions and advanced features to keep your computer safe. However, if you need more comprehensive protection for your system, you can try the pc backup software – AOMEI Backupper Professional.