AOMEI Image Deploy, as its name suggests, is an image deployment as well as network cloning software. It entered in AOMEI's big family in October, 2016. Other two AOMEI famous products are AOMEI Backupper and AOMEI Partition Assistant.
The main function of AOMEI Image Deploy is deploying system image to multiple computers or cloning multiple computers over network.
Overview of AOMEI Image Deploy
For larger networks that manage more than 20 clients running Windows Server, it's Technician Edition is preferred. For smaller networks with just a few PCs , the free edition is OK.
You may remember the former product developed by AOMEI Technology – AOMEI PXE Boot. AOMEI PXE Boot can only boot multiple machines at the same within the LAN through network, but AOMEI Image Deploy is able to restore multiple machines. So if you are an admin in a company or a lab that has hundreds of computers, and they need to be installed with system, including software, patches, drivers, etc.
AOMEI Image Deploy offers you with the simplest solution that deploys system image to dozens of computers simultaneously.
Core functions of AOMEI Image Deploy
Next, let's have a look at AOMEI Image Deploy's key features. AOMEI Image Deploy provides real-time process monitor. Your master computer can display client's IP address and restoring process in list. Master will receive the prompt whether the restore is successful or not.
Just like AOMEI's backup software, AOMEI Image Deploy is easy to use. Its GUI theme is deep blue and clear. It has different wizards, when you using it, you just need to follow each steps prompt to complete deployment process to batch client computers within the same LAN.
AOMEI Image Deploy can distribute different computer names and IP addresses for Client computers that finish deployment, and makes sure they can be connected to network normally after entering OS. Thus, you can pre-install remote control software in the system image. When client computers are online, take subsequent operation to client computers in remote. What's more, AOMEI universal restore technique supports deploying system image to multiple clients even with dissimilar hardware. It ensures normal system start-up in client computers after deploying.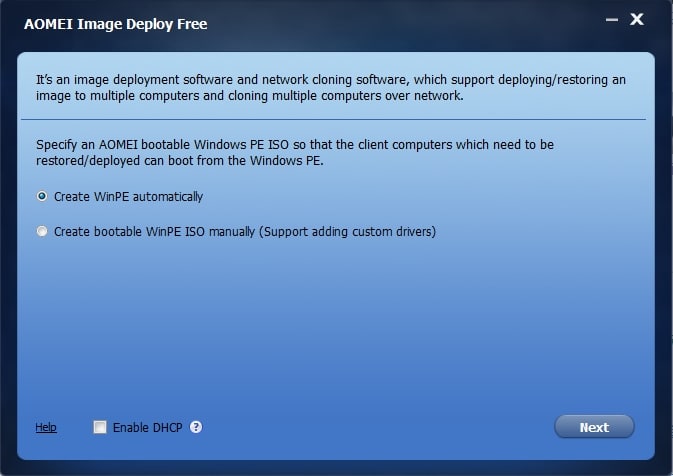 Now if you think AOMEI Image Deploy is necessary, download and try. Launch the program, its main interface is as above picture shows. Both the free and technician editions support Windows PC and Server: Windows 10/8.1/8/7/Vista/XP and Windows Server 2003/2008/2012/2016 (including 32/64-bit, R2/SBS system).
Do try it out.