"Lost Office 2013 Activation after upgrading to Windows 10 from Windows 8.1 and now my Office 2013 is no longer activated. Anyone can help me?"
"Is there any way to find my Windows 8.1 product key before reinstalling it?"
Microsoft keeps asking you for the product key when you try to reinstall your MS Office or Windows OS? Product key is the license required by Windows, Microsoft office, etc. when we install and activate it. Usually, the product key should be on a sticker attached to the inside of the installation CD case or in the conformation email from Microsoft or just in the Microsoft-branded sticker on our computer case. If you still preserve these things, look for your product key from them first.
However, most people lose them after the first installation. Worse still, it is difficult to find the product key manually in the registry because it is encrypted inside Windows Registry which is a collection of databases of configuration setting in Microsoft Windows operating systems. Thus, a professional product key recovery will come in handy when you need to find lost product key for Windows, Office, Microsoft Visual Studio, etc.
The Best Product Key Recovery You Can't Miss
Smartkey Product Key Finder is the best product key recovery in the market now. It is very easy to use and it does a great job in finding lost Windows and MS Office product key.
Highlights of Smartkey Product Key Finder:
 Retrieve lost product keys for Windows 10, 8.1, 8, 7, XP and Vista
 Find serial number for MS Office programs: Office 2013, 2010, 2007, 2003
 Recover product keys for other software like Microsoft Visual Studio, SQL, etc.
 Backup product keys in case of computer crashes
 100% recovery rate & find lost product key in few seconds
 The simplest, fastest and safest product key recovery software ever.
 How to Find Lost Product Key with Product Key Recovery
With this tool, product key recovery could not be simpler. Below is a simple tutorial about how to recover lost product key for Windows, MS Office. Firstly, get the Product Key Finder on your computer.
 Launch the software after your installation. Click Get Key on the bottom and start to retrieve your lost Office 2013 serial number.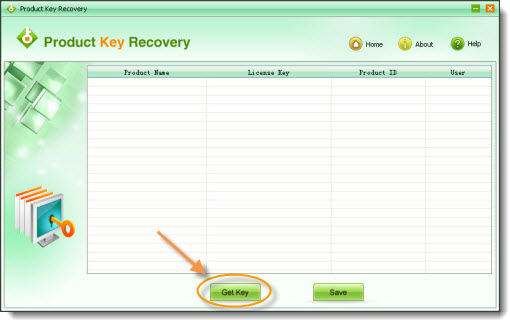  The program scans your hard drive automatically and displays your product key for Microsoft Windows, Office, Internet Explorer, etc. in the task list in a fraction of second.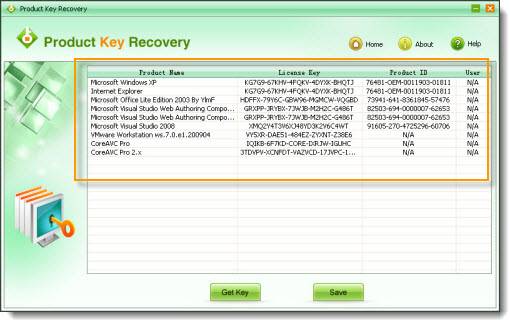  Click the "Save" button to backup your serial code as the ".txt" format in your computer for further use.
With 3 simple steps, you can easily find lost product key for Windows, MS Office, etc. Instead of wasting lots of money to buy a new one, just try Smartkey Product Key Finder. It is an effective and trustworthy product key recovery tool recommended by its users.
Read more: http://www.recoverlostpassword.com/