Google Drive comes with a bunch of handy shortcuts that make it quicker to use.
To access the list of these shortcuts, login to Google Drive and click on the gear icon. Then select Keyboard shortcuts.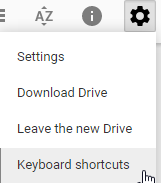 Here is a cheat sheet of most commonly used shortcuts :



The detailed list of all the shortcuts can be found here.
Use them to increase productivity, make tasks quicker to complete and use the online storage service effectively.
Cheers.