PC Shutdown Timer is a simple, free program that can schedule a PC running Windows to either shut down, restart, or hibernate.
Download it from here.
To schedule any of the above PC activities, simply enter the time (in minutes) or choose from a list of preset time intervals through "Static Time".


Once the schedule is set, minimize the program. It will continue to run in the background with the countdown timer active to the scheduled time interval.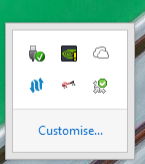 To abort the scheduled PC activity, right click the PC Shutdown Timer icon from system tray and choose "Exit".
A simple way to schedule PC restart/shutdown all through just a few clicks.
Happy scheduling.