In association with StackSocial, we are pleased to announce a heavy discount for The Power PC Bundle. The retail price of 10 PC apps in this bundle is worth $386 in total but as of now available for just $49.99 (87% discount awesomeness!).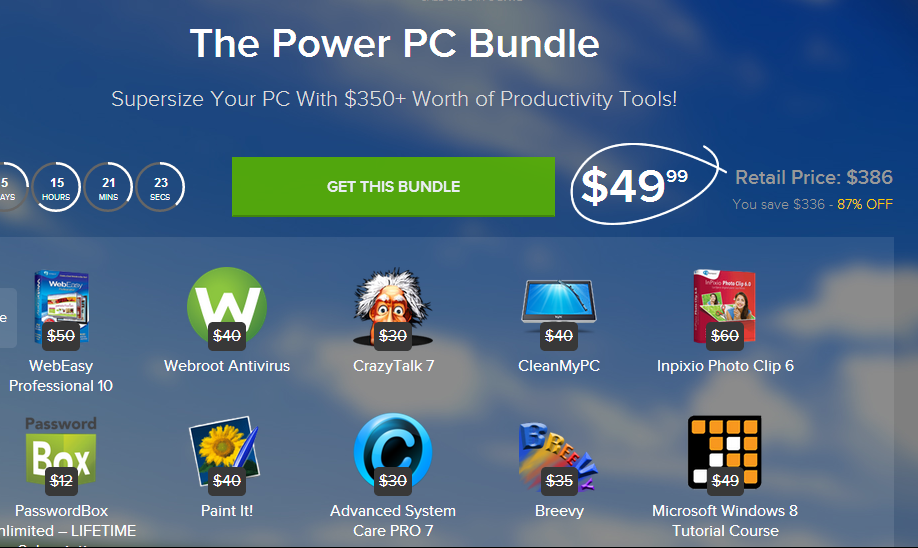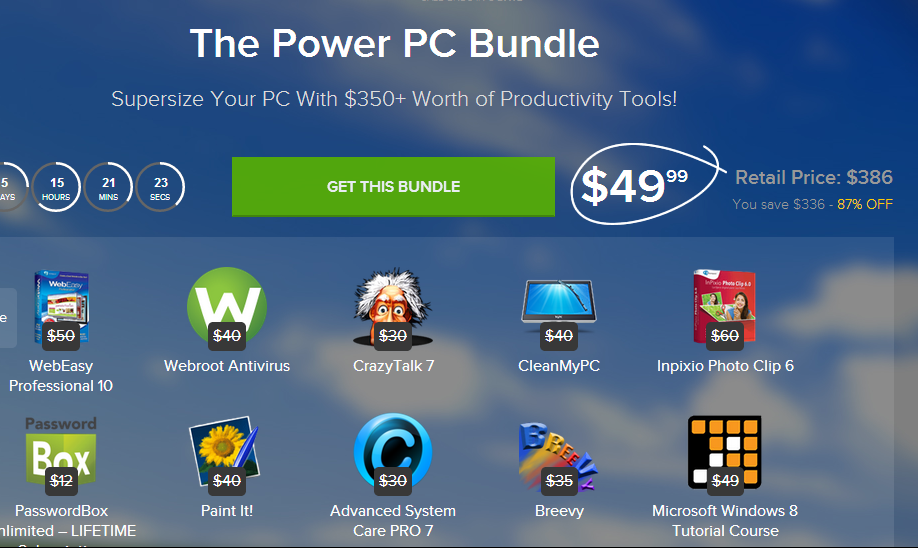 Note : This is a time sensitive discount and is only valid till April 18 2014.
Details:
Power PC Bundle consists of these following apps that cover a wide variety of functions from system protection and tuning, Â image editing, office / productivity to beginners tutorials (on Windows 8) :
 
WebRoot Antivirus : Lightweight antivirus software suite
IOBit Advanced SystemCare Pro 7Â : For boosting PC performance by tweaking system settings
InPixio Photo Clip 6Â : Edit and add various features for enhancing images
WebEasy Professional 10Â Â – WYSIWG graphical web editor for building websites
Crazy Talk 7Â : Transform any image to an animated 3D character (with animation, voice and so on)
Clean My PCÂ : Optimize PC by removing unwanted files/data
Password Box Unlimited Subscription : Universal password manager. Supports AES-256 encryption
Paint It! : Photo painting app for all
Breevy : Type faster and improve productivity
Microsoft Windows 8 Tutorial Course : Learn Windows 8 step-by-step through this video series
Some things to consider :
The delivery medium for this purchase is digital. Which means that all the apps can be directly downloaded on purchase (so no shipping!). [After purchase, all these apps will be listed along with their license keys and installation instructions in your StackSocial account.]
All products in this bundle have full support and update scope just like if they were purchased by paying full price.
These apps are licensed for one user only unless stated otherwise. Also, only one Power PC Bundle can be purchased per customer.
For further details and purchase, check out the product page here. Â Also, for more such discounts, do visit StackSocial.
Enjoy!