This is a Sponsored post written by me on behalf of Personal Capital. All opinions are 100% mine.
Managing different aspects of finances (cashflow, investments, savings, spendings and so on) is critical and having an application that can keep a track of all of these centrally can be convenient.
With the ever increasing use of mobile technology, there are apps that take care of different aspects of life. The Personal Capital Application is one such app that keeps a track of all financial accounts under one roof. This includes integrating different financial elements like investments, checkings/savings, expenditures and more so that one can get a clear idea of shape of his/her finances.
This app is even more useful when there are multiple accounts to manage because then it can be tedious to track each of those separately. Also, private investment advisors and financial managers can use this app to manage and track large number of accounts for just 1% fee but the app itself is completely free.
The Personal Capital app is free for various mobile devices like iPhone, iPad and Android.  It offers an easy to navigate interface and a neat dashboard that displays all financial information at fingertips.
Financial information becomes easy to understand and track because Personal Capital app provides a complete breakdown for various sections like :
Managing different cash accounts : Adding different bank accounts and tracking them centrally.
Portfolio Performance : Displays how investments in stocks, mutual funds and other assets are performing.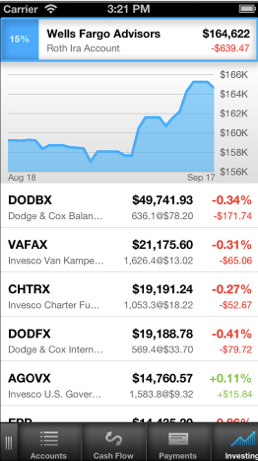 Universal Check Up : Provides info on universal check up.
Spending : Categorizes spending into various sections like clothing, groceries, travel and so on hence becomes simple to see where maximum spending is done.
401K Free Organizer : Free organizer for 402K plan.
Mutual Fund Fee Calculator : Helps in finding which mutual fund plan offers lowest fees.
Overall, Personal Capital app can be used for keeping a systematic and disciplined record of personal finances and also helps in staying up-to-date with financial changes. Tracking income as well as identifying largest expenses and keeping a tab on transactions is possible using the Personal Capital Cash manager in this app.
Do give it a try, it is free to download and use and is available for Android, iPad and iPhone.